As we touched on last week with
Tommy Carmichael
- the Air Jordan 1 sneaker holds a big presence in the sneaker industry and now, the fashion industry too. Thanks to icons, Kanye West and Jay Z, the
Jordan 1
received a huge push towards the lens of the fashion world in the early noughties. Since then it's seen fashion bloggers and stylists playing with the OG model in a series of experimental ways.
The sneaker was originally released in a high-top design to support basketballers in action, but it now comes in a mid and low top style. The introduction of new
Air Jordan 1
styles and designs show the growing demand for the model in the fashion scene. It allows for people to choose the Air Jordan sneaker that's right for them and their personal styles. But most of all, wearing the Air Jordan 1 show an understanding and awareness of what it takes to bring basketball sneakers to the streets.
Read below on how to pull off Jordan I's in 3 different style iterations.
LAYERING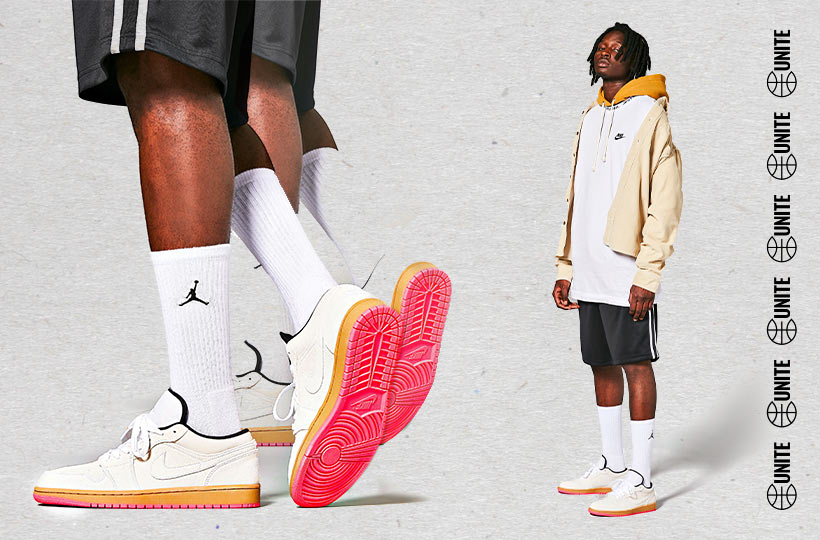 As temperatures drop, the art of
layering
becomes a big part of getting ready in the morning. How many layers should I wear? Can I get away with another jumper on that? The possibilities are endless. Layering is especially useful at this time of year- giving the light layers of summer a longer lifeline in the year.
But when layering, it is important to consider proportions. Too many layers falling at the same length can make an outfit look bulky and round. However, the right layering can show that you know how to style clothes like a pro. Match like colours together and try not to clash prints as it can look too muddled. Heavily layered outfits can usually be seen on those commuting and jet setting down to their versatility in comfort while on-the-go. If you are a busy body, layering should be a styling technique that you use every day.
Jordan 1's are great sneakers to work into your everyday layered outfits. Their sleeker silhouette allows for you to tuck trousers in, leave them out. You can wear them with a dress or skirt and it won't look too bulky. In this example, we show you how to layer 3 items; a hoodie, sweatshirt and a jacket. As seen on the model, the look can even work post-gym if you are wearing shorts!
CAMO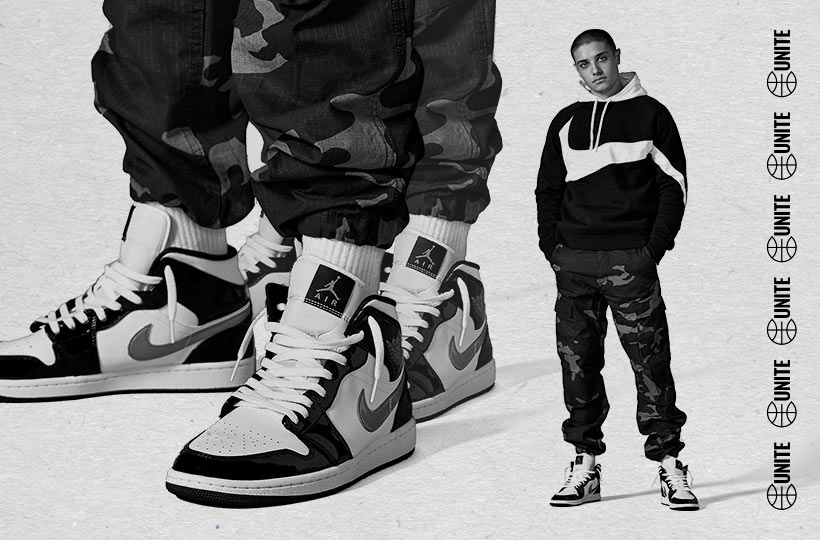 Camo
is a print that will never go out fashion. It has seen a colourful reinvention in pinks and blues, streetwear brands design camo jackets year upon year and high fashion labels continue to work the print into their catwalk collections. So how do you mix the most utilitarian print onto an outfit with a basketball sneaker?
Camo first made an appearance in American culture after World War II. It seeped into popular culture through movies and films of the 80s. But it was streetwear label, Bape that made it truly fashion-able. Plastering their ape logo in the tiger camo pattern, it had the fashion-conscious youth chasing for more. As younger audiences adopted the print, they mixed outfits with an array of athleisure wear including sneakers and hoodies.
It's surprisingly an easy print to form the basis of your outfit. When using a dark green camo print, treat it like as an earthy toned piece. After all, this print was originally used to camouflage soldiers in the muddy trenches. Keep to darker tones- black, grey, navy or even white. As seen in the editorial, baggy camo trousers pair well with equally as baggy attire on the top half too. Match your hoodie with the same colours as your Jordan's for a finished look. Or if you have a camo jacket, why not pair with frayed acid wash jeans for an overall rugged outfit and plain black or grey Air Jordan 1.
OVERALLS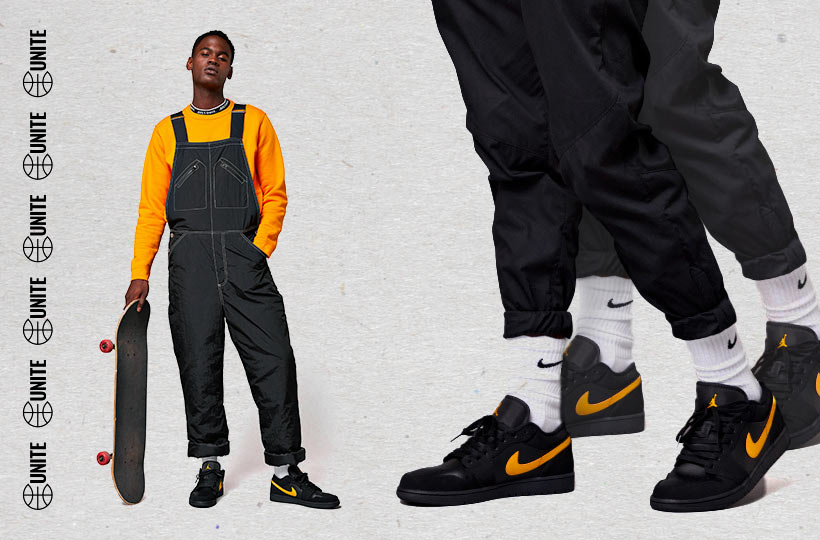 For some of us, the treasured overall has been a part of our wardrobes for as long as our memory can recall. Dungarees, boiler suits, and jumpsuits; the overall is an easy to wear item that can be throwed on at the last minute and still create a put-together look. For others, the overall is a reminder of drab corduroy dungarees laden with grass stains from careless child's play.
But over the past few years the overall has received a high-fashion reinvention. Out with the cord and in with the clean tech-material's that overalls were once made with as a uniform for labourers. Though it sounds like the overall has had a history with messy wearers, it shows that the overall can be dressed up while providing comfort and warmth against battling weather. Today, both men and women have adopted the overall in the numerous stylish rendition's in the shops today.
Styling the overall with Jordan's is easier than it appears, and therefore it's a look that allows you to be the most playful with. The most chosen overall; the dungaree, is often designed using hardwearing denim. The cropped leg gives room for you to pair either a high top, mid or low Air Jordan with them. Depending on the coloured accents in the shoe, opt for a complimentary jumper or, shirt for a smarter look, to bring the outfit together. In the summer, white dungarees and light fabric overalls are fitting for the heat- pair with a clean white AJ1 for a clean and polished look.
Girls can shop our range of denim, black and patterned overalls on the website. Have a look at our example below and get playful with overalls and Jordan's.