Tommy Carmichael is London's favourite postman by day and by night, a devoted
Jordan
enthusiast. Though he clarifies that he isn't a collector, but merely a fan of Michael Jordan's legendary brand, he still boasts one of the biggest Jordan sneaker collections in the UK. What separates Tommy and those who just avidly collect the sneakers, is that Tommy has lived and breathed the brand for nearly 30 years.
As it's commonly known, Jordan is intrinsically a Chicago brand, rooting from their connection with Michael Jordan's long-running career at Chicago Bulls. But, being based in the UK, Tommy has been a spectator of Jordan brand from a far. He has lived vicariously through the hype of the brand for as long as he can remember. What started out as watching the iconic films that featured Jordan sneakers, to later sharing his expansive sneaker collection on Instagram; he has had a Jordan education like no other. Taking a look into his loft packed to the brim with sneakers and sharing old stories of camping out for Jordan drops, the visit was unlike any usual interview we had done before.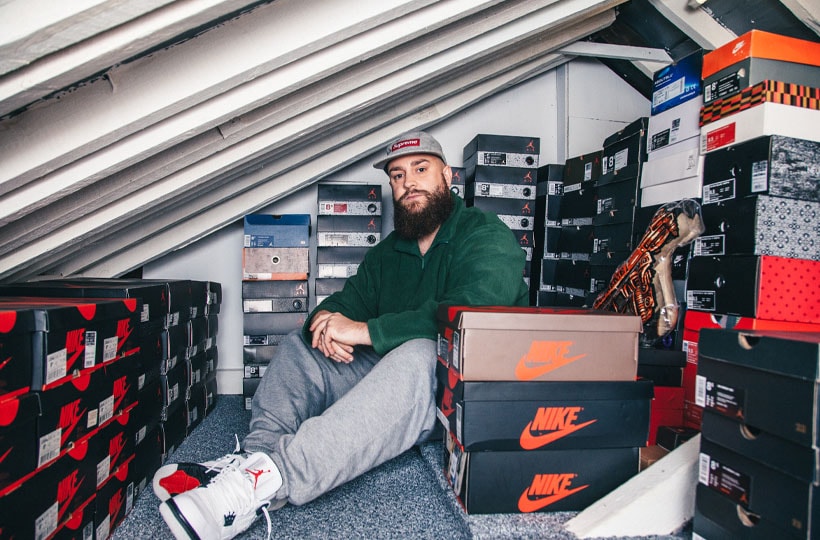 FA: Tell us about yourself and why you started buying Jordans?

TC: I think growing up in London meant you always wanted nice trainers- it started from that. As I got older and I started earning money myself, I got a pair then got another and so on. All throughout those times of building that up, I never thought I'm going to have 200/300 pairs of shoes. It's one of those things that gradually built up.

FA: For you, someone who lives in Britain, what was the first you heard of Michael Jordan and his line of shoes?

TC: Obviously Basketball was never huge over here. For me it was Space Jam. Everyone growing up knew the name Michael Jordan because of his confidence in sport, just like Tiger Woods. But seeing someone of that calibre in a film wearing Jordan's was like "I want those". It is my favourite film ever. When you look back and watch the film, you think "oh I've got those sneakers".


"Even today, people see the films, He Got Game and Space Jam and it reminds people of them shoes."
FA:
Many films, including a number of Spike Lee produced films, featured Jordan sneakers. How important were these features in film and music videos to the identity of the brand?
TC:
There were so many films, one was called
He Got Game
. Jesus Shuttleworth (who was played by Ray Allen) he played in the Air Jordan 13 in the movie. So even though Michael Jordan wasn't in the film wearing the shoe, the Jordan's still were. When people watched the film that showed a pair of Jordan's it would have still made people want to go out and buy them. Even today, people see the films,
He Got Game
and
Space Jam
and it reminds people of them shoes.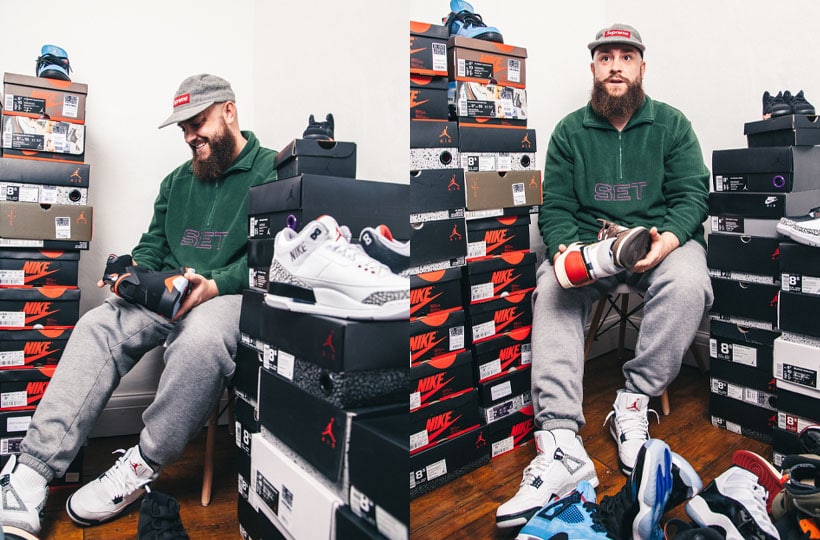 FA:
So, starting with the Jordan I- the first sneaker made by the brand. Which model stands out for you?
TC:
There is a lot! But it has to be the Chicago. Simply because it's an O.G colourway, it was one of the first ones that came out- '85, I'm an arsenal fan too so it's a bit reminiscent of that. It's an overall timeless colourway. When Michael played in the Jordan I, he played in a black and red Jordan I, which is obviously now called the "banned". He was getting fined for wearing them as he didn't meet the demands of the NBA.
FA:
Today, the Jordan I model has a big presence in the fashion industry and is particularly opted for by fashion conscious wearers more so than other models- why do you think this is?
TC:
I think when you are looking at the fashion/high-fashion scene the only Jordan silhouette that has made the changeover is the Jordan I. I think it's because obviously it's a classic, and it's a shoe that can be dressed up or dressed down like you can wear with jogging bottoms, denim, some people even get married in Jordan I's. Also, the fact that you you've got people now like Virgil who has crossed over his high-end brand,
OFF-White
with sneakers. I think that's helped with the exposure of the high-end brands coming into the Jordan game as well.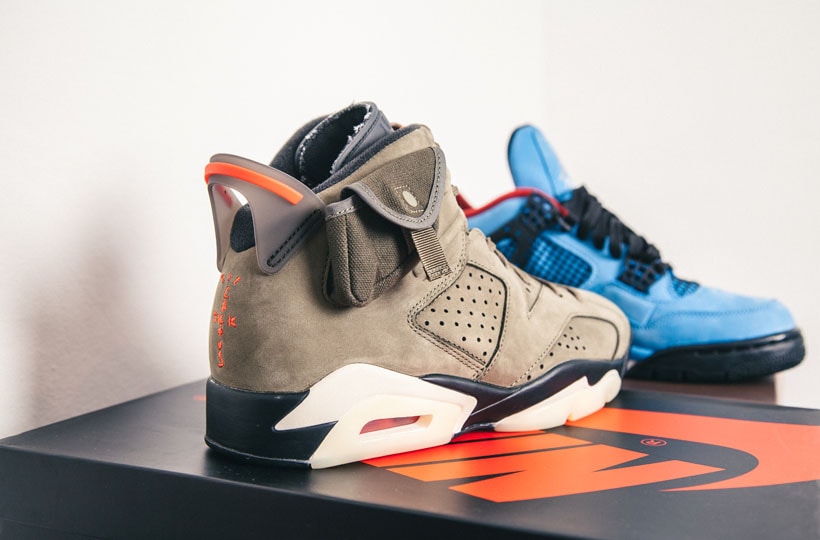 FA:
The Jordan 4 stands out as another iconic model with a unique aesthetic. Tell us a bit about the 4.
TC:
With the Jordan 4, it's got 4 lace slots. It's got 2 on either side of the shoe. Initially that was put in place for performance. So, you could lace them up tighter or looser depending on how you wanted the shoe to fit when you were playing basketball. And, they've got a mesh- a moulded layer of urethane coated mesh which helps breathability while you are playing. If you didn't have this, your feet would get all sweaty as it's a bulky shoe.
FA:
On to the Air Jordan 6, tell us what was unique about that sneaker.
TC:
The 6 was based on the Porsche 911, the black and red colourway in particular. The 6 has the tongue, and when the 6 came out no other shoe had that. The tongue had 2 holes and a spoiler on the back. The spoiler was designed to resemble the back of the 911. MJ struggled to get shoes on so the 2 holes and spoiler was designed to help get shoes on easier.
"It was futuristic, everything changed."
FA:
The design of Jordan's and the design of cars worked well hand in hand. Cars were a big design influence on Michael Jordan, why was this?
TC:
I think this is what separated the 6 from any shoes before it. Michael Jordan was really into cars and thought I want to make this look like a sportscar. The 6 was based on the 911. The concord Jordan 11, the patent finish, was made to look like a convertible. It's interesting to see how they put his passion for cars into designing trainers.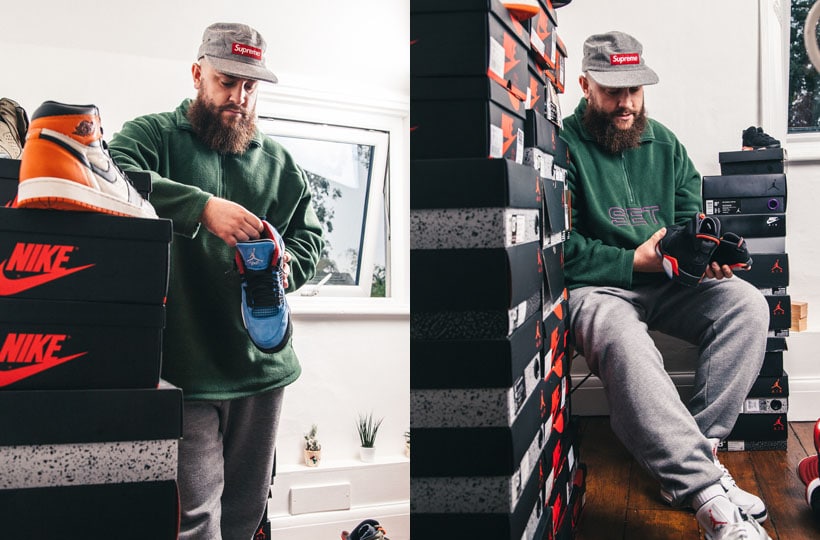 FA:
The AJ6 was more iconic than the 5. Why do you think the 5 didn't see as much popularity?
TC:
I personally prefer the 5 over the 6. But at the time, the 6 design which had the spoiler and sleek design, no other Jordan had anything like that. It was a bit wild and different. The side panelling had perforated holes so even though previous models had mesh for breathability, the perforated holes on the side was new and better. It was futuristic, everything changed.
FA:
The AJ6 also saw a commercial collaboration with Gatorade with their ad "Be Like Mike"- it was a new marketing concept in the sneaker industry in general. How do you think this would have been received by the public, would it have had an instant reaction?
TC:
I think so. Bearing in mind how good Michael was at basketball. To see him on TV with Jordan's on. Well if you were any boy or girl watching Michael Jordan at tele with the latest trainers. The first thing you are going to say is, "Mum, Dad, I want those shoes". At the time seeing a commercial like that, it would've been huge.
"It was the first Jordan sneaker that really got people camping outside for Jordan sneakers. It got people excited."
FA:
So, moving on to some later models, the Jordan 11 was released after Michael's brief stint in baseball. How did the brand communicate that he was cemented into basketball and the brand was to live on?
TC:
When he played Baseball, he was wearing the number 45. In Basketball he played the 23 number. When he came back to the Jordan brand, on the Jordan 11 he did a few samples of that, which came out with the 45 on the back. 8 years ago, the Jordan 11 would have been the most sort-after silhouette. It was the first Jordan sneaker that really got people camping outside for Jordan sneakers. It got people excited. Especially over here but in America, the Jordan 11 was a holy grail. No matter what colourway but the Jordan 11 was insane. Slowly, the Jordan 11 got less and less hype because they produced more numbers of the shoe. So, in this day and age, the 1 has taken over the Jordan 11.