It goes without saying that certain clothes, shoes and accessories are distinctly associated with certain people, or points in history. And as they move through history, they pick up different interpretations by different groups of people, who place their identities and stories onto the life of said item.
The adidas
Superstar
boasts a similar history. From the court to the streets and later, on the catwalks around the world. The history behind the adidas Superstar has become an important part, of not only the evolving sneaker scene but the fashion industry as a whole. It has become a model for theories and studies on how shoes and garments can change meaning so quickly over the space of a few decades.
We spoke to a few people who have devoted their time to exploring the history of sneaker culture and got first-hand stories of the Superstar from 1969 to present day.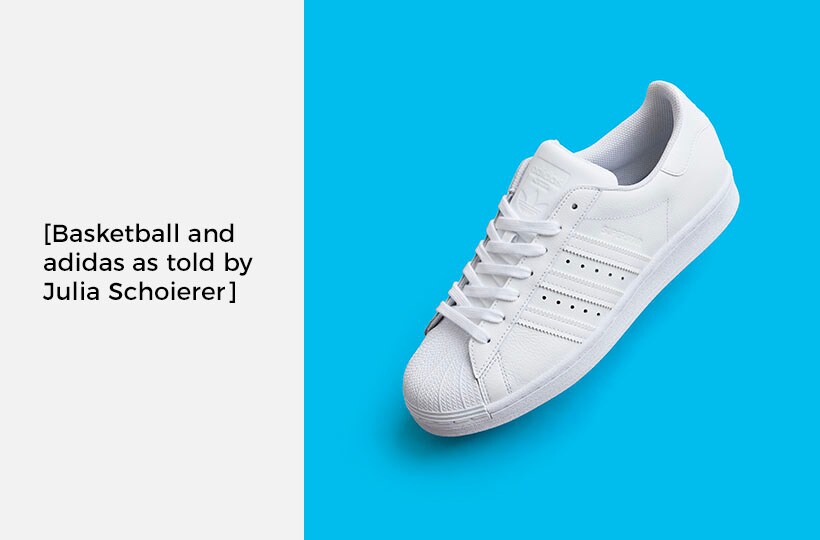 Created at the
adidas
headquarters in Herzogenaurach, Germany, the adidas Superstar was the brand's second attempt at producing a basketball sneaker. At the start of the shoe's history, it was thoroughly intended for the American markets. It succeeded the adidas Supergrip which failed to aid performance on the court as it saw players slipping and falling.
In came the Superstar. A flat soled, thick platformed and shell toed beast. The sneaker received "high class endorsements from the sports world, with Kareem Abdul Jabbar"- a basketball legend at the time. Quickly it became the shoe that many basketball teams wore. And why did it catch on like wildfire? "The Wimbledon Wilhelm Bungert and Tom Okker, even the ProModel did not reach the iconic status of the Superstar, so I guess it was more of a question of just the right disruption at the right time, with the right design, the right image, the right price and the right sports background at the right place." says Julia.
Quotes from Julia Schoierer, retro sneaker collector and archivist, @sneakerqueen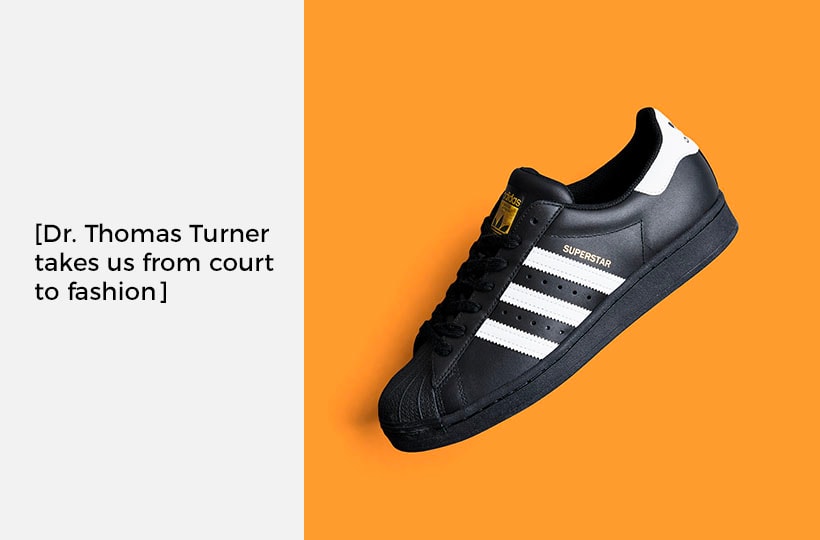 Within a decade the Superstar went from being the most elite basketball sneaker to falling out the sport entirely. Thomas Turner notes "They designed a shoe that answered all player's complaints about it [All Star]. It gripped better, didn't get socked with sweat, it was more supportive and it had more heel cushioning". But eventually, "it was superseded by other basketball models".
What happened next is something that everyone associates with the Superstar- it was adorned by Hip-hop trio, Run DMC. The shoe became a famous part of the group's uniform: black Adidas tracksuit paired with laceless Superstar's. This triggered a whole new stylisation of the Superstar. For a long time,
Adidas
' sole focus was on performance, it wasn't until then that they were launched into a whole new market of wearers. "I don't think adidas had any idea that these shoes were going to be worn for fashion, and it took them quite a long time to get their heads around that." Run DMC marked the style revolution with their song, "My Adidas" and became the first non-athletic group to receive an endorsement from adidas.
Quotes from Dr. Thomas Turner,
historian, author of The Sports Shoe: A History from Field to Fashion, @thomas_a_turner
"The only guys you would see wearing them would be the b-boys in places like Covent Garden. Prior to 1986, the only way you would get them is if you took a flight to New York and went shopping or if someone got them from America for you." The hip-hop subculture started to catch on in the UK through the 80s, magazines, record sleeves and films like
Wild Style
showed a hip-hop style that was desirable to the b-boys in the UK. But the Superstars that were a pinnacle of the subculture were nowhere to be seen except America. As Ollie mentions, it made b-boys take the culture into their own hands. "We would colour in the stripes and there were some kids who would take a craft knife and cut the lines in the toebox like the Superstar."
Once the Superstar became available, the hip-hop culture that the shoe was synonymous with added a whole new meaning to wearing the shoe. "(Hip-hop) was a Black and Latino artform and culture. It was something for people who didn't have anything, to be able to go "Look at me". It was a way to be famous within certain communities. Whether you were a graffiti writer, rapper, DJ, or break dancer. It was a culture of participation. There was no judgement."
"Superstars were cheap sneakers, so it was affordable for anyone in the culture. Like the fat laces, if I saw someone walk down the street with them you would know who each other were without speaking. This was one of my tribe."
Quotes from Ollie Teeba, DJ/ producer and actor.
As the 90s approached, the Hip-hop subculture didn't die out, but evolve into something more mainstream. Inner-city youth were rehashing and modernizing versions of hip-hop from past decades and a new Brit pop style was booming. Angela recalls, "A big influence came from siblings and members of our family who were older- they could go out and buy whatever so I would watch and be in awe of how they put things together. At the time we didn't realise what we were doing."
In general, sneakers were now a staple for street style, and with that the Superstar stayed firmly in-tact of fashion. "In the 80s and through the 90s, we saw people taking a shoe that was originally meant to be athletic and turning that into fashion and style. The 90s cemented that, in terms of taking something that was meant for sports and dressing it up."
Quotes by Angela Phillips, writer and curator, @rudeboysandrollups
The 90s was instrumental in shaping our modern-day sneaker culture, it showed the endless possibilities that could come from sneaker design now that it was solidly a fashion item. "During the 1990s there was an introduction of new colours of the Superstar and new materials such as nubuck, denim and faux animal print, as well as exclusives to certain retail stores. A lot of these products were sold in Japan, who were well ahead of the game when it came to combining sneakers with fashion. Sneaker obsession was on rise but a lot of the celebrity endorsement of the period was incidental or even accidental" says Neil.
Today, the Superstar represents progression, innovation and a whole lot of stories. Though it has much more of a broader appeal, Neil says, many "recognise its cultural value". It "reflects an era when lifestyle choices, fashion and music were having an influence on sports shoe marketing." And, although it has a history which can't be knocked, it is important to celebrate and share its life since 1969. As Neil says, "It is like a work of art and should be appreciated in the same way that a painting or a piece of music can be studied or enjoyed. Here's to the next 50 years of the Superstar."
Quotes by Neil Selvey, author of From Past to Present, A Timeline of the 3 Stripes, @neil_selvey

Shop the adidas Superstar here at Footasylum.