Terrace fashion enthusiasts will already be very familiar with the
Hamburg
. Returning last year after a lengthy hiatus, its hotly anticipated re-release was well received by adidas collectors, showing that the demand for the classic footwear is just as high today as when it was first released over 20 years ago.
Originally hitting the shelves in 1982, the Hamburg was part of the iconic adidas City Series, a collection featuring trainers designed to represent a number of global cities, also including London, Amsterdam and Belfast. As well as individual colourways, each shoe had its own distinct style.
A stand-out shoe from the series, the Hamburg was an all-rounder that combined both runner and dress shoe, setting a new standard for post-80s trainers. Made from suede with leather three stripes branding, Hamburgs take the T-shaped toe panel and grooved mid-sole seen on some of adidas' most iconic designs to create what many claim to be the brand's ultimate terrace silhouette.
The terrace scene was at its most popular stage when the Hamburg was released, and the shoe soon dominated the streets. Seen on feet everywhere, from adidas fanatics and football spectators to mods, anyone into their style owned a pair of these timeless kicks.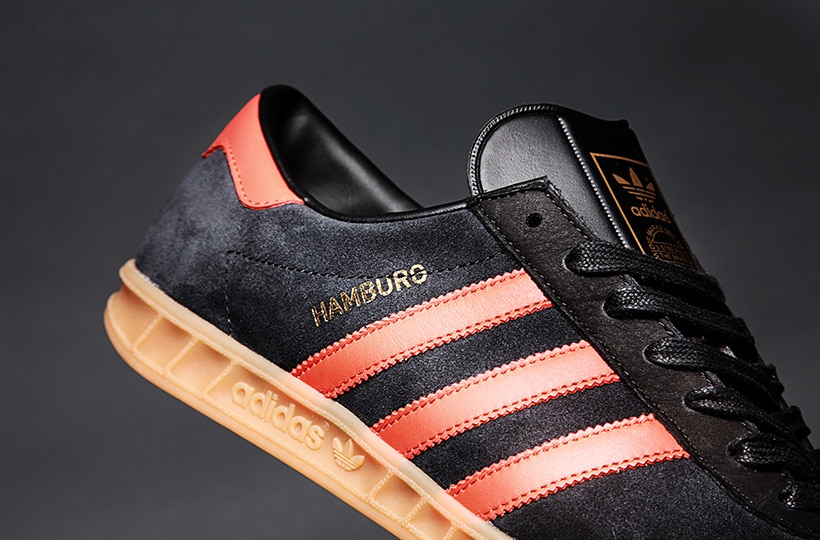 The undeniable success of the Hamburg meant that the public demanded more pairs than anyone could keep up with, making it even more sought after and desired as time went by. As other adidas designs came and went, nothing came close to the shoe named after Germany's second largest city.
Today, the adidas Hamburg is a staple for the casual dresser. Shop the full collection of
adidas Originals Hamburg
.