Released in 2017 after a seven-year journey from ideation, the
Nike Air Vapormax
has become a solid staple in Nike's portfolio of classic sneaker silhouettes. Easy to style for any occasion, the Nike Air VaporMax is an innovative sneak that doesn't compromise on aesthetics.
Behind the final design is seven years of research into how to use Air and incorporate it into a sole. Designers, Tom Minami and Zachary Elder wanted to create a sneak that focused using as little Air as possible by using it wisely to support the stride of a runner.
Taking Nike's legendary cushioning technology that started in 1987 with the
Air Max 1
and focusing on pressure maps of the foot Elder and Minami were able to create a tread pattern containing Air in the most important places.
Moving away from the traditional trainer build of a midsole and outsole, the VaporMax has one single unit featuring connected pockets of Air. The Air is less pressurised than earlier Air sneaks making the VaporMax more lightweight.
As the Air moves through the single unit the pressure points underneath the foot change giving the effect of a piston. With every step being pushed into the Air unit releasing giving you a springy bounce with every stride.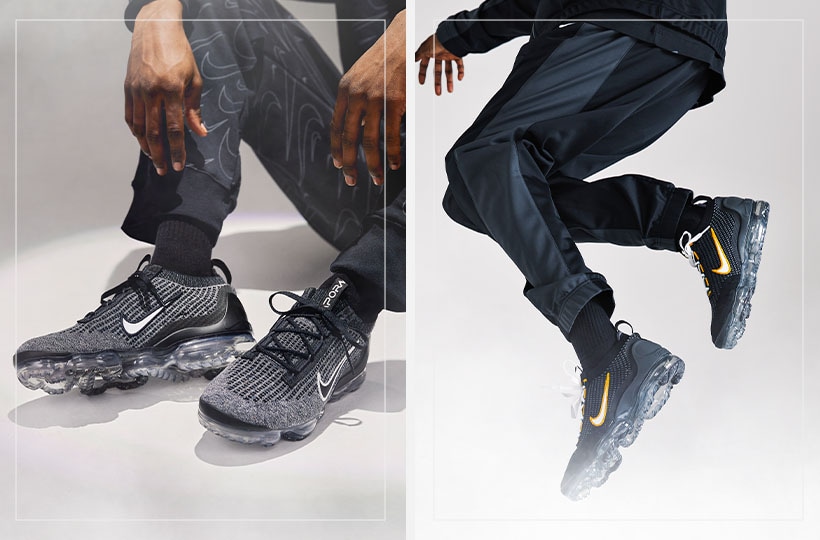 For the visual design, Minami wanted the sneak to look as though the wearer was walking on air, resulting in the translucent Air sole to give the appearance of floating.
To keep up the lightweight approach, a fly knit upper sits above the translucent sole making this sneak ideal for running or leisure.
Here at Footasylum, we stock the hottest collection of VaporMax, including the
VaporMax Evo
and
VaporMax 2021
.
The VaporMax Evo fuses some of Nike's most forward-thinking designs to create the ultimate silhouette.
Fusing the Air Max 90, 93, 96, Tuned 99, Solas, 180+ and Air Max Plus the Evo lets you bring the best of the past into the present with a bold futuristic look.
Shop the full collection of
VaporMax online
and keep an eye on our
Just Landed
page for any new releases.