In the past five years, Hoodrich's founder, Jay Williams has brought his vision for a fresh streetwear brand to life. Oozing with grit and determination, Jay talks about how he made his dream for Hoodrich into a working reality. The streetwear brand has never looked back and as a result, their growth has only accelerated. Now that Hoodrich is stocked on the highstreet, Jay took the initiative to hire Martin Garbett early last year. He now acts as the brand's creative director, using his extensive knowledge to translate Hoodrich's aspirational ethos into their clothing and photoshoots. With more collections and more plans to expand bigger, there is only great things in store for Hoodrich.
Looking out onto the city that birthed the brand, the Hoodrich studio sits on the outskirts of Birmingham city. In the small and humble studio space, sheets of designs are plastered across the widest studio wall, large prints of photoshoots hang high and Jay is sittting in the central focus of the room with his team working busy around him. Entering the room, we are greeted with the warmest welcome and we quickly get down to the story of Hoodrich.
How did the idea of Hoodrich the brand come around?
Jay:
At a very young age, I started to get into clothes, I tried to look fresh. I used to watch Wiz Khalifa's
Day to Day,
which were episodes he used to put out on YouTube and I was just inspired by the lifestyle he was living- he was doing what he wanted but still looking fresh. When I got into my later teens, I was very much into American streetwear, and I used to spend all my money on clothes. I loved the process of finding new stuff, ordering it and then it coming and unboxing it. It got to the point where my wardrobe was pretty full of American brands. I said to myself, 'I'm obviously really passionate about clothes, why don't I just try and start my own brand'.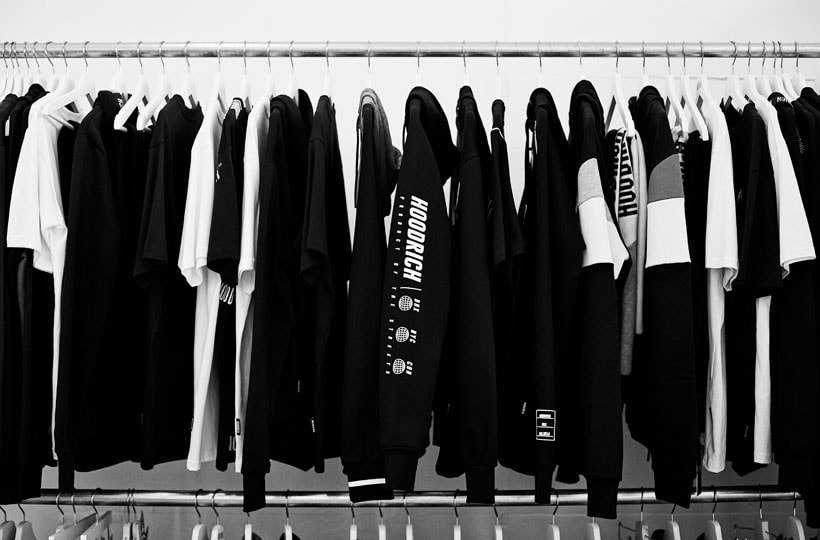 'From Nothing to Something', How does your slogan reflect the life of the brand?
Jay:
Hoodrich is all about transition. The word "Hood" is somewhere you are at in life and "Rich" is somewhere you aspire to be. So, it's about going from where you at in life, to where you want to be. Ultimately that's Hoodrich- from nothing to something. It's about me proving to myself that I can create something out of nothing and that's our ethos. We push this in our socials. Whenever we work with someone we ask ourselves, do they align with the brand's message? Do they fit what we're about? It's what the brand represents. We started from nothing, and we still have big ambitions.
So, when the concept had been decided, how did you go about putting it into play?
Jay:
The poundshop! I had the idea and the first thing I did was buy notepads, folders, pens- just everything so I could get my ideas out on paper. I had never started a business before I had never done anything like this before, I knew nothing just what I had been told. I had to figure it out myself. There was a lot of research involved after I made notes- googling, having the initiative to pick up the phone and ring people, getting out there, meeting people face to face. For me the hardest part was coming up with the idea, so from then, there was nothing that could stop me from taking the necessary steps so the brand could get to where I wanted it.
Looking back on your journey, what do you think helped the most to get your brand out there?
Jay:
Firstly, it started with my vision. My vision for the brand is so strong, I know exactly what I want. By me having the clarity, it enabled me to go and figure out exactly what I need to do. Social media has helped massively, because when we started in 2014, the brand started with a video, not a photo. I wanted it to be different. I wanted to start as I meant to go on.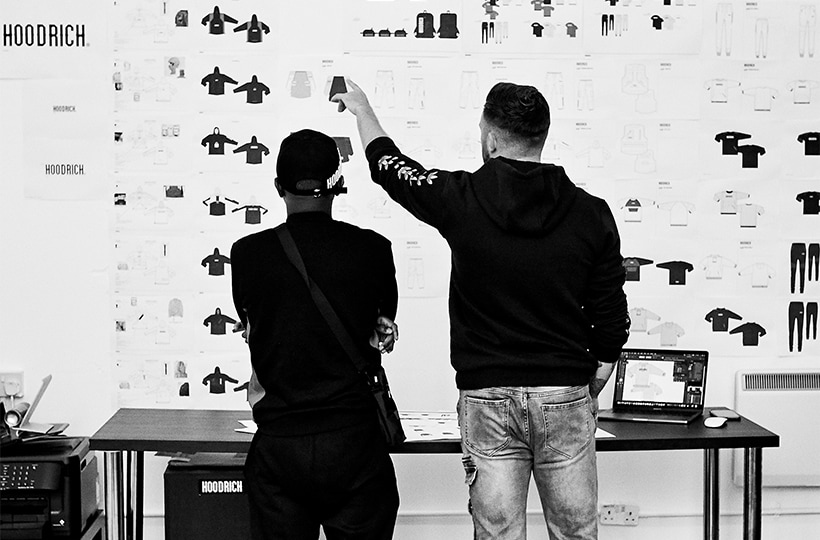 Moving onto design, talk us through the typical Hoodrich design process.
Martin:
I understood the brand when I first came on-board, I was on a level where I could go somewhere with it. Whenever we start the design process, it begins with research, we share these ideas and research, any inspiration on Instagram. It's an on -going thing, you have to eat, sleep and breathe this process otherwise you won't ever progress. We start with the new collection, what is in the range plan and then we design around that. Then it is up to me to produce this. Jay trusts me a lot with the design aspect, and to be trusted is great as it gets the best of my ability out and fullest attention. It doesn't go, that's alright I'll make that- it's a full process that allows us to get to a stage where the product hits the shop floor. It goes from initial research, cadding, development of ideas, sampling, reviewing.
What are your standout pieces from the new collection?
Jay:
Mine is the OG Drip hoodie. It's slightly different to the rest of the
hoodie's
, this one comes up a bit higher. We have the 3D injection print on the front which is a premium logo application. We worked on this in Istanbul at the factory. We had a good response to this sort of thing, and it's something the brand will use more moving forward. There are some modern jet pockets, open hem, with toggles for closure and a badge. There is a 3-panel hood for customers who are conscious about their hood fitting nicely.
Martin:
My favourite is the
utility vest
. It's quite detailed and technical, and a really creative piece, which will be a big seller moving into the new season. We have focussed on the finer details- the branding on the zip pullers, the buckles, the zips. There is already a demand for it, people are already asking where they can buy it. It's one of my defining moments as a designer and shows who we are.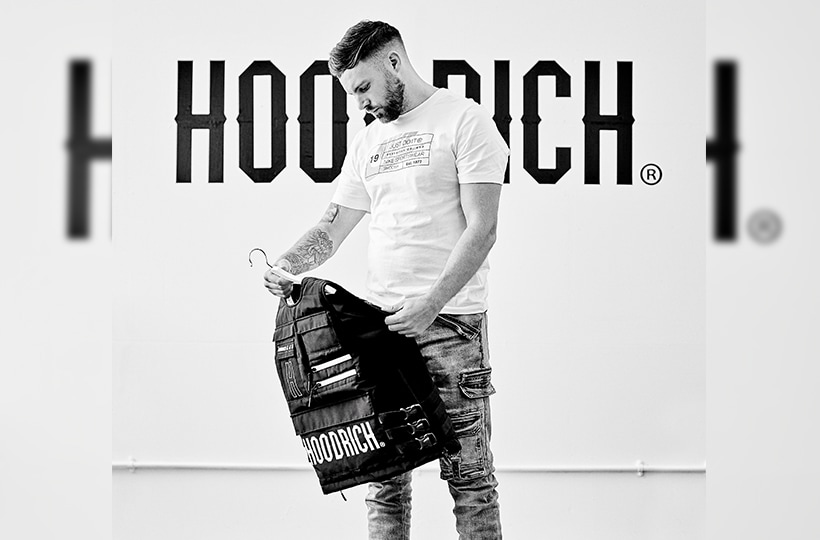 How much has the operation behind the business grown in the past 5 years? Is there a bigger team behind you now, is it still a family feeling business?
Jay:
When I first started in 2014, the brand has grown a lot. Along the way I have worked with a lot of creative individuals from photographers, to designers, artists, people in the creative industry. We are a small team, right now we are going through a growth period where we have all had to step up our game. I only want to work with people who have a real passion for the project and the people I chose to work with, do have the passion.
Your brand seems to always be growing, but do you think there was a moment you felt you had reached success?
Jay:
Young people who have businesses or who set out to do something, they think it's that one thing that'll make them blow up. It's easy to think that. As a brand, you think 'oh if I get so and so to wear it, or if I get it in this shop', they're going to blow up. It might help elevate the brand, but we're on a marathon. It's a never-ending ladder for me, so I look at any big move as just another step on the ladder.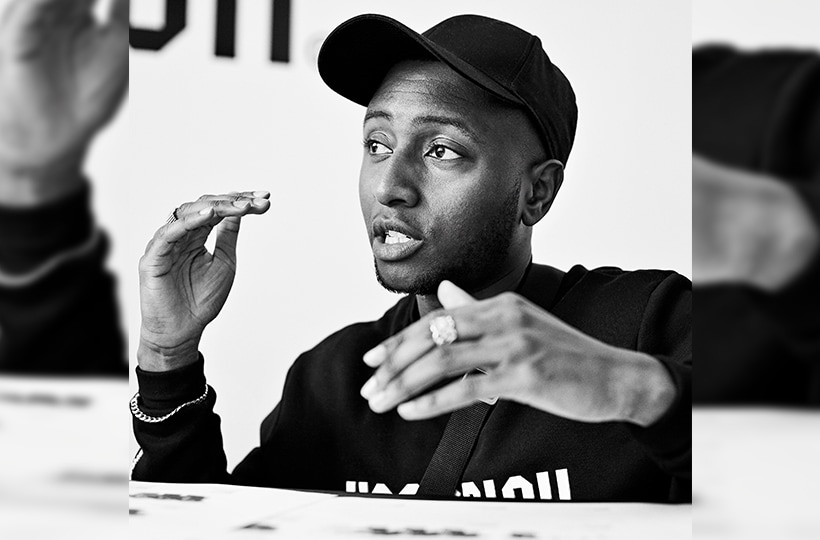 Where do you see yourself, and the brand going in the next 5 years? Do you visualise and plan that far ahead, or do you only focus on the short-term successes?
Jay:
Yes! For me, I'm a big long-term planner. I talk about the brand being around forever, because I believe it can be. I think we have a strong foundation, I feel like the people I work with are playing the long game as well. For myself and the brand in the next 2 to 5 years, the aim is to be a household brand in the UK and Europe. So, to be fully recognised, and then after that we want to take to the States. There is a lot of work to do but there has always been work to do from the very start.
Shop the new collection of Hoodrich
here
or pieces from the image below.