What up, Snoochie Shy? Tell the people a bit about yourself:
Hiya, I'm Snoochie Shy. I'm a presenter, DJ and model. I host the breakfast show on Radar Radio, DJ for club nights and fashion events and I'm also a presenter.
I collaborate with different fashion brands either through modelling, directing or styling campaigns. I also own three cats and live off a diet of chicken and Jaffa cakes.
Wow! Your schedule sounds pretty busy. Tell us about a typical day in the life of you…
My days are so different, no two are the same!
It's actually quite fun. It usually always starts off with me hosting my breakfast show on Radar Radio which is always interesting. I could be eating a cockroach, doing a rap battle with a fellow grime artist, or even some breakdancing!
After that I might have some meetings or filming, I could be creating content, be on a shoot or DJing. Very random!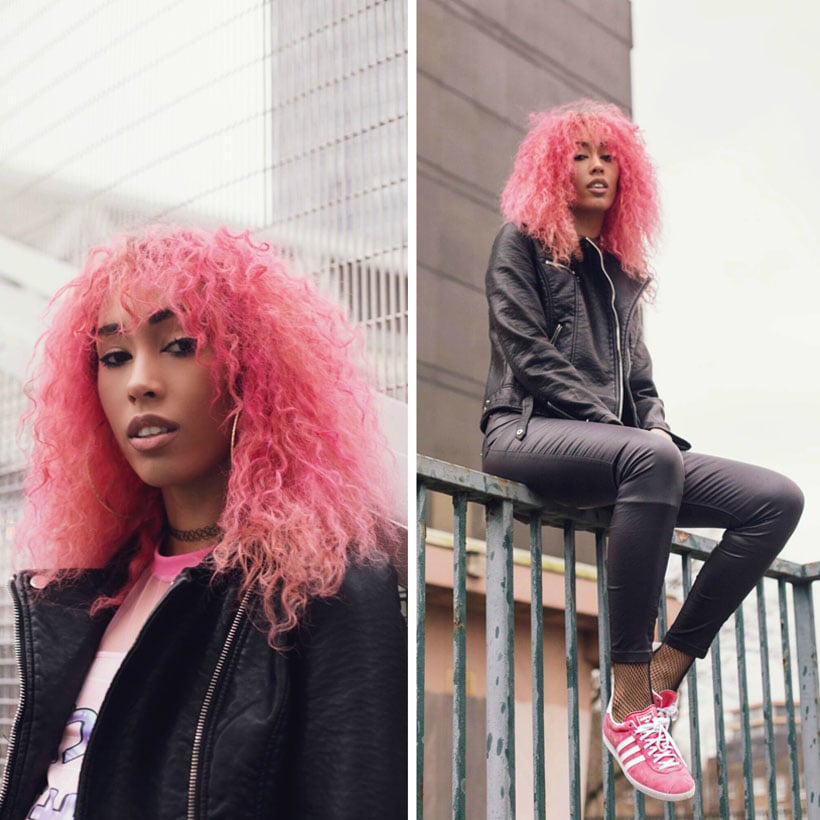 So, you're a DJ? How did you get into that?
My best mate since primary school
@CKTRL
, is such a sick producer and DJ, and he kind of inspired me to get into it.
He has such a huge passion for it and he really made me want to explore my love for music too. One day I decided that I was going to stop thinking about if I should start or not, so I just thought "F IT!".
I bought the equipment, locked myself in my room and taught myself.
Do you think your music taste influences your personal style?
Definitely!
I listen to a wide range of music. So I could be listening to Incubus, Mystery Jets, or Paramore and I get the urge to dress very gothic; big heavy biker jackets with fishnet tights and black boots. But then I'm also into a lot of instrumentals and a lot of trap, grime, ballroom and vogue music, and this reflects my mood and how I dress too.
I just like experimenting with fashion through colours and different looks!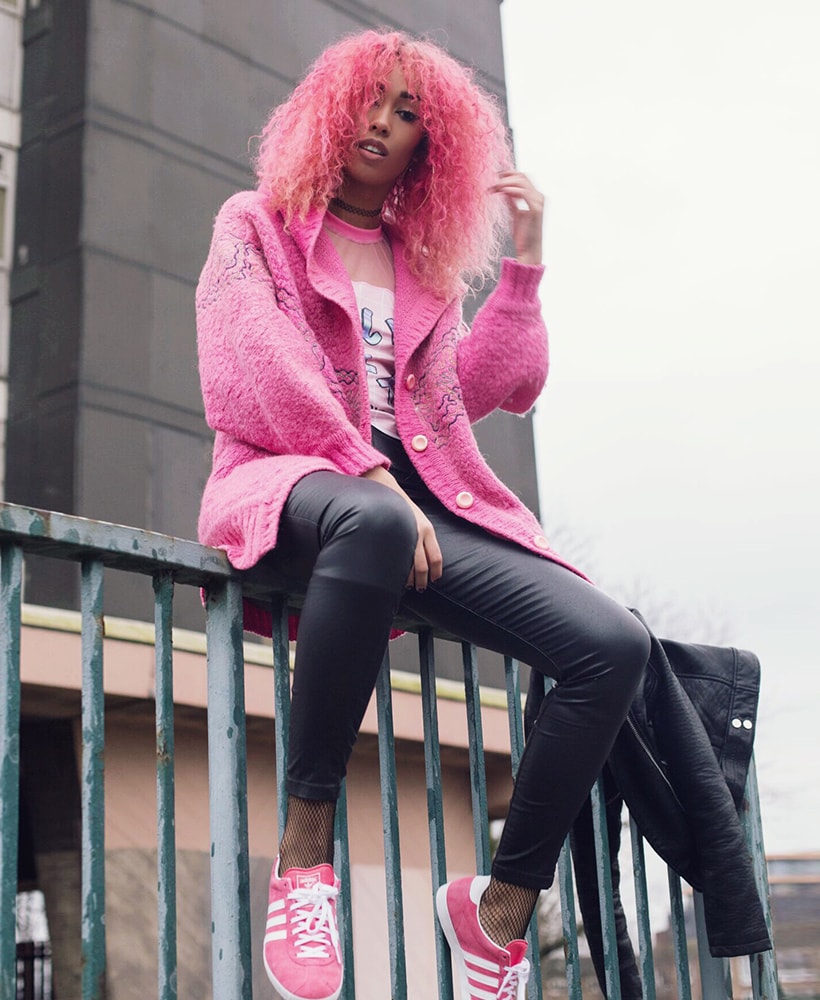 Nice! What about your candy pink style? Where did this come from?
I had blonde hair and then I got booked for a shoot for LULA magazine and
@arvidabystrom
said she wanted my hair pink.
I was so reluctant at first, but since it's been changed to pink I've never looked back! Pink has always been my favourite colour though, alongside black and pastel blue.
How would you describe your style?
I've always had street wear type vibes. I've always been a trainer or boots kind of girl as opposed to heels.
I think my style has evolved; I experiment with a lot more colour now and I'm not afraid to dress how I want. When I was younger I used to care a lot about what people thought, but now I couldn't care less. I think as long as you're happy, that's all that counts.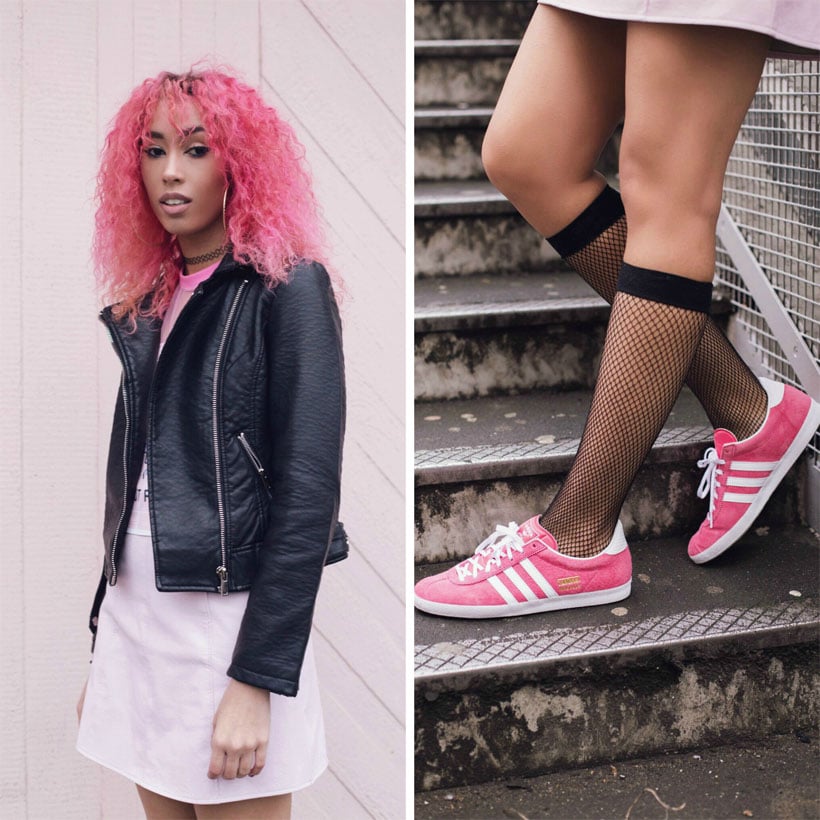 Who has been the best celebrity you've interviewed and why?
I think my favourite person I've ever interviewed is actually Miss Dynamite. I've always looked up to her as a positive female role model and she was my first ever interview whilst I was at MTV.
I told her that my mum bought me her 'Put Him Out' single, and said if I was ever feeling sad about a guy I should play it. Then Miss Dynamite started crying on camera!
As it was my first interview you can imagine how nervous I was that I had made her cry, so I just tried to find some tissues.
How many pairs of shoes do you own and where do you store them?
I own over 200 pairs of shoes. I don't have great storage space; my mum complains because she's always tripping over them. LOL! Ikea, where you at?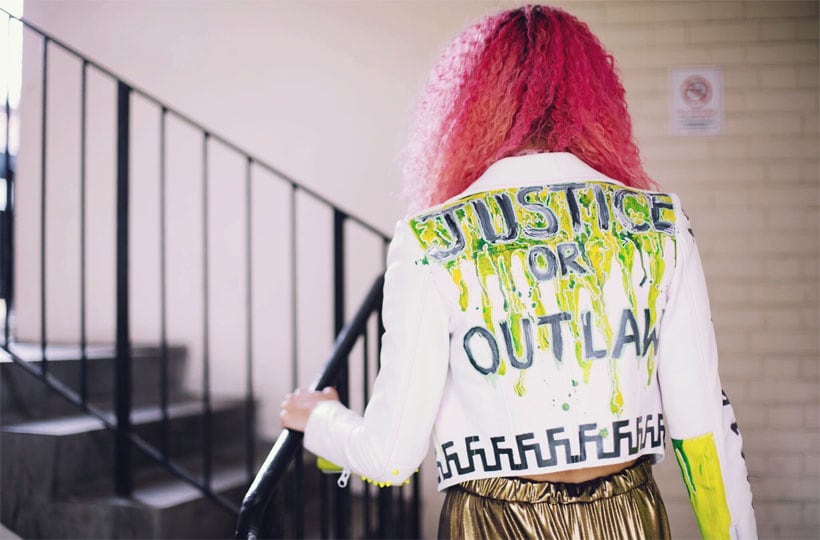 What's your favourite sneaker?
I love adidas and Puma. At the moment my favourite adidas are the Superstar Rize trainers and the pastel pink Trinomic are my favourite Pumas.
Where do you find your style inspiration?
My mums #TBT pictures!
What have you worn on your feet today?
My Pink adidas Gazelles. Dope trainers!
What do you love about them most?
I love the pink
adidas gazelles
because my mum had a pair of black ones from back in the day, and I wanted to wear them so much but my feet were too big for them! I've styled them up with a sick jacket which was made for me by the talented
@empress.lakoues
!
What are your social handles so girls can check out your style?
@snoochieshy
www.snoochieshy.com
www.soundcloud.com/snoochieshy
Thanks Snoochie, we'll be sure to watch out for you on IG for our daily style fix.
Listen to Snoochie's exclusive playlist below:
Photographs by
@stfndocs