Lucy Rance, AKA
LuluTrixabelle
, is one of the most colourful gals on the 'gram.
Best known as ¼ of The Confetti Crowd, and creator of her own brand Fluffy, we spoke to her to find out more about her style, sneaks, and all-round thriftiness!
Hey Lucy, great to finally meet you! Tell us a little bit about the girl behind the lens…
Hey! So, I've been blogging around 6/7 years now. Blogging was very different back then, but I began my blog to share my love of thrifting, my car boot sale bargains and outfits for under £5.
I'm still a thrifty gal at heart, and that shows through my current blog posts and videos - I'm always wearing something thrifted.
I'm also a freelance designer for my own label FLUFFY. I love travelling, photography and cooking.
And for those who don't know, tell us about your style. Do you have anything that inspires it or is it all you?
I've always been the one who dresses weird. I think because I was a bit different from a young age, people just get used to me being the one who turns up in crazy outfits, and they just know me for it.
I get most of my inspiration from street style, Pinterest & Tumblr. I love ladies who are fearless with their outfits, and dress for themselves and themselves only.
So, you're well into your colour too! How do you go about putting together an outfit, does it take a lot of work or is it just what you're feeling at the time?
I honestly don't put much thought into my outfits at all, I just kinda fling stuff together and hope for the best.
Sometimes it works and looks super co-ordinated, sometimes it looks like rainbow mess, but either way it's always colourful!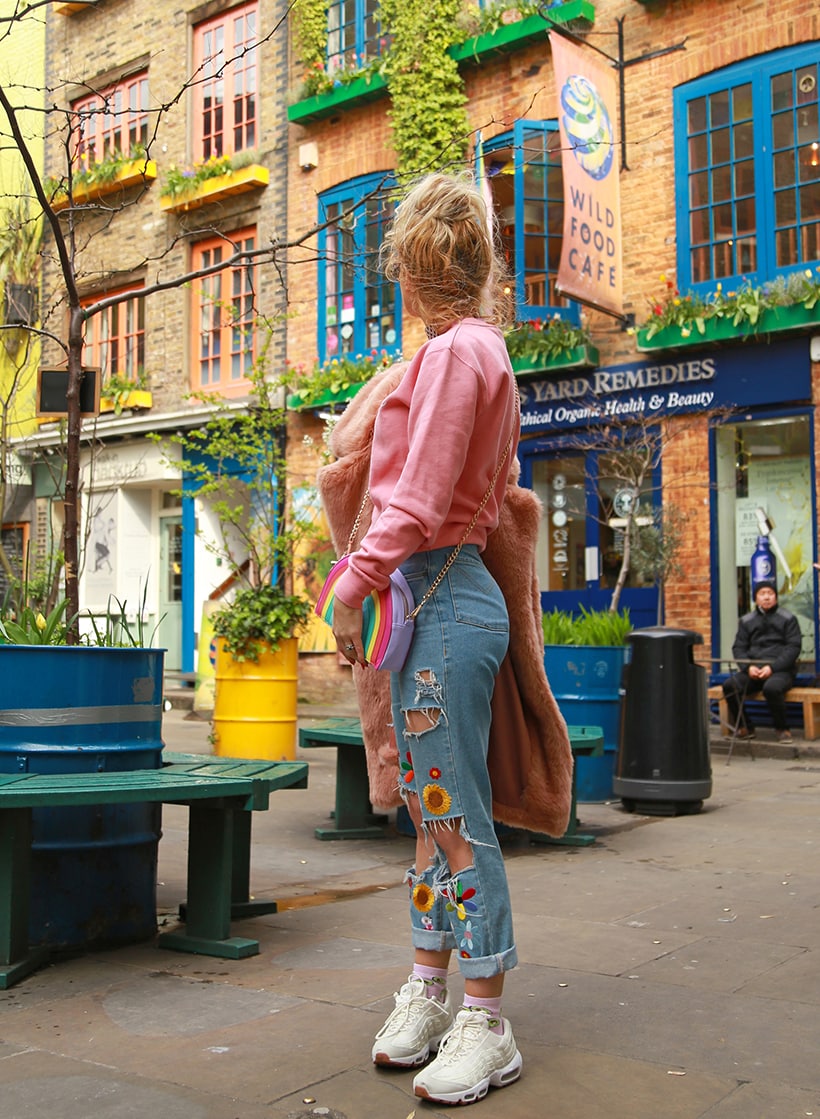 Do you have any words of wisdom for anyone struggling with working colour into their outfit?
My no.1 tip would be to stop buying black clothes! I probably own 5 black items, and most of them are activewear.
Wearing colour lifts your mood so much, and makes other people feel happy too! Spread the positive vibes and dress colourfully.
Would you say that vintage is a big player in your wardrobe?
Definitely! I wear mostly vintage/second-hand clothes as I shop a lot in charity shops, vintage shops, jumble sales and car boot sales.
They're the best for finding bargains and pieces that no one else will have!
Tell us about the shoes that you've chosen! What've you paired them with and how did you find them for styling up your outfit?
I chose some
vintage style Air Max 95's
, because they're just so cool and scream 90's!
I got them in off-white which will go with pretty much any outfit.
How about the sweatshirt, what was that like?
I chose another vintage style piece,
the pink Ellessee
.
I love all the vintage pieces that are coming back into style - but I always thought they were cool!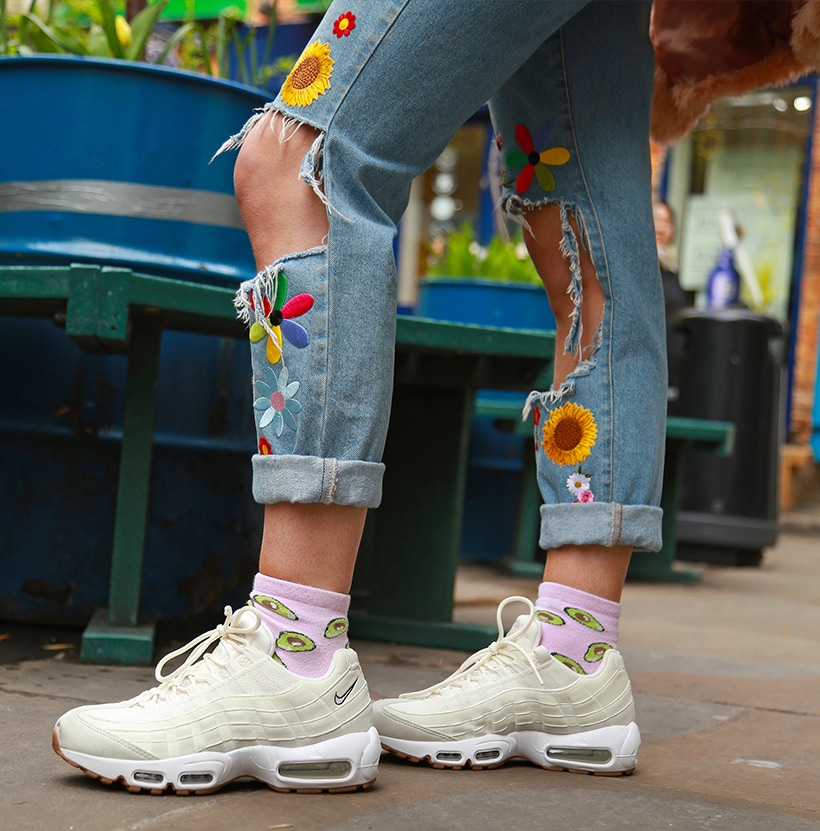 Would you say you're usually a sneaker girl, or this new territory for you?
Definitely! I own loads of pairs of trainers.
My faves are my neon yellow Nike Air Max 90's, my rainbow Reeboks & my green Pharrell Superstars - and now my Air Max 95's of course haha!
So, tell us a bit more about The Confetti Crowd!
The Confetti Crowd are an all-girl collective of creatives, working together to support female empowerment. We are advocates of self-love, encouraging confidence and success in girls worldwide.
It always seems like a fun atmoshpere! What's it like working with your BFFs most days?
So much fun! It never feels like work when we're together. What makes us work so well as a team, is that we're hard-working gals when we need to be, but we also love to party together.
They're the coolest and most fun friends a girl could ask for!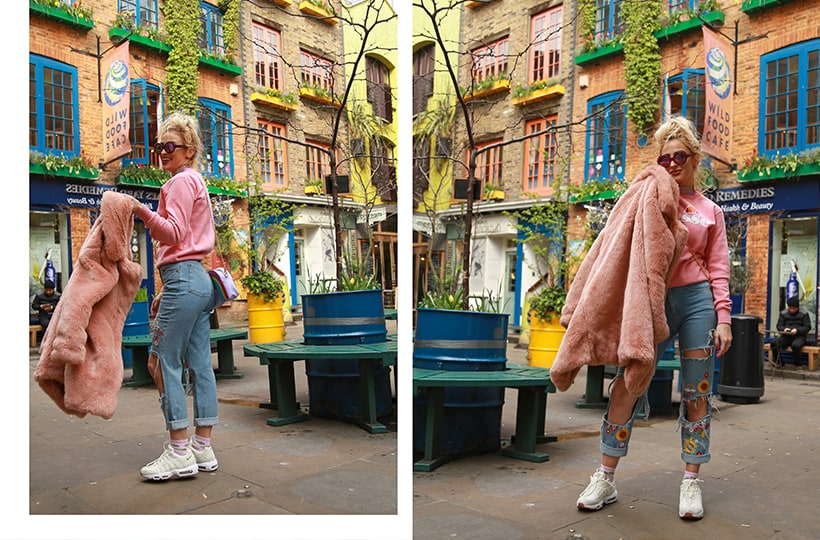 Do you find that your style is often influenced by theirs, and vice versa?
I definitely dress a lot more colourfully when I know I'm spending the day with the Confetti's. Their unique styles inspire me every day!
Aside from fashion and blogging, what is it that you love doing most?
I love sewing, photography, music, travelling the world, going out for food, cooking, and drinking cocktails.
And finally, where can we keep up to date with your goings on?
I'm most active on Instagram
@lulutrixabelle
and to get to know me best you can watch my videos! My YouTube channel is
Lulutrixabelle
.
Awesome, thanks so much for chatting with us Lulu!