Tell us about Chloe Plumstead?
Hi! I'm Chloe, a 21 year old English Lit student and personal style blogger. I'm all about spreading sass, and I saw a meme once which sums me up perfectly: "I'm the girl at the party that plays with the family dog".
Tell us about a typical day in the life of you…
If I'm at uni then a typical day for me consists of waking up, getting myself ready and whipping up a smoothie before heading to campus. I'm home for summer at the moment though, so after I've rewarded myself with a few weeks of coffee catch-ups and PJ days, I'll be diving headfirst into a work experience placement and juggling my blog and YouTube alongside it.
What's the story behind your blog The Little Plum?
The Little Plum is all about documenting my personal style and any other lifestyle bits and bobs along the way. I love trends but I know my own style and what works for me, so it's all about trying to keep up to date but maintaining my own edge at the same time.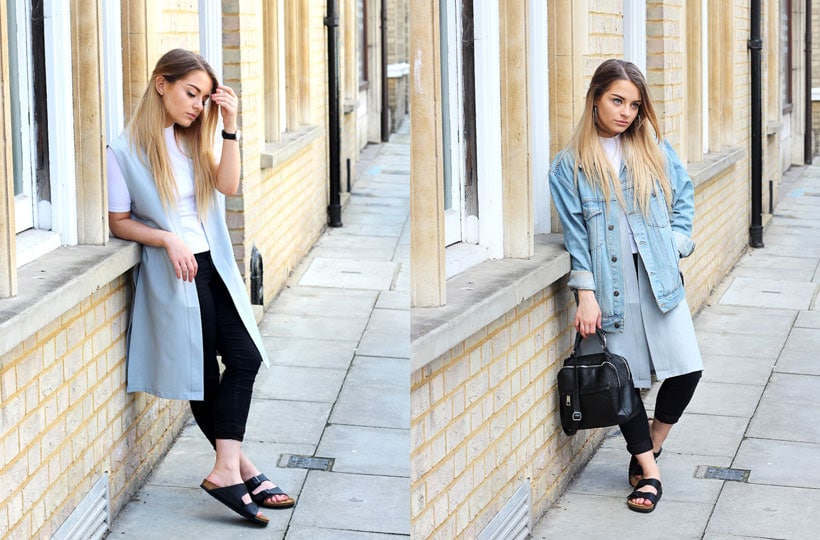 How long have you been doing it for and what led to you starting the blog?
I actually started blogging when I was 17 but I didn't commit to it fully until just over a year ago when I upgraded my camera equipment. I started because I'm a creative person who loves design and aesthetics, and I wanted to share my personal style with other like-minded, sassy divas. I've always been interested in fashion, beauty and photography and I used to shoot my friends all the time when I was younger, so it all culminated naturally into The Little Plum and it's grown from there.
What have you worn on your feet today?
Today I wore black cut out boots with a peep-toe and buckles. I was wearing a tailored waistcoat with a cropped tee and culottes, so I wanted to finish the look off with tough but polished footwear.
How many pairs of shoes do you own and how do you store them?
Traditionally I'm not much of a shoe hoarder because I have really small feet and it's tough to find footwear that fits properly. Right now I probably have around 5-6 pairs that I wear religiously, but I am beginning to build up my collection and trying to expand my shoe repertoire! I store them either on my shoe rack or at the bottom of my clothes rail so they're always in sight for pairing with outfits.
What kind of shoes will be on your feet this summer?
Birks, boots and the new lace up shoes that everybody has gone bonkers for. I love the look of bare legs and black boots so that's normally my go-to, but the hotter it gets the more leather-look boots are just not an option. That's where my Birks come in and serve me that sweet summer sandal relief. Ahhhhh.
Are you a trainers girl? What's your favourite pair?
I am, but I like my trainers minimal and simple. At the moment I only own two pairs, but they're both so perfect that I think just a pair of Stan Smiths would finish off my collection nicely. The couple I own are the white adidas Superstars and some black and white Nike Roshe Runs. I wear my Superstars the most because I love the all-white block statement, but the Roshes were a gift from my boyfriend so they're definitely a lil' sentimental to me.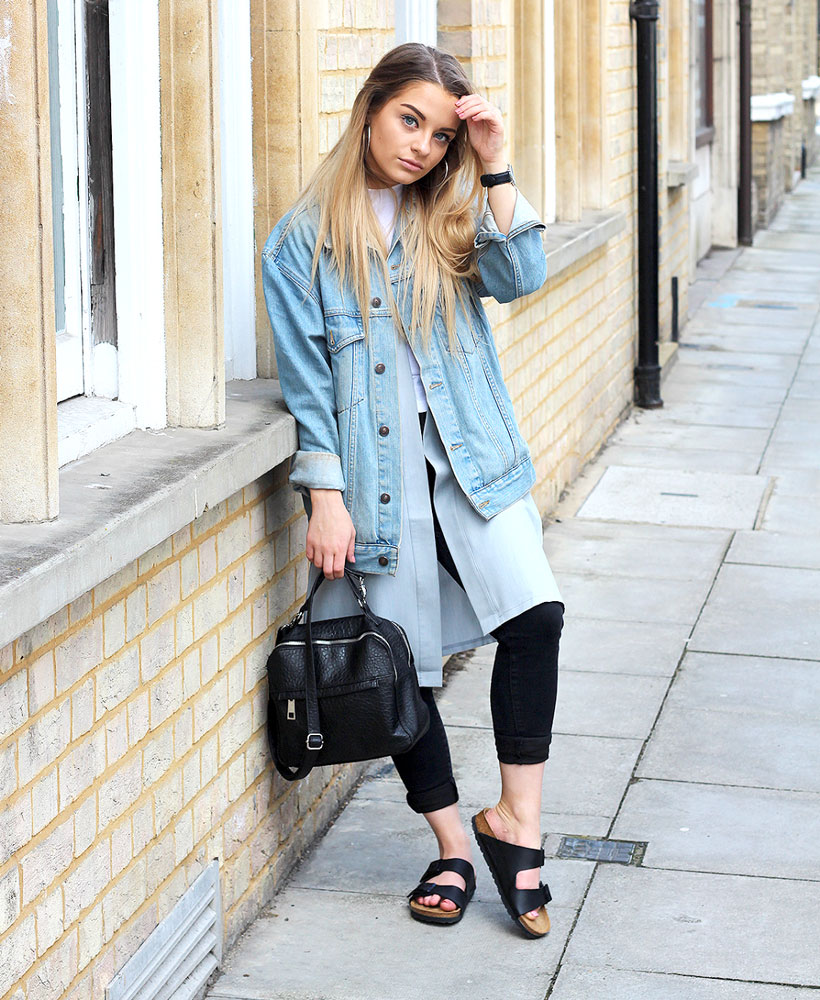 How would you describe your style? And have you always had this style or have you grown into it?
I'm not sure if it's much of a style motto, but for me, "keep it simple" is definitely a concept that sums up my personal look. If it's not black, white, grey or denim, I'm usually not interested. Obviously I'm still learning what works for me and my personal style is ever evolving but I know I will always feel good in a crisp white shirt and a pair of clean black jeans.
Where do you find your style inspiration?
Pinterest is great, as are the styling tips on some brand websites. Instagram is my holy grail, however, and I'm an A Class stalker when it comes to stalking style!
Are there any girls out there in particular inspiring you day-to-day?
I find myself more inspired by the confidence, creativity and all-round sassiness of particular girls rather than just their style itself. I love Lucy Rance from Lulutrixabelle, Amy Spencer from The Little Magpie and one of my all time faves, Megan Ellaby from Pages By Megan. These girls remind me to be confident, take risks and always be sassy, which is more inspiring than anything. My housemate Ellena also has amazing style and I'm always stealing ideas from her and stalking her Pinterest inspo boards!
Any advice for aspiring stylistas?
Always be sassy and if you like it, werk it.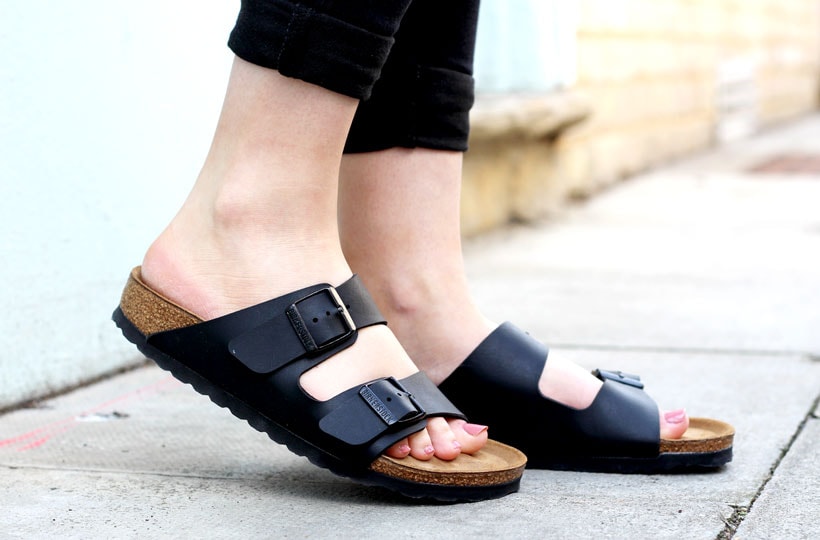 What do you love about Birkenstocks?
Birkenstocks are the ultimate cool girl sandal. They still have a reputation for being an "ugly shoe", but I think they're beautiful and there is something rebellious in wearing something you think other people might not like. Birkenstocks instantly make any outfit cool with a super edgy chilled vibe - they're effortlessly chic, and that's what I love about them.
Talk us through how you've styled them up?
Here I've styled up my Birks in alignment with my style – simple and clean. I've gone for rolled up skinny jeans, a ribbed turtleneck tee and a light grey duster waistcoat. I layered a light denim jacket over the top for added dimension, and of course, where would I be without my summer staple – big silver hoops. I wanted the outfit to be effortless and minimal, so there couldn't have been a more perfect shoe to pair with the look. Black Birks are everything.
Check out Chloe's blog and follow her on social media for more outfit inspo and styling tips. Get Chloe's Birkenstock sandals here or shop our Birkenstock collection.

www.thelittleplum.co.uk

i: @chloeplumstead

t: @chloeplumstead