Tell us about yourself!
I'm Yani, I'm 27 and I live in London. Day-to-day I'm a Freelance Social Media Strategist and Content Creator, but in my spare time I run female sneaker blog Big Eyes, Little Soles.
What are you wearing on your feet right now?
Right now, I'm wearing a pair of Nike Air Force 1 premium leather low iDs, which I created this summer.
How long have you been collecting trainers for?
I chose my first pair of trainers when I was pretty small, maybe 9 or 10, and I was hooked from then on. I know I was wearing kicks before then but my Mum always picked them. I was mainly influenced by my older brother who always had freshness on his feet, and from the kicks I would wear when training in athletics.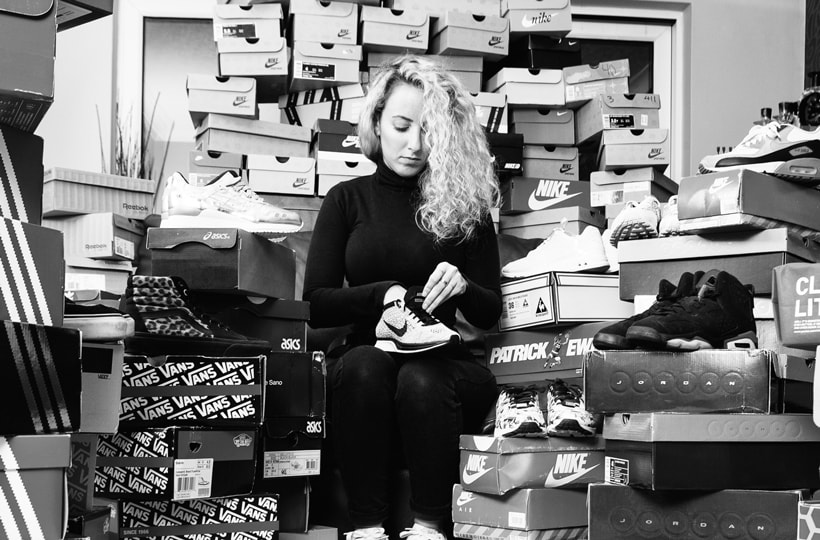 What's the first pair that you ever owned?
The earliest pair I remember having were Filas from America, but the first pair I remember buying myself were Nike Dunk Lows.
Do you have regular clear outs or stash everything?
I rarely sell anything; I just can't let go of them!
What was the first pair that you were desperate to buy?
I've never been desperate for a pair of shoes but I was really excited to finally get my hands on some Nike Air Tns from America when I was about 15 – they were this amazing grey and nobody else at school had them because I don't think they came out over here.
How many pairs do you have and how do you store them?
I have around 250 pairs and they're all on shelves in the spare room.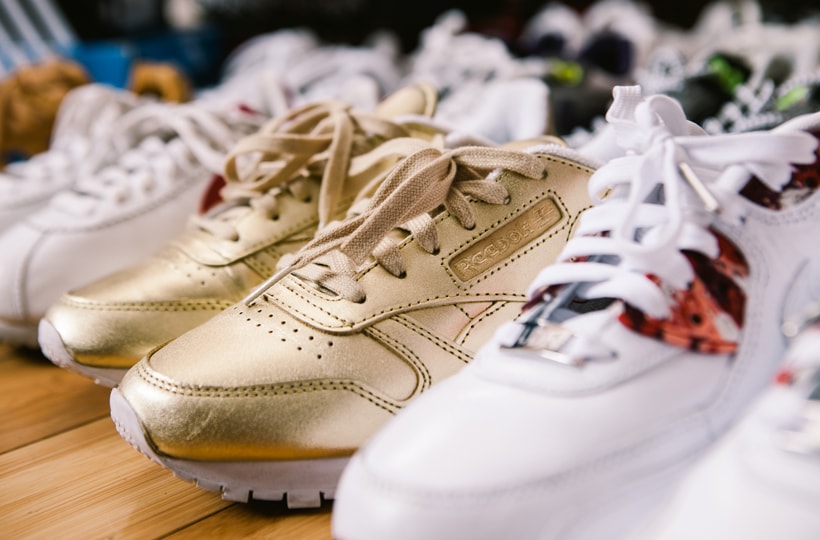 Do you have any box fresh pairs?
Yes. When I really love a shoe I'll buy it a few times so that I can always have a fresh pair. I have some adidas Gazelle IIs, Nike Roshe Run Woven, Nike Cortez, and Reebok Classic Leather in grey suede all still fresh!
What are you looking to cop next?
I know that Nike are going to be dropping some awesomeness with the Cortez this winter, so I'm excited to see what's coming there.
What's the most important thing you consider when choosing what footwear to wear that day?
The weather, where I'm going and what I'll be doing.
What are your top three pairs that you own?
It's hard to choose! It changes all the time. At the moment, I can't get enough of the Reebok Classics x FACE Classic Leather. My Nike Air Stab 'Dave White' will always be a favourite and probably my Asics x Team Netherlands GT-II.
Have you ever re-purchased a pair?
I will always repurchase the Nike Cortez. I can wear them to death and I'll always be sad when they're ready for the bin.
How far would you travel for a pair of kicks?
Not very far to be honest – probably not the answer you want to hear. With the internet you don't need to travel far! Also I've got such small feet so none of the super special drops release in my size, so it wouldn't be worth my while!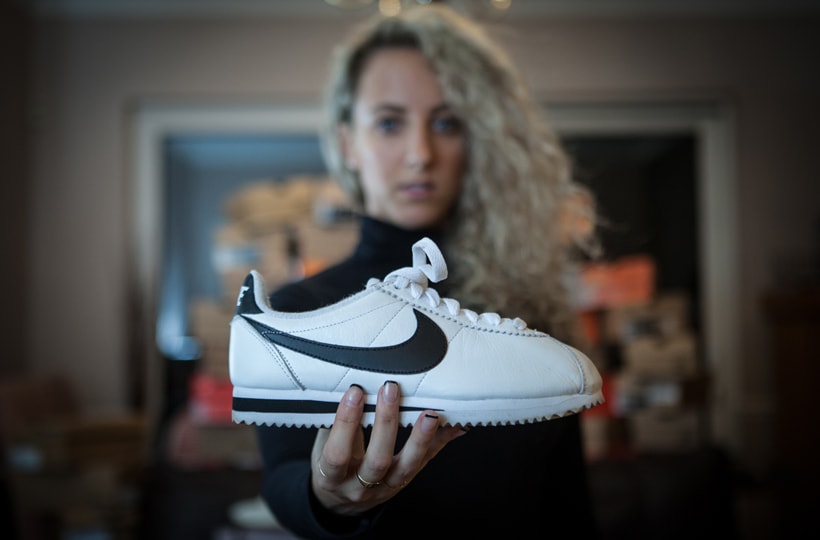 Have you got a footwear style icon? Who do you follow that's top of their game?
To be honest, I love seeing how the girls from the blog rock their kicks. We're always talking about what we're going to buy and constantly discussing which outfits we wear with our trainers. So my sneaker style icons are all of the Big Eyes ladies.
If you had to pick one silhouette to wear for the rest of your days…
It would probably be the Air Force 1 low. It works across seasons, is always comfortable (gives me much needed height) and is just perfect! It's a timeless silhouette that works for day or night-time looks and, if kept looking fresh, always looks amazing.
What would be the ultimate brand collaboration for you?
That's a tough one! I would say right now for me if there was a Nike x COS collab I would camp for it haha! Just imagining the clean lines, Skandi style influences and beautiful leathers. YUM!
What are all of your social handles so readers can check out your footwear game?
Insta: @YaniLDN Twitter: @YaniLDN
Insta: @bigeyeslittlesoles Twitter: @bigeyeslilsoles
All photos by:
Chelone Wolf
Instagram / Twitter: @chelonewolf