Rachel Foxx's breakthrough in the music industry is a case study in contemporary culture. She's the next wave of UK soul music - part of a generation who aren't tied to a single subculture, whose heightened sense of politics, opportunity and independence stem from moving fluidly across cultures and communities. Talented and confident with a sharp sense of self, it's no surprise the London native is on her way to big things. Over iMessage, Rachel lays down what's next: a big live date in London, and a debut album next year.
It's an ambition that, so far, has been rewarded with 9k SoundCloud followers, 23,000 monthly listeners on Spotify, and sold-out shows in London and Europe. When we speak, she describes her sound as "soulful, r&b, but modern… with influences of Jazz and Hip Hop".
Flame
, Foxx's 2nd EP to date, realises modern UK soul in a project that sees hip-hop flows over 90's beats, elements of funk and dancehall vibes - all brought to life with rich, silky vocals.
Through SoudCloud, she's found an international audience who inform gigs across London, Paris and beyond. Mixing self-published, laid back R&B with live shows featuring a full band, Rachel Foxx is one to watch for 2018. We caught up to talk Air Force 1s, sold out shows and her new EP,
Flame
.
How has growing up in London influenced your sound?
Grew up in Hackney, Shoreditch side… growing up [the area] was pretty rough, but then it became really popular, really diverse as it got gentrified – then it became really multi-cultural. For me, it made my sound really diverse, and made me keep an open mind. Growing up it changed so much I just adjusted to it, East London became a creative space for me.
Gentrification is often portrayed as a bad thing.
It mixes things up and adds opportunities to the area. It's a positive and a negative – it makes the area safer and there's more money coming into the area. On the other side of it there's the culture you grew up with being pushed away a bit.
How did your home life influence you?
My Mum's British Nigerian and still has the old school mentality, like wanted me to do academic stuff, be a doctor or something. My Dad's got a really good job he works in computer science. All through school I didn't get to study music, all through school they were sceptical about it. When I got to college, I was like I don't really care, I'm going to take music seriously. They're not strict, but they're traditional. It made me a bit apprehensive about it at first, but I always knew I wanted to do music.
The internet and social media have changed the way an artist can break through. What's it like taking that path?
The internet is not as nerve-wracking as performing in front of 500 people. It's nice to get feedback and stuff, especially from people from different countries. I was always shy to perform and stuff, I did a few small things in school but when I put the music out and it started getting traction, Live Nation contacted me to do a headline show in London, and it sold out straight away. My first show sold out straight away. In London. I was so lucky in that sense!
Artists used to do live performances first, before getting stuff recorded. You had to work out how to do things the opposite way around. Was it hard to translate your tracks from SoundCloud to live venues?
I just got a band. I don't know, I was really lucky I knew people from jamming sessions in Hackney, and they just made it really easy for me. They supported me and stuff. We started rehearsing, and then I went straight to the stage. It became really comfortable, so when it came to gigging I wasn't nervous at all. I've been in the studio for years, performing is so fun, such a different energy.
US artists like Drake have raised the profile of the UK scene in recent years, helping bring through artists like Jorja Smith. How important is this to the UK scene?
We're just doing our own thing. We don't need Americans to validate us, even though it's good for visibility they've got a much bigger scene than us, especially in soul and R&B.
There more demand for it over there, but In London there's still love, It's growing and in the last few years it's spread massively and a lot of people can see this and are trying to get involved. There is demand for it but I don't know what it is - It's growing.
Let's talk about the EP. Flame starts withold school soul vibes then moves into R&B before finishing with some dancehall beats. When you're putting it all together, what's your process?
Daydream (Freestyle)
just felt like an intro, it's not really a track, it's a freestyle so it felt right going at the start.
I kind of plan it out in my head then add stuff in last minute.
Chance On You
wasn't meant to be on the EP, but I wanted a fresh RB vibe in the middle. What I do is I get the songs together and I'll listen to them in order and then change the order bit by bit – I make a SoundCloud private list and listen to it. That's my process with it.
And how do you approach putting together a live show?
What I do is I go through the song, consult with the boys as well – and like plan a set that starts slow, build it up in the middle and then end it with like one of my more hyped songs. When I've got a set coming up I freestyle it a little bit, but there's always a ritual I do.
I've switched it up mid-show before, we know each other so well, and we do everything totally live, so if I just whisper to someone 'do you remember this song' we can just start paying it. I just want everyone to have fun.
You did Piano Sessions with Toddla T, what was it like playing at the BBC?
With the BBC, I was told about like 2 days before, I had plans that day but I was like, everything is cancelled. They're great for artists starting out, they get you out to a new audience and really give you the support you need. Working with the BBC is crazy. The piano sessions was the first time I've seen professionalism to that level. I love the way they do business. It was weird watching it back though - when I perform I'm not nervous, but watching it back I get nervous. Like watching yourself… it's weird for me I'm not used to that yet.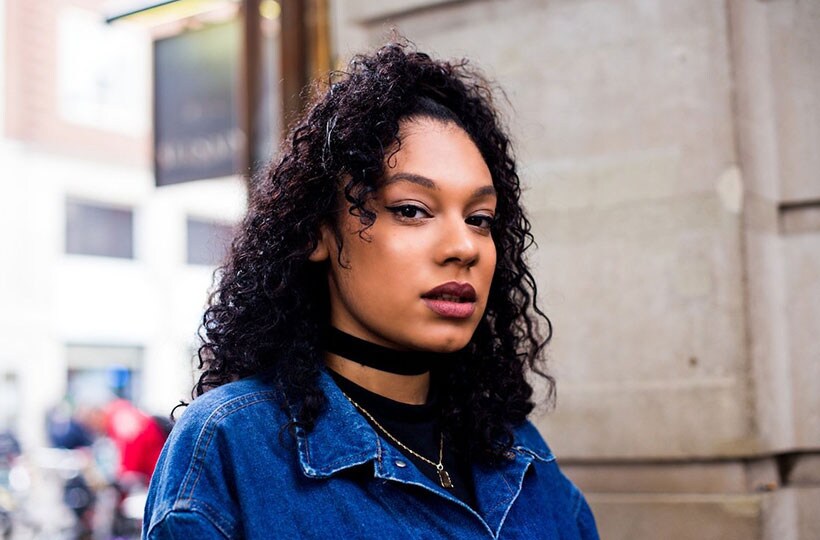 Fashion and Music go hand in hand. How would you describe your own personal style?
Relaxed, I love being comfortable, always in trainers. I performed in heels once, and I won't be doing that again - unless it's like the Grammys or something. I love men's clothing, I get everything I like 4XL. Before music, I used to work in retail, I've worked for every single designer for like one day, I used to always used to leave my job – I hated it, so much stress. My styles kind of like High end mixed with streetwear.
I don't really wear colourful trainers or exclusive stuff. I like all black or all white Air Force 1s or TNs, but I really like what Virgil did with Nike.
Favourite Brand?
Nike. I love them. My favourite shoe is the
Air Force 1
. Everyone that knows me knows I've loved Air Force since I was at school. I'd love to do my own Air Force 1, I even know what it would look like.
We can't wait for that. If you could swap your wardrobe with anyone who would it be?
Rihanna.
Earliest sneaker memory?
In school, my Mum would buy me trainers and I'd keep them for ages and ages. Like you'd wipe them while you're out and as soon as you get home you wipe them again. I remember putting them in the washing machine, too. Not good, they come out and the shape is just wrong.
Thanks, Rachel.
Catch Rachel Foxx at The Heatwave with Toddla T and Sweetie Irie at the Ibiza Rocks Hotel on June 26th, and keep an eye out for London Headline shows later this year. In the meantime, check out her
SoundCloud here
, and Instagram
here
.