A London based fashion blogger, illustrator and model,
Jade Laurice
is a name that's been big in the blogging industry for years. After first starting out on Tumblr, Sheffield native Jade's presence has evolved into a force to be reckoned with – expanding into her own website and brand.
Stepping out of a London cab, Jade was everything you wouldn't expect from someone that's just hopped off a plane following a long weekend in Ibiza; fresh faced, chatty and ready for whatever the upcoming shoot was going to throw at her.
Ready to chat all about her blog, handmade brand Pocalondon, and her bold style, check out what Jade had to say below:
Hey Jade, great to meet you! Tell us about your blog - what can people that are new to your blog expect to find on there?
People can find fashion and art, but simply just a bunch of photos of me prancing around London in lots of denim!
When did you first start blogging and what inspired you to start one up?
I started blogging about 2 years ago on and off. I think I just used to look at those non-fiction girls on Tumblr and had a try myself.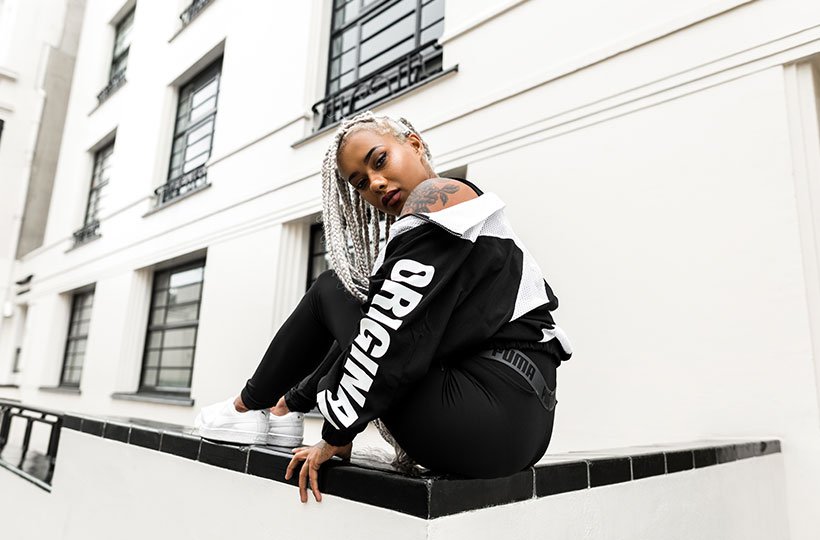 So, your blog says that you promote body confidence, alternative fashion and self-expression –which we love! What made you want to become an advocate for these three things, and how do go about promoting them
?
Mainly because that's what I wanted to see. I wanted young girls and boys to look at me and see me for being me.
I just hoped that in response they could also feel empowered by being an individual and just simply being a women or man.
Do you find that you get a good response from girls and guys reaching out about these issues?
Yeah, I love when they message me saying I made them want to do their hair a certain way or made them feel brave to wear a certain outfit. It's amazing and I remember needing that as a young girl.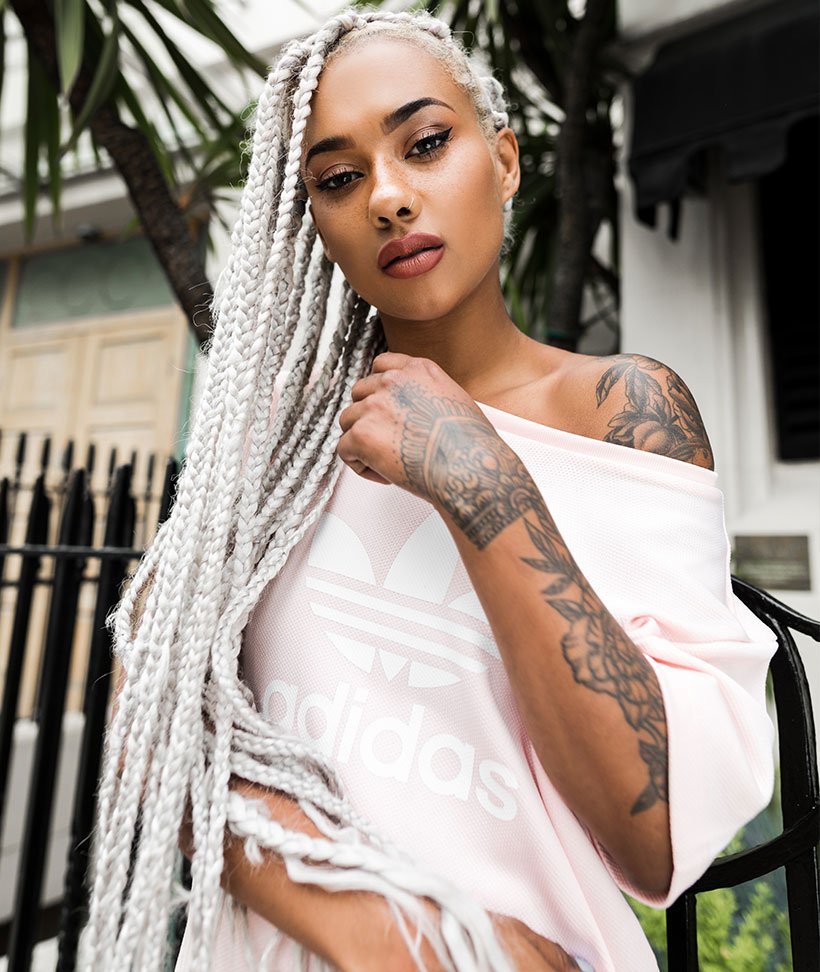 What's your favourite alternative outfit you've worn recently?
I think my black and white checked skirt that I paired with some big heels and bikini top. I felt half naked but hella sassy walking around Ibiza in it!
I used to be scared to walk around showing my body or even just wearing something a little out there, but now I embrace it because, as cliche as it sounds, you only live once.
Tell us about your clothing line Pocalondon.
Pocalondon
is a unisex, hand-painted clothing line. Every piece expresses feelings, emotions and fantasies.
It's like physically wearing art and everything's one off, so it's really a brand that makes people feel special.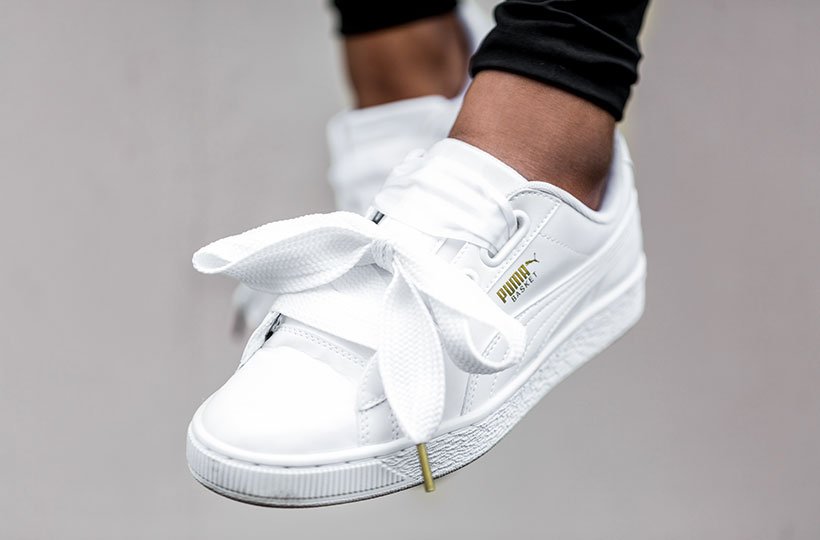 How did it come about, and what's your role there?
I've always painted, but I saw someone in a jacket and it had a print on it. It wasn't hand painted but it just sparked something because, without sounding big-headed, I knew I could do it better. Not because I was a better artist, but because I could make it more authentic and unique.
I went back home to Sheffield, bought loads of denim, got my paints out and went crazy for 3 months. I created a 12-piece collection of hand painted leather and denim jackets and jeans!
You create art and poetry too, – so you're obviously super creative. We can see how you bring it through your clothing line, but how do you channel this into your everyday style?
I'm a very moooody person. So, if I'm in joggers when you see me, I'm either really tired or just ready to turn up in some underground club.
I dress for my mood, however I try to be on point every day because you never know who you're going to bump into in London.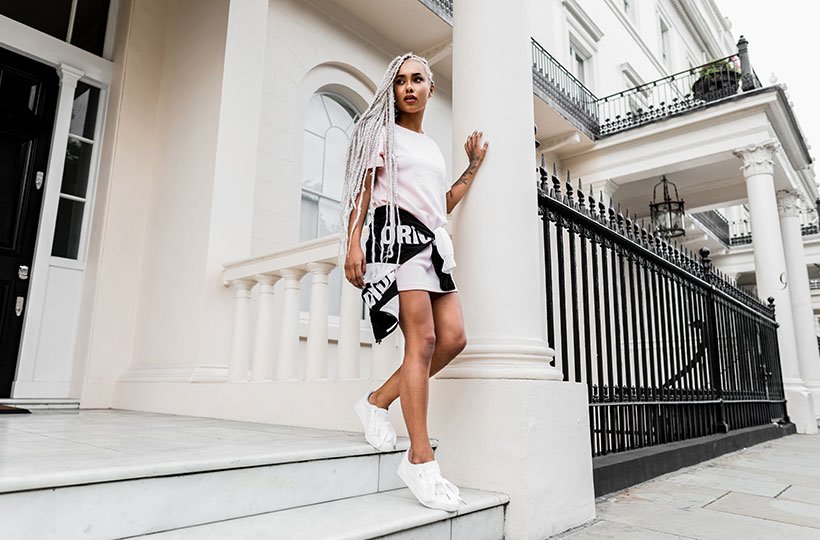 Tell us about your day to day style – what could we expect to find in your wardrobe?
I have wayyyy too many track suits and jumpers. I'm a bit of a tomboy but I like to switch it up every day.
Are you into your sportswear, and how do you incorporate it into your looks?
Yes, I'm always wearing joggers and track suits with sock boots and courts to glam it up. I love that sports lux style!
I've only just really got into trainers, but that's because I'm a party girl so you very rarely see me in the club with heels; I love to dance too much!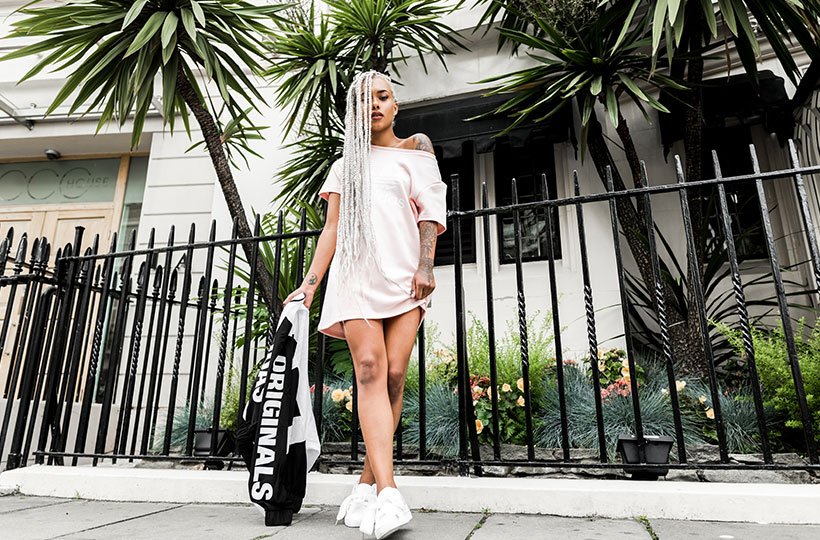 Which is your favourite piece in your wardrobe?
I have to say my very first pocalondon leather jacket. So many people have offered to buy it but I just can't let it go.
It took the longest out of all my pieces because I put the most love into it! I didn't think about it too much and it's very special to me.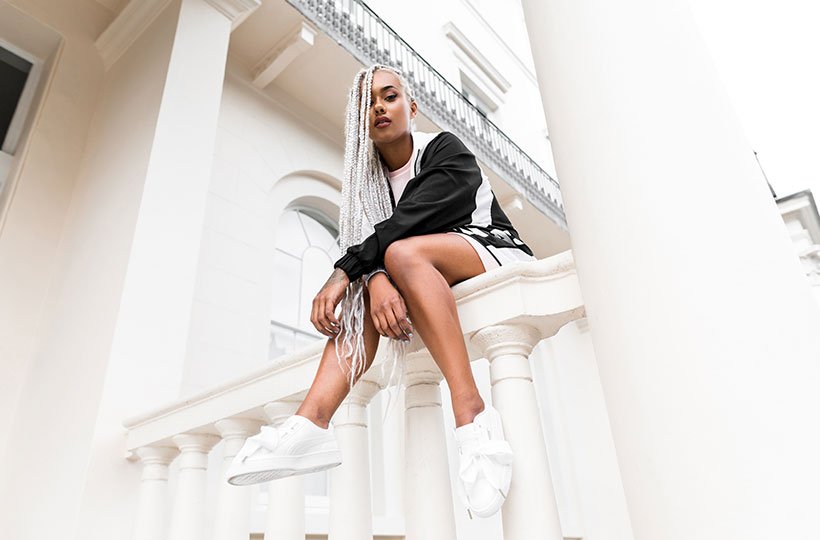 Finally, have you got any words of wisdom for anyone wanting to start up a blog, or even their own clothing line?
Stay genuine, don't imitate and be someone your younger self would look up to and be proud of.
Thanks for chatting to us Jade! Make sure to keep up to date with all of her goings on over at @JadeLaurice
Fancy winning yourself £250 and a pair of sneaks of your choice? We want to see how you do Footasylum your way. To be in with a chance of winning, all you need to do is take a snap of your favourite Footasylum look, and upload to Insta - making sure to tag @footasylumwomens and use the hashtag #FAmyway.
Competition ends on the 16/10/17, so be quick!