Taking sneaker photos is trickier than you think, and we're always looking for tips on how to up our Instagram game. So when we met Ben Paras and saw his incredible work, we had to get his advice on taking a next level sneaker shot.
Although the key to his signature style is a well-kept secret, he did give us a few pointers on what to shoot and how to shoot it. Check it out:
What's good, Ben? Tell us a bit about yourself:
My name's Benjamin Paras and I'm currently living in London, working with the NHS assisting people in need under Mental Health.
The first pair of branded kicks that I remember owning was a pair of Reebok Shaq Attack IVs and a pair of Nike Air Way Ups in the mid 90s. This was when my love for sneakers began.
Fast forward 20 years later, and I've found a way to fuse all of my interests together, using collectable figures, gaming, art and photography all at once.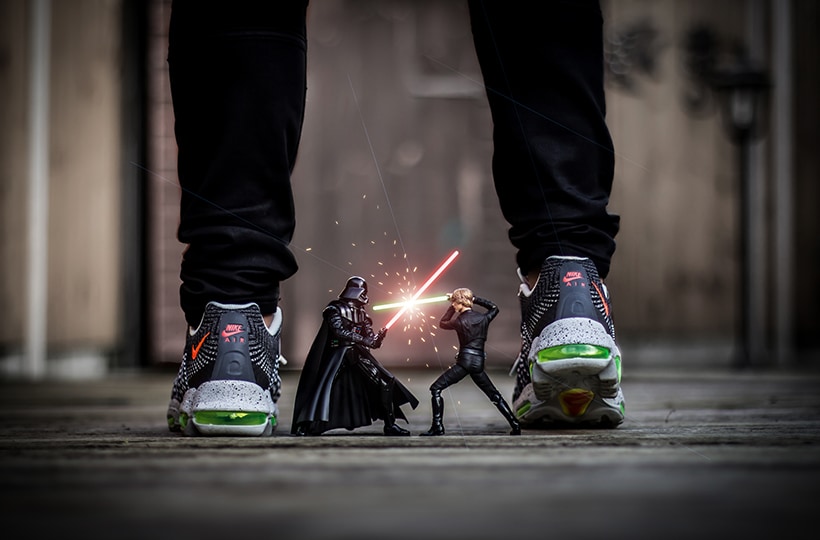 Your sneaker shots are crazy original. We're loving the Star Wars shots you've done for us! Where did the idea come from?
When I first got hold of a pair of Air Jordan Doernbecher 4s, I knew straight away that I wanted to create a shot that was different from the rest.
I came up with the concept of Superman x Doernbecher 4. I didn't expect much of it to be fair, it was just a bit of fun. But it got so much attention, getting recognised by big sneaker forums like SneakerheadUK and SneakerGameUK, as well as a lot of love
on my Instagram
.
Such an awesome idea must have some big inspiration behind it. Who do you follow on Instagram that inspires you?
@kickstagasm – One of the first profiles I came across that combined sneaker and pop culture figure photography.
@
josephdalcour
– Joseph has some really nice shots, mainly involving the sky and stars. Living in such a crowded city with a lot of pollution, you never get to see such things and how amazing the outside world looks.
@
adcartattack
– As a fan of art and Dragonball Z adcartattack has some really nice DBZ art and customs. He creates really unique pieces that I've never seen done before.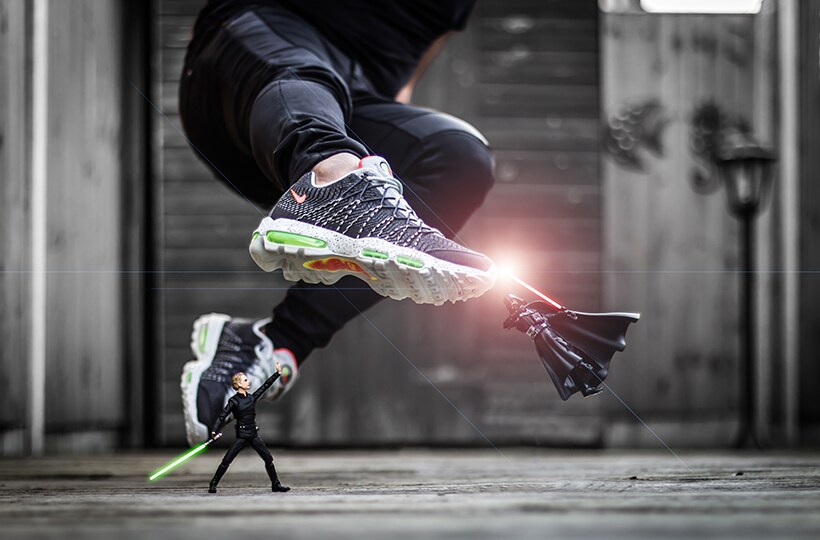 Let's get down to business... Tell us about the Star Wars shots you did for us:
When I first saw the Air Max 95 Ultra Jacquard and Adidas Pro Model 'Xeno Pack', I knew straight away what I wanted to do from their colour schemes.
Star Wars: The Force Awakens is just around the corner and I felt that my Luke Skywalker and Darth Vader figures would fit perfectly with these two trainers.
Break you sneaker shots down into 5 steps:
1.
The most important part to the process would be the style and colourway of the trainer, which helps decide what figure to use.
2.
Once those have been decided, camera and positioning is the next step. I use a Canon 600d with a 50mm 1.4 USM lens shooting in RAW mode.
The lens plays a vital part in this, as this particular one delivers a nice blurred background, forcing us to focus our attention to the subject of the image. In the photography world, they call this type of blurred background 'bokeh' (pronounced 'BOH-kay').
3.
Since I do all the photography myself, I have to use a mini tripod and remote. In extreme weather conditions, such as heavy rain and wind, this can make things rather difficult. I try to avoid shooting in bad weather at all costs.
4.
I then import all images into Adobe Lightroom to enhance the quality, and then finally use Photoshop to add Special FX if necessary.
5.
Crop and upload to Instagram!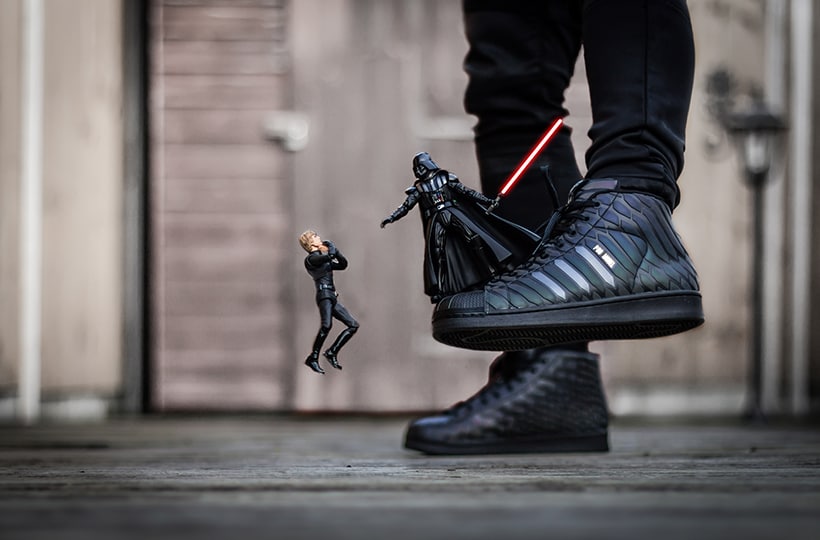 Sweet! Can't wait to try it out. Do you have any other big projects on the horizon?
I was contacted by one of the editors from Complex UK and featured on their site back in early August. I know make a regular series for them. I always challenge myself to make each concept better than the last.
Soon after, I was contacted by Crep Protect who also liked my concept and invited me to their HQ. After a few discussions and ideas, this lead me to do the
Mario x Crep Protect
concept. This was a little different from what I did previously and since then I've started to focus on more mainstream characters that people can identify with.
I was also given the opportunity to play the role of Marty McFly in the
Back to the Future x Crep Protect
video, which I was more than proud to be a part of.
You're clearly a big pop culture fan. What's your favourite film?
Back to the Future Part 2. Hands down.
We guess Star Wars goes without saying. If you had to choose one Episode, which is best?
Most Star Wars fans prefer the original trilogy, but I love updated visuals and sound. For me it would be Star Wars Episode III: Revenge of the Sith. The battle between Obi Wan and Anakin is epic and shows the transition of Anakin to Darth Vader.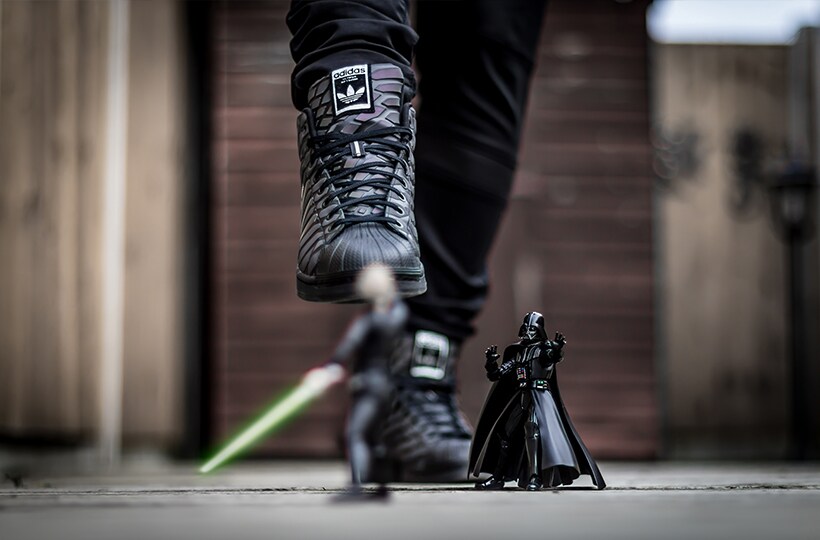 You're definitely in to sneakers, but would you call yourself a sneaker head?
I have a personal collection of around 50 pairs that include Nike, Adidas, Puma, Converse and Vans. For me it's about quality over quantity, and I usually pass down pairs to someone who can get better use out of them.
Almost every day I wear a pair of Air Jordan III Black Cement (which some would call 'grails'), but it doesn't bother me if they get all wet and dirty.
When it comes to hype, I'll be honest and say that I am drawn in a little, but I will only buy something that I would actually wear. I don't like to wear something if loads of other people have it, but that can't really be helped these days.
So am I Sneakerhead? Yeah, probably.
What's the next big drop you've got your eye on?
The Air Jordan IV - White Cement (2016).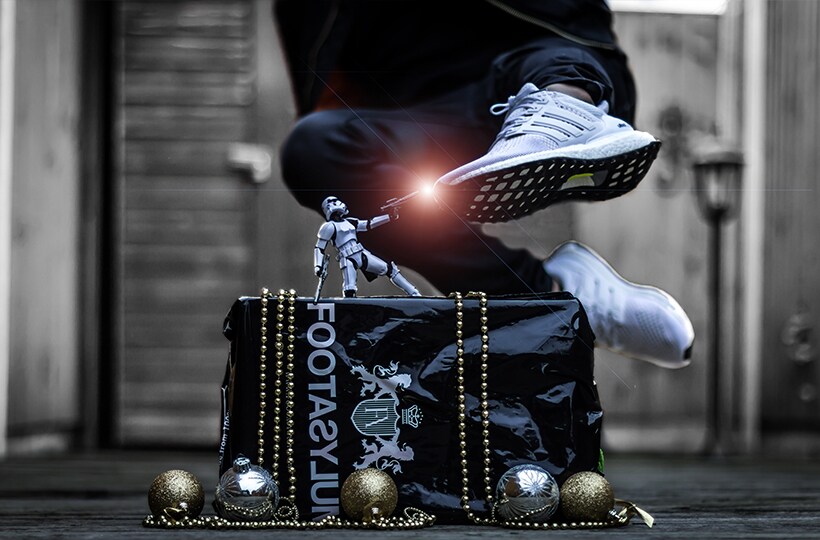 So what's next for you? Anything in mind?
I've actually been looking into doing some stop motion videos with figures, buts it's a very time consuming process.
For now I'll just keep going as I am. If my fanbase has any particular requests, hit me up and I'll look into it!
Amazing to catch up, man. Thanks for the tips! What are your social deets so people can keep up with you?
Instagram:
@jammin_since_85
Twitter:
@jammin_since_85
Or head over to
my photography website
If you're feeling the kicks Ben used in his shoot, you can buy the Nike Air Max 95 Ultra and adidas Pro Model Xeno over on the Footasylum website!