Black Friday is back and bigger than ever for 2016, and if you've ever experienced the chaos before, you'll know exactly what to expect.
There are some Black Friday shopping situations we can all relate to. Here are five that we know all too well!
1. Shopping on Black Friday is very different from a normal day
Brace yourself, the horde is coming.
This isn't a standard Friday shop, the last pay slip before Christmas has just dropped and everyone is out grab every deal going. Prepare for a stampede of people on a mission to cross off their Christmas list before the day is out!
2. But you and the squad are prepped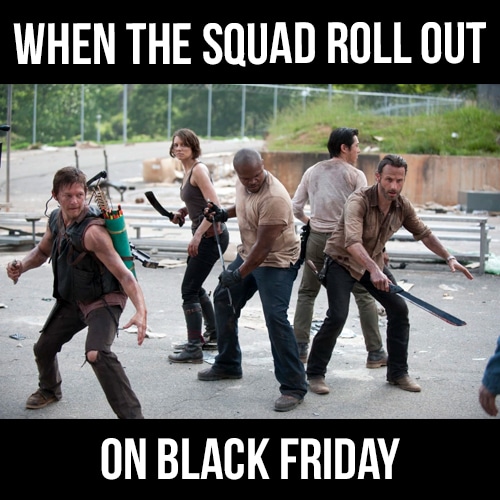 They say there's safety in numbers, and when it comes to Black Friday madness, they're probably right.
Hitting those sales with the squad means you're more likely to get the best stuff, with a team of you attacking from all angles Rick Grimes style.
3. Sometimes it takes a while to hit the Black Friday jackpot
Unfortunately, not everywhere has offers as good as Footasylum.
You might find yourself on a website, scrolling through stuff you'd never be interested in, but when you hit that Black Friday jackpot it's hard not to get excited!
4. And things can get awakward when there's only one pair left
You've been on the hunt for those size nine sneaks all day, and you spy the last pair at exactly the same time as someone else.
But who gets them? Do you flip a coin? Have an awkward dance-off? Revolvers at dawn? It's up to you, but we'd rather not stick around while you decide!
5. Especially if more than one person was after them!
Opponent defeated, you've managed to grab that last pair and start to head for the till.
Suddenly, you hear the rumbling of footsteps behind you and turn around to see a flood of people all after your kicks. Get them paid for and get out of there, quick!
Black Friday's a pretty crazy ordeal, but that's all part of the fun. Shop our daily
Black Friday deals
and drops online and in store now.