Good to chat with you, Chris! What's your story?
My name is Chris Teguh, and I was born and raised in Southern California. I have a business degree and I do customer and market research for an automotive supplier. I'm a technology geek with a passion for art and design. I'm a gamer, sneaker collector, and I guess, an artist. I wouldn't say my photography is exceptional but I can say the skills I have are probably hereditary. My father, before going blind, was a photographer so I suppose you can say I was born with an eye for it.
Your artwork is crazy original. How did you get into it?
String art isn't a new art form. It's been around for a very long time and I've always enjoyed the fundamental simplicity of it. I just happened to apply (a very advanced version of) the technique to a new subject matter, sneakers. My art is very difficult to create yet very simple to understand. We live in a time where digital content is king. I think it's refreshing for art lovers to see an art piece they can actually hold and touch.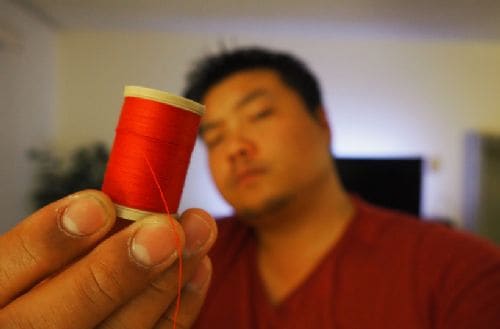 Where do you get your inspiration from?
My subject matter is really my inspiration. A lot goes into the design and technology of sneakers and I love recreating them in innovative ways. I think most long time sneakerheads can sympathise with me when it comes to sneakers succumbing to the fate of time from being worn or even just sitting in a closet. Having your favourite sneakers immortalised as a physical art piece that looks and feels like the real thing, and that won't crumble under your feet, is refreshing.
Give us three artists on Instagram that you're into...
Man, there are so many artists out there that I follow and have great respect for. If I had to mention only three, the first would be @jc.ro – this guy's eye for design is amazing. I love how he's able to balance out the composition of a subject matter that is fundamentally unbalanced. His presence in the industry is something I envy. I'm always impressed by what @originalsbysarahyoung creates. She's a fellow wood and string artist who creates some amazing original pieces. Finally @fr.vnc is absolutely ridiculous when it comes to pencil art. He hand draws some of the most insanely realistic artwork I have ever seen. I'm always impressed with pure creativity and that's what all of these artists have.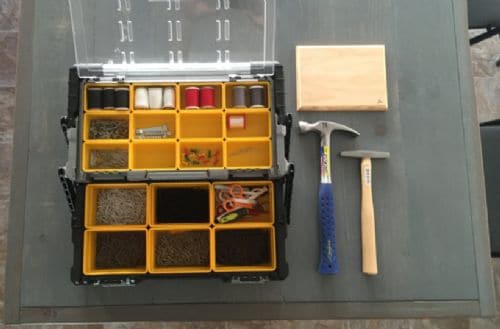 Your work process looks like it could take a while! How long does it normally take?

A typical full size piece takes anywhere from eight to twelve man-hours right now. I start by building the base: cutting the wood, sanding it, staining it or applying a decoupage depending on what the client wants. I then dot/dimple the wood in the image of the sneaker, keeping in mind multiple layers, consistent spacing, and strategic positioning in order to replicate curves and details. I then start hammering nails into the wood. I use many different types of nails depending on how close the nails have to be to recreate the details or what depth I'm looking to achieve. I then start stringing up the piece. I have a very specific pattern that I follow for this process. It ensures a solid coverage and creates an almost consistent "texture" to the art. Each "panel" of the sneaker is done in a specific order, that way the final product has layers just like the actual sneaker. I then finish by adding small details such as laces and painting the nail heads to match the thread.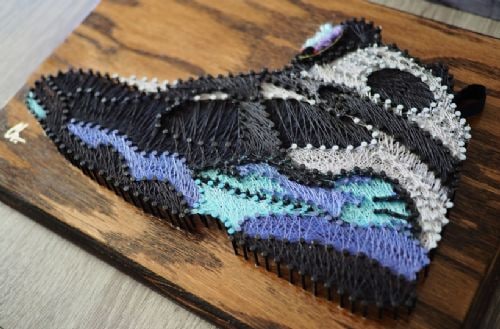 The pieces you've done for Footasylum are incredible. How did you find them?
The Jordan 8 Aqua was fun and relatively easy (comparatively to the rest of my work of course). Recently I've been working on a giant non-sneaker piece for another client so it was almost like a blessing to have a project with my favourite subject matter in a manageable size. One of my favourite parts to make was the fuzzy Jumpman on the tongue. I had to spend some time searching for the right fuzzy yarn to replicate the effect but I think the outcome was spot on. The logo piece was quite an undertaking. The Footasylum text was relatively simple – lots of nails and time, but straightforward. The crest, however, was insane. I remember when I was approached with the logo at the start of the project, and in my head I was like … Hell no (HAHA), but I pushed forward. One of the things I love from my clients and fans is they push me to do things that I feel are impossible to do; they force me to grow and get better. The logo piece is probably one of the most difficult pieces I've done thus far. It has an INSANE amount of wire brads (nails with a very tiny head) because there are so many curves and lines in the crest. It's noticeably heavier then most of the sneaker pieces I do. The only thread I could find with the right color was this very thin, delicate embroidery thread that can't take much more then a slight tug before breaking so I had to be very careful when looping the thread around nails. Through all the blood, sweat, and a few tears, I love the way it came out.


Are there any other big collaborations you've done in the past?
I'm actually working on a massive piece for a beer company called Pabst Blue Ribbon. One of their brand managers just so happens to be a sneakerhead and ran across my artwork one day. They invited me to the office and we discussed building a 5-foot tall PBR can. Very arduous piece but it's coming out fantastic.
What kicks will you be looking to lock down this Black Friday?
I'm definitely copping the Aquas. I'm a collector of the OG colourways so I'm excited to get my hands on those. I'm also digging the OG 1s that are dropping. The black upper with the white midsole is just too classic to pass up.
You're obviously mad into sneakers. What's your favourite silhouette?
That's a tough one… I'd probably say it's a toss up between the Jordan 3, Jordan 4 and the Jordan 11.
What should every sneakerhead own?
I think every collector needs a retroed pair of OG Jordan 1s (unless you can get your hands on an actual OG pair). There is just so much history in that sneaker and it goes with everything. It's the original game changer.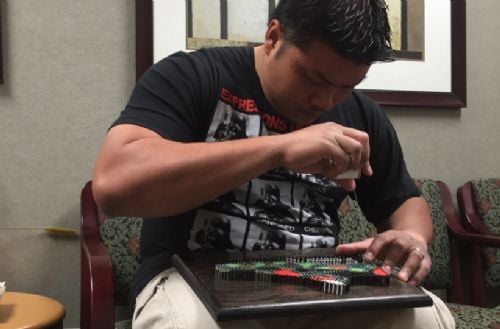 What brands are you repping?
I'm a big fan of Jordan brand. I'm a Michael Jordan fan so naturally I'm a fan of the footwear brand. I wouldn't say I dislike other brands, I just know Jordan brand footwear is going to fit a certain way. I also have mad respect for the old school brands like Onitsuka Tiger and New Balance.
Got your eye on any future footwear drops?
I definitely want to pick up the Aqua 8s and even the Cyber Monday 1s, but I've got my eyes set on those OG Jordan 4 White/Cement 89s coming out in February. I love the OG stuff so that one is a must. Calling in all the favours I can for that pair haha.
What's next for SoleStitches?
We'll see… I'm fortunate enough to have a lot of awesome fans and they really drive my creativity and innovation. I think the next step is to get my work to more of my fans in a more affordable way. I've got a lot to learn and I'm always hungry for more.
What are your social handles so peeps can check out your work?
My Instagrams, check out: @solestitches and @bigasianchris
Thanks so much, man. The Footasylum piece is definitely going up on our wall. We can't wait to see what you get up to next!