Header image: Simon Weldon
Hey Jaypee. Tell us a bit about yourself!
I'm Jaypee, 26, and I'm an artist born and bred in Leeds, UK. I've been a self-employed artist since leaving Leeds College of Art in 2011. Since then I've worked with a wide range of people on a load of pretty interesting jobs. I do what I love, and I love what I do.
Your art style's really unique! Your zombie inspired characters are crazy. How did you get into drawing that way, and what does it mean to you?
I'm not sure I really got into the style, it's more that that way of working got into me over the years. I have always drawn weird cartoony stuff ever since I was a kid. I've always had an interest in sci-fi, comic style art and general weirdness, and this found its way into the work I do. Whether it's in the form of an obscure wobbly line or a full zombie creature with tentacles coming out of its face.
For me art is an outlet, a means of expressing myself and a way of escaping my problems. It's pretty freeing being able to create whole universes with a pad and pen.
What do you like to draw the most?
I don't have a favourite thing to draw but recently I've been drawing a lot of English bull terriers and weird cat-like things. I couldn't tell you why this is but it's definitely something to do with how their faces translate into my style. Kind of visceral but fun at the same time. Twisted up, I guess. That's what I like to do the most - take something and totally twist it up into my bizarre style. A lot of the time my characters and scenes are often melting or disintegrating as well. I like the concept of time eroding things, and I translate it into my work in a slapstick, silly way.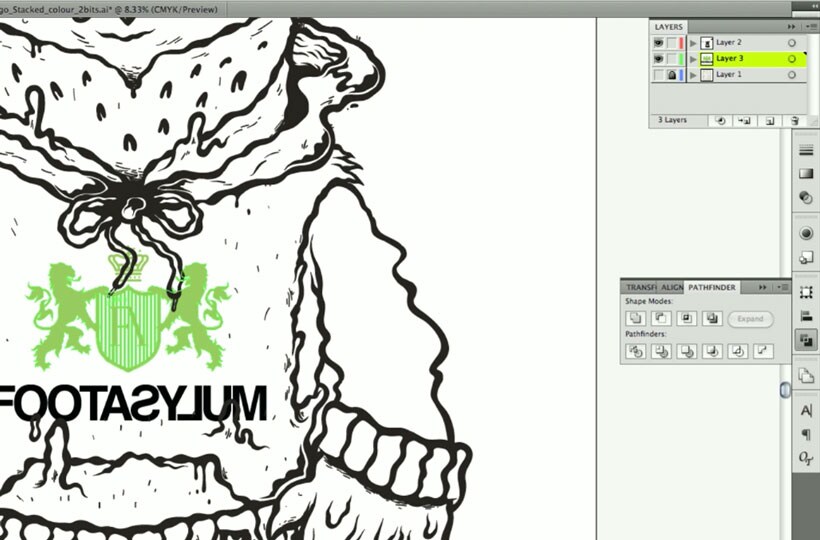 Which artists are you most inspired by?
Over the years there has been a lot of inspiring art, and I could reel off a huge list of artists, designers, sculptors, cartoonists etc. But I see everything as art, and because everything is visual I can take inspiration from anything that draws my eye to it. If I had to name a few great artists that inspire me I'd have to say John K (Ren & Stimpy creator), Jhonen Vasquez (Invader Zim creator), Van Gogh, Women158, Niark1, and so many more.
You've done a lot of graffiti work around Leeds, is the art scene big in this city?
I don't know if the art scene is big in Leeds, it definitely has its niche pockets where more and more bohemian kind of stuff is going down. As for the murals, I've been lucky to work with some great people over the last couple of years and I'm really thankful for everything I've had the opportunity to do - may it continue!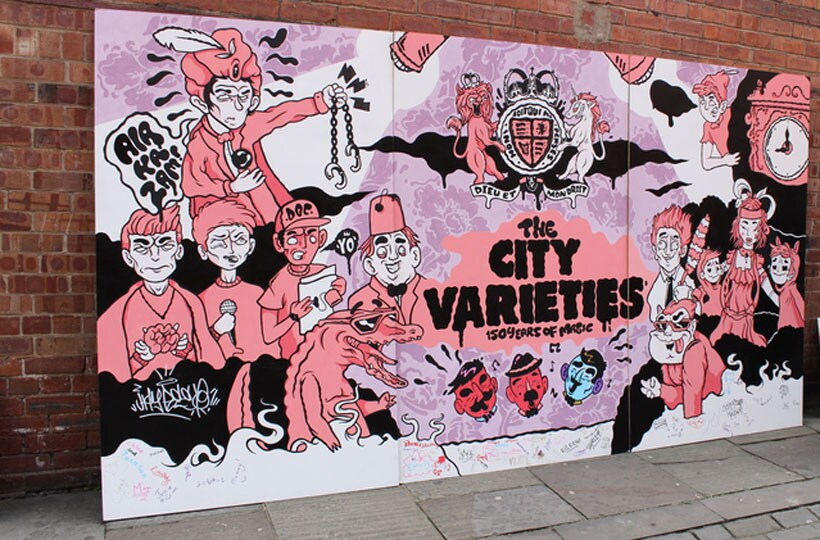 Would you say that graffiti culture is more acceptable and respected nowadays than looked at as vandalism?
I think "graffiti", "street art" and "wall art" are starting to become synonymous as terms, because the various artists are coming together more and recognising each other's crafts as art forms and work in different ways. For example, an illustrator can just as well use spray paint etc to make a large wall piece and a graffiti artist can design a flyer. I don't think it's black and white; a lot of grey areas keep emerging as everything kind of blends together, producing some really awesome cross-platform artists.
There will always be street vandalism, because there is a place for that kind of anarchical activity in society. It's an attempt at taking power back and responding to advertising in a direct way.
What do you to keep you in the "zone" when you're working?
I struggle to switch off to be honest, so drawing is a way of keeping me stimulated and channeling my mental energy into something productive. Generally Ill have a cup of green tea and a cig on the go while im working.
We're loving the exclusive piece you've drawn for Footasylum!
The piece I created for you guys is pretty trademark for me - super wobbly, pretty weird, lots of lines. It was inspired by some stand out elements of Leeds to me. Obviously you've got the White Rose of Yorkshire in there, and the character is an owl, which is one of Leeds' symbolic animals, found on the Leeds city crest and in a lot of the architecture around the city. It was nice to do an inked original at A1 because it's not something I often do and I tried out a few new things in the digital piece.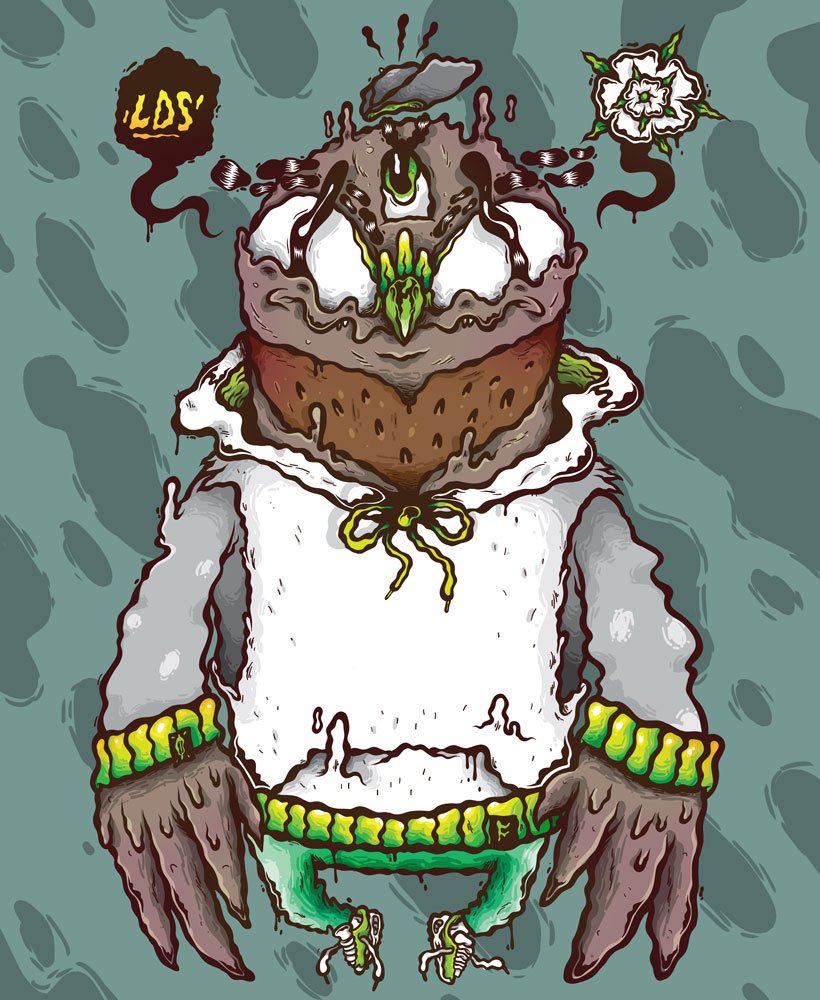 What big collaborations/commissions have you done up to now?
A couple of years back I designed a book for Capcom, which is what got me started on this path, but I've also worked with High Focus records, AnyForty, Boisht, York Minster, Channel 4, The London Design Museum and a lot more. I've collaborated with artists and friends like Cbloxx, Inkie and more. If you want to see my other collaborations and work please check out my website.
What does Leeds mean to you?
Legless Entities Emptying Drink - Standard!
For real though.. Leeds is a big city and is very corporate these days. There is an underbelly of culture here though: bass music, dubstep, hip hop, graffiti. You just have to know where to find it.
What are you sayin' about the new Footasylum store opening in Leeds?
Wicked!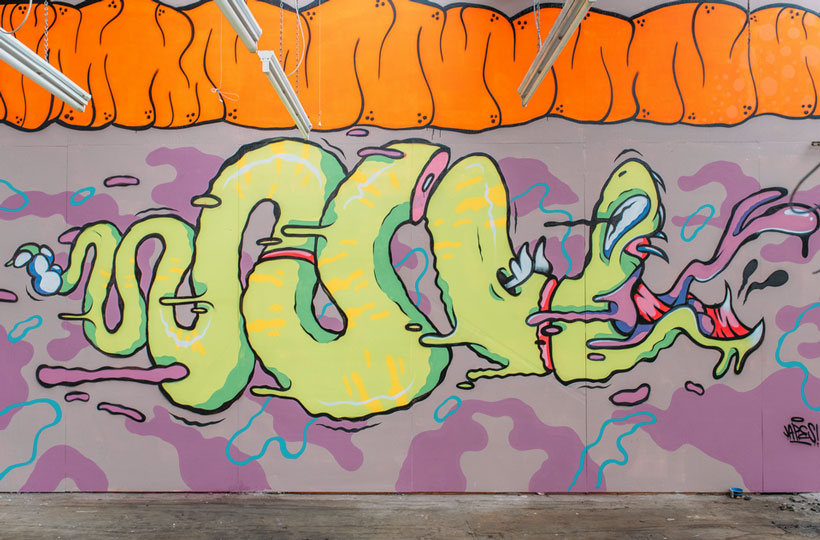 Are you a sneakerhead? What's your favourite footwear?
I like trainers. I'm not really a shoes or socks and sandals kind of geezer. I wear trainers on the beach, I'm one of those weirdos. I like Vans at the moment, they're just comfy, and Nike Air Max too. I bought a pair once and covered them in bright pink paint while doing a mural the day after buying them. I don't learn from my mistakes and that happens a lot!
What do you think the biggest silhouette is?
Probably the Nike Air Max family, everyone has a pair.
Have you ever considered getting in the footwear customisation game?
I'd love to collaborate with a brand on some footwear customisation. I've never had a request to do it yet, but it's definitely on the bucket list of things to design.
How important is social media these days when it comes to promoting your work?
I think it's becoming an integral part of being an artist if you're looking to big things. You have to have a good handle on social media, especially if you're selling something. I think though on the other side of things, if you make good stuff, and you're an OG, social media will do itself as long as you post the pictures.
I'm doing a project at the moment called 52 Weeks of Freaks, where I draw a weird character a week for a year. I'm on number 43 now, and that's going down pretty well on social media which is a cool by-product of a project. I'm aiming to self publish the book by the start of next year.
Do you have any tips for up-and-coming artists who would like to follow in your footsteps and get their stuff seen?
I guess stay true to what you want to do and never give up. If there's something you want to do in this life, find out how to do it (research) and then work your way towards it. Set your goals and have targets, step by step, this way you can watch your progression and set the goal posts further ahead of yourself.
Oh - and make lists. A LOT of lists.
What is your motto that you live by?
PERSEVERE! Never give up.
For more of Jaypee's work check his stuff out over on Instagram.