Known by his mates as Stephen, we got the lowdown on his latest project with Footasylum, 'Asylum Society'.
Nice to meet you! Tell us about the guy behind @Bruce_draws.
My name is Stephen Latchford and I'm a Graphic Designer and Illustrator, working at Footasylum.
I'm from a sleepy seaside town called Redcar, in the North east, and I'm now living in Manchester.
So you're not callled Bruce, then? Where did @Bruce_draws come from?
@Bruce_draws
is a pseudonym. I think it's more exciting than Stephen, and I don't think there are enough people called Bruce anymore.
I can't imagine there are a lot of babies being named Bruce in 2016.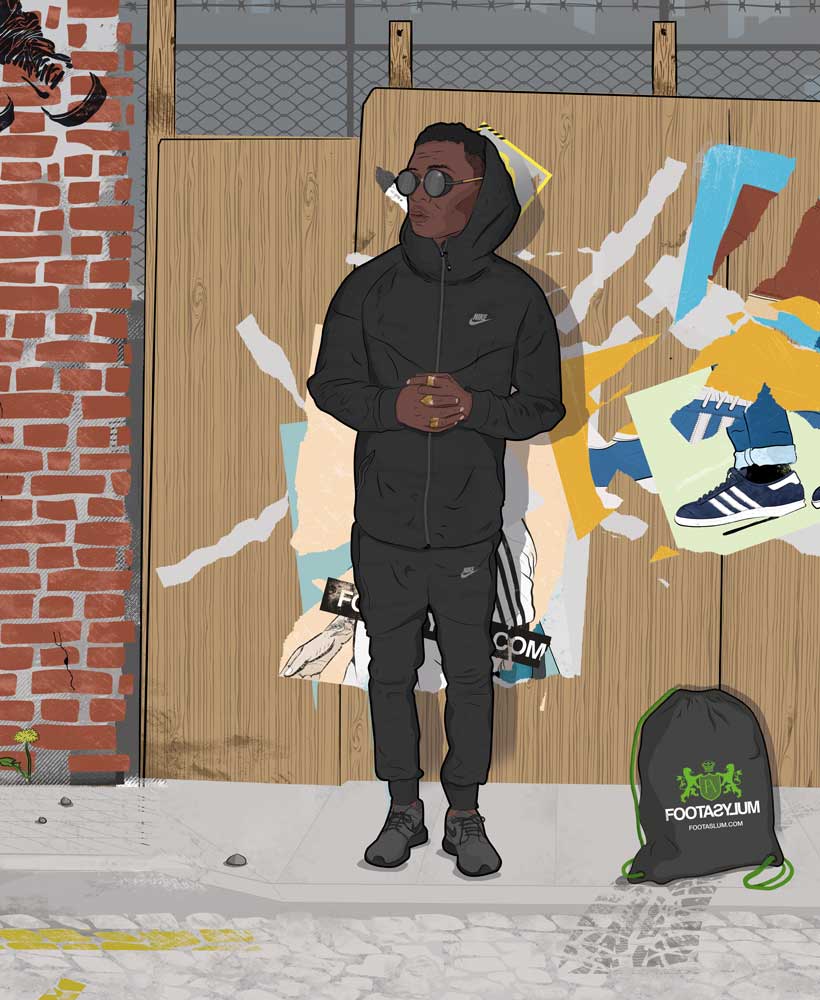 We think its pretty original!
Okay, onto the art; how did you get into illustration?

I started drawing from a very early age, but I had an eight or so year hiatus from commercial illustration until I started up again recently.
I don't really know why I stopped, and I kick myself when I think about where I could be now or what I could have achieved in that time. I've concentrated more on graphic design, but am glad I decided to start illustrating again.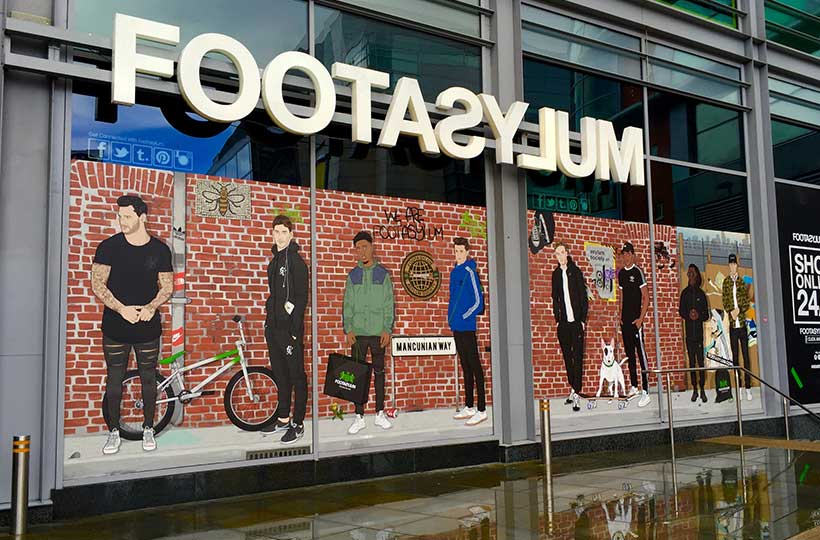 Good job you did, you've got some mad skills. What inspires your drawings?
I'm kind of starting from scratch again, so I get inspiration from things that I didn't necessarily think of in the past. Clothing is a big passion of mine, so that features quite heavily in my work and tends to be my focus.
I'd say I like to draw clothing rather than fashion, as I don't tend to follow trends and try to carry that through to my work.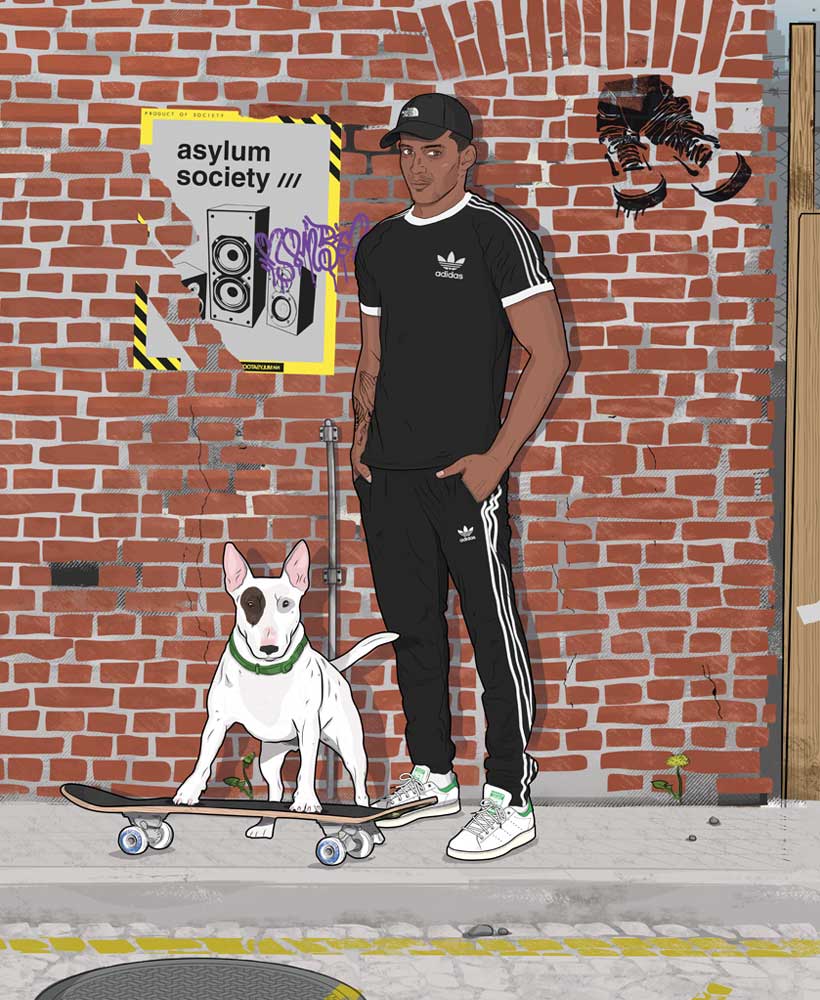 Nice. What work are you most proud of?
The recent 'Asylum Society' campaign has been by far the biggest project I've worked on. It's been featured all around the UK and I'm pretty chuffed about it all.
What's the best and worst aspects of being an illustrator?
Hardest thing is getting your work out there and seen. With social media being key, there's a lot of stuff out there all of the time, and with other commitments it can be difficult just to get noticed.
The best thing is being able to do what you love. Learning new techniques and re-learning things you may have forgotten and being able to apply that to your designs.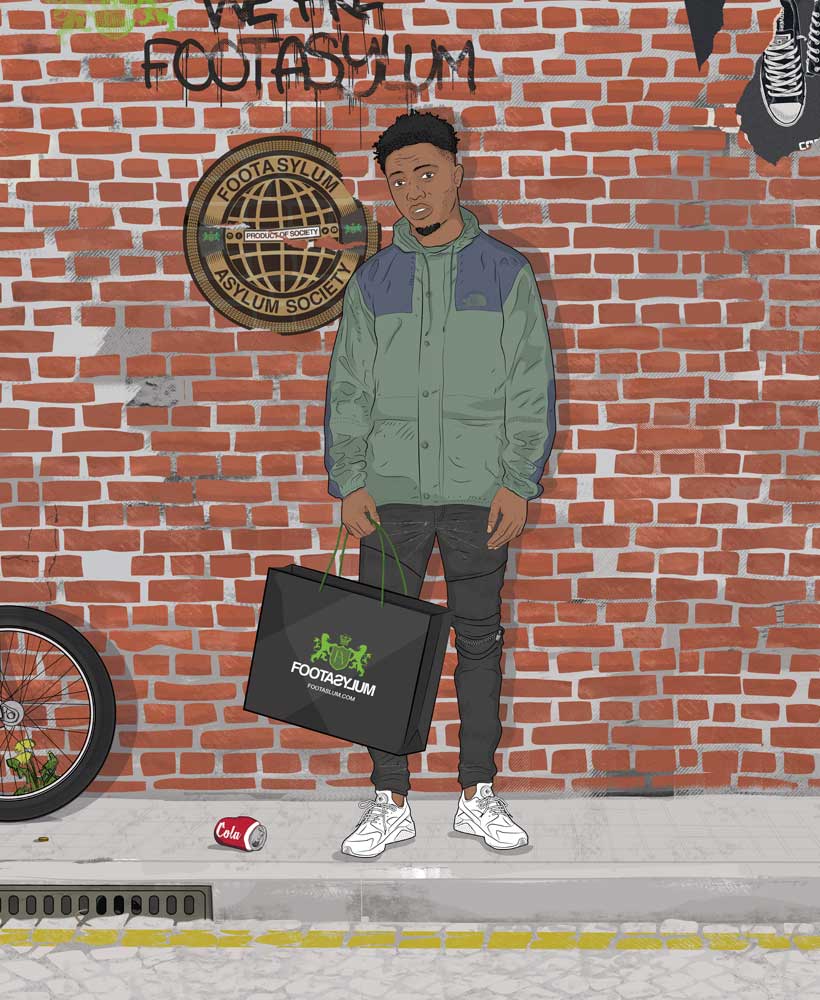 What projects will @Bruce_draws be working on in future?
I'm continuing my work with Footasylum for summer 2016. It'll be an evolution of what we've done so far, so I'm excited about that.
In the future, who knows? If I continue to enjoy what I'm doing and produce good work I'm sure some interesting things will come my way.
We look forward to seing what you hook us up with in the Summer.
On to footwear, are you into sneakers?
I've always been into footwear, though I'd say I'm more of an apparel guy.
I can always rely on a pair of Vans, Chuck Taylor 1970s or a good pair of New Balance. I like to keep a simple aesthetic these days.
Thanks for talking to us, Stephen, where can we look up your work?
You can check out my illustrations on Instagram
@bruce_draws
.