If you're going to disrupt a creative industry, the world's largest art museum is probably the best possible place to get your point across.
adidas' Deerupt
is a brand-new silhouette for 2018, fusing elements from adi's inimitable archive with a progressive outlook on lifestyle footwear design. The grid pattern featured on the marathon runner is the central concept, an 80's design feature reapplied in a strikingly simple way.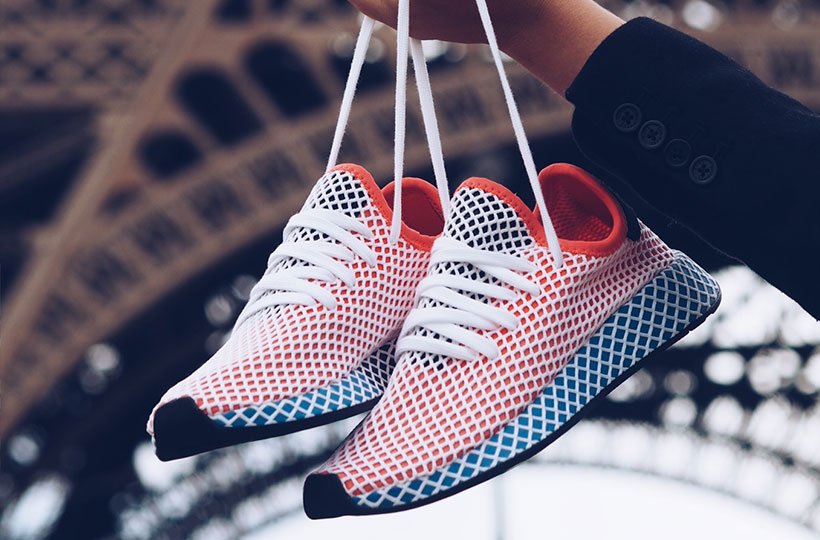 The event transformed the Louvre from an iconic historic monument to a digitally immersive interactive experience, with projections of 'the grid' warping the architecture and an impressive roster of creative workshops throughout the 36-hour event.
The driving force behind the Deerupt - disruptive simplicity – is evident in the one-piece mesh upper and bold colour blocking under the expansive grid overlay, providing subtle compression and support along with the standout aesthetic.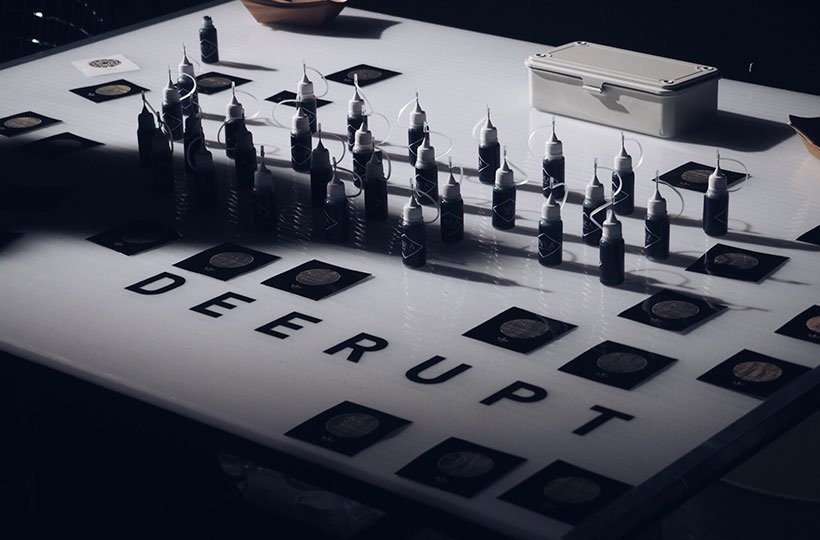 Disruption was served as a three course, avant-garde meal, fuelling workshops with the likes of virtual arts factory Monochrome, and live tattoos courtesy of Leo Gavaggio, founder of L'Encrerie studio.
We had the chance to take part in a q&a with Morgan Boeri, VP of product design, to find out more about the Deerupt, and process behind creating a brand-new silhouette.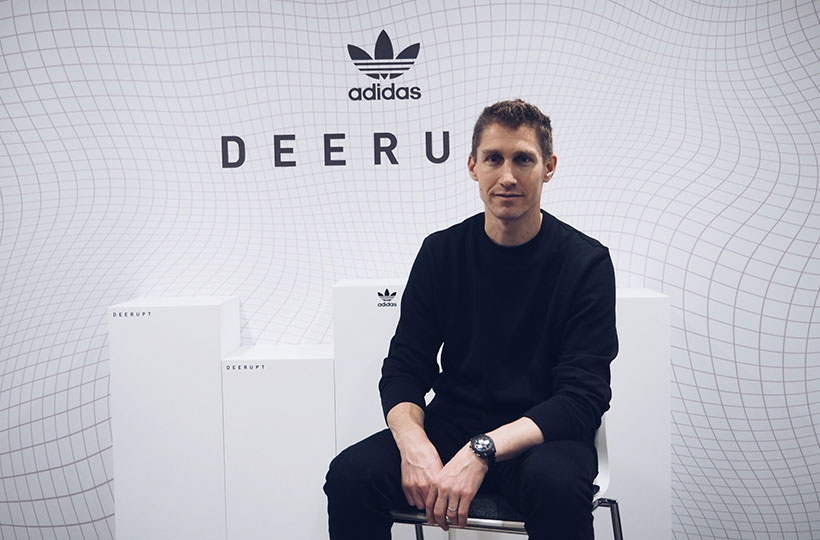 Morgan Boeri: Q&A Session



How does the grid relate to past empowers future?
[With the
Deerupt
] We physically went down to the archive, and said 'Okay, what do we need to play with now, and what's the new territory that we need to explore? We found the shoes from the '80s, the Marathon and the New York, and we knew that there was something with the web on the sole.
We saw the grid and thought, what if we play with that to the maximum and stretch it to the upper as well?
So, when we look at the shoe, it's very new, very bold, and it's something that we've never done before, but at the same time, very much related to the archive and to the DNA of the brand.
So, it's the first time that it's been done with a technology rather than an actual silhouette…
A lot of people don't know that but, back in the '80s, [the web] was a true technology. I'm not sure if you know the story, but it was created to reduce the fatigue when you run. For every action there was to be an equal and opposite reaction… so it was a proper running technology.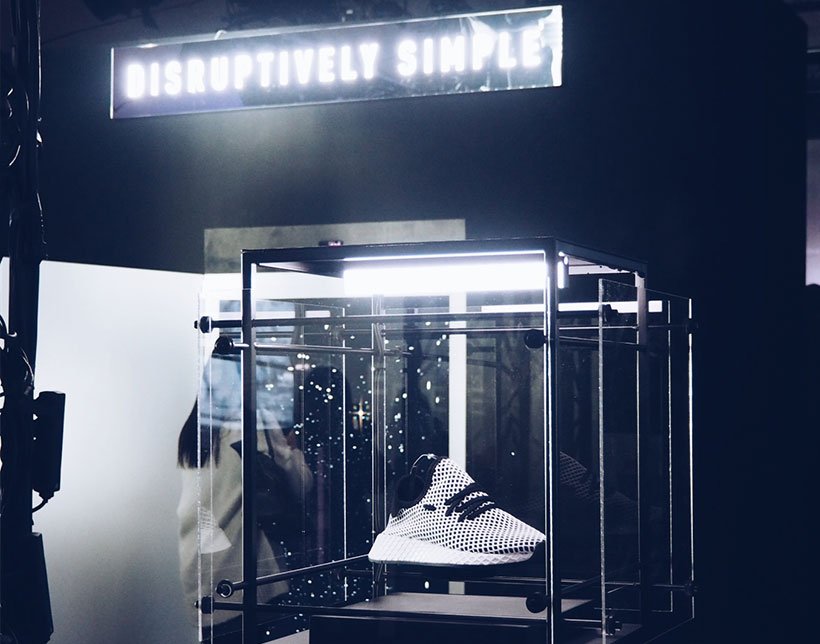 The Deerupt is launching for both men and women, so how important is it to create a silhouette that resonates with both genders?
This one was clearly meant to be unisex. Sometimes it's for that male sneakerhead, and sometimes we want to make shoes dedicated for women, but with Deerupt we were thinking about something that has a different approach to aesthetics. It has a much more sophisticated and minimalistic approach to design.
If you think about Paris, Milan and London Fashion Weeks, you see guys and girls wearing black or white dresses, they're very clean and the footwear is the statement.
Can you explain the concept 'disruptively simple'?
When you look at the NMD and EQT, the construction of the shoe was much more complicated. What we thought would be interesting here was to do something very simple.
When you look at the shoe, there are no stripes and no Boost on it. If you look at the Triple White or Black from a distance, it's very simple. However, we still believe that it's disruptive from a cultural standpoint.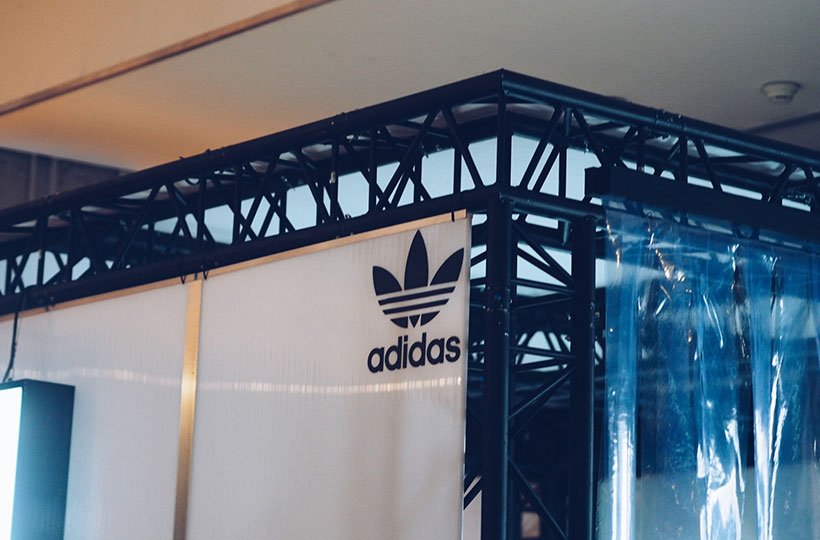 Minimal designs like the Stan Smith and the superstar have proved a massive long-term success in the women's market. How do you see the Deerupt affecting the women's market?
We truly believe that from a consumer standpoint, there is room for this kind of shoe – especially with it launching in March, spring is around the corner and we just believe that this is a compliment to what we have. So, every sneaker girl should have a pair of Stan Smiths, a pair of Superstar and now a pair of Deerupt. [Laughs]
What are the priorities for new silhouettes, is it technology and comfort, or aesthetics and design?
Whatever we create, we have to somehow combine all of it, and that's also the chance to use the archive because, as we mentioned before, past embodies future – we have all of the technology and we know how to make a comfortable shoe, but we also have to make something that's attractive.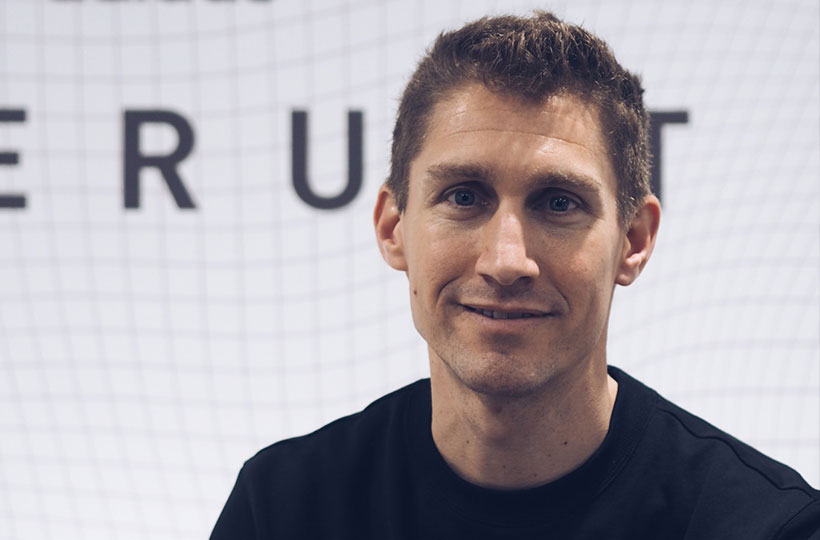 Was there a moment of inspiration where you realised you had to create this silhouette, or was it a long time coming?
We were brainstorming and knew that we wanted to create a silhouette for the same demographic ad the NMD but with a lower price point, and something that was true to us. So, then it was really a case of going down to the archive and starting to open boxes, and then you start to bounce ideas.
The funny thing with that shoe is, because we go that factory a few times to nail the concept, and it takes 3, 4 or even 5 rounds of samples to get that first sample, with [the Deerupt] we got the sample and we knew that it was 95% done… because it was simple.
adidas Deerupt launches 22/03/18 at 8AM GMT. Click here to get yours.