Some seriously famous silhouettes have made it to the silver screen. Check out eight of the most iconic sneaker moments in cinema history:
1. George of the Jungle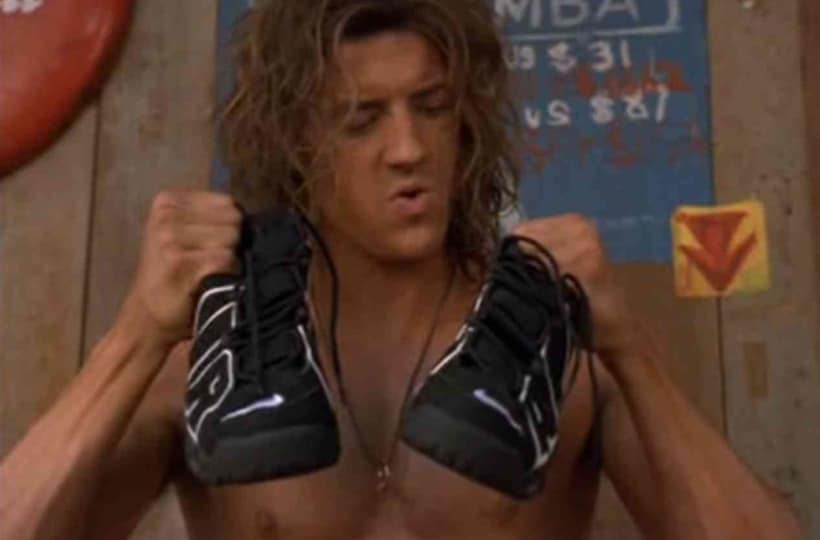 Sneaker in the spotlight
–
Nike Air More Uptempo
Back in 1997, when Brendan Fraser was basically the biggest actor going, Disney dropped this… unusual… spin on the classic Tarzan tale.
Taking a quick break from vine swinging, George laces up a pair of some of the most in-your-face kicks ever made by Nike: the Air More Uptempo. A B-ball sneaker first released in 1996, George's pair would've been OG. Fingers crossed he put some Crep Protect on them before running off into the wilderness!
2. Fast Times at Ridgemont High
Sneaker in the spotlight -
Vans Slip On

Sean Penn wasn't the only star to come out of Fast Times at Ridgemont High. It's also the reason the classic Vans Slip-On became a worldwide phenomenon.
Vans had no idea that their PR rep had sent a box full of checkerboard Slip-Ons to the film's costume department, but when teens all over the globe started snapping them up, they definitely weren't complaining!
3. Scott Pilgrim Vs The World
Sneaker in the spotlight –
adidas Originals Superstar
If you're thinking of impressing a girl by battling her seven evil exes to the death, you'd better dress to impress.
Gearing up for the occasion, Scott Pilgrim dons his trademark sweatbands and parka before carefully lacing up his lucky adidas Superstars.
4. The Terminator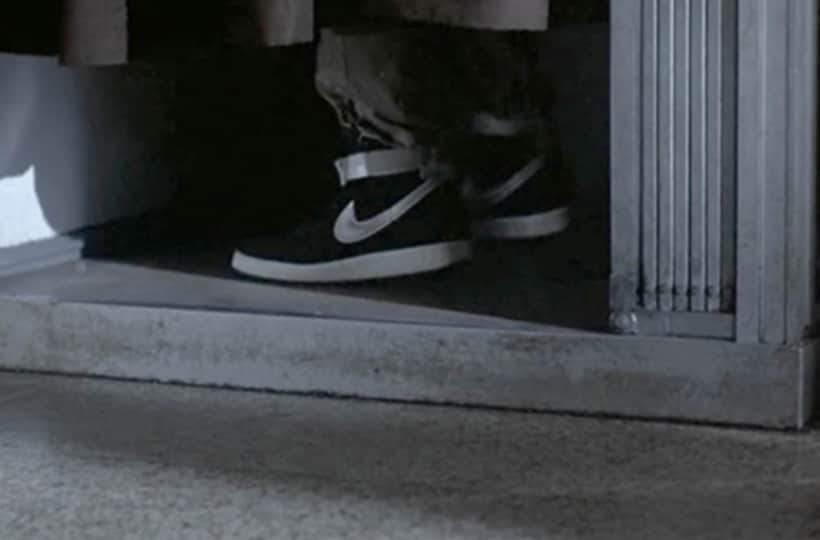 Sneaker in the spotlight -
Nike Vandal High
Considering he grew up in military boots, Kyle Reese definitely still has taste when it comes to sneakers.
Transported back to 1984 and falling naked from the sky into a grimy Los Angeles side street, Reese runs into a nearby department store to escape the police and grab some new garms. Hiding for a moment in a photobooth, he straps up his Nike Vandals and gets ready to save Sarah Connor.
5. I, Robot
Sneaker in the spotlight –
Converse Chuck Taylor
Considering the Chuck Taylor has been one of the world's most famous sneakers for 100 years, it isn't surprising that they're still considered a classic in the not-too distant future.
Rocked by Will Smith in I, Robot, Big Willy gets a lot of attention for his vintage 2004 All Stars as he tries to save the world from a robot uprising.
6. Forrest Gump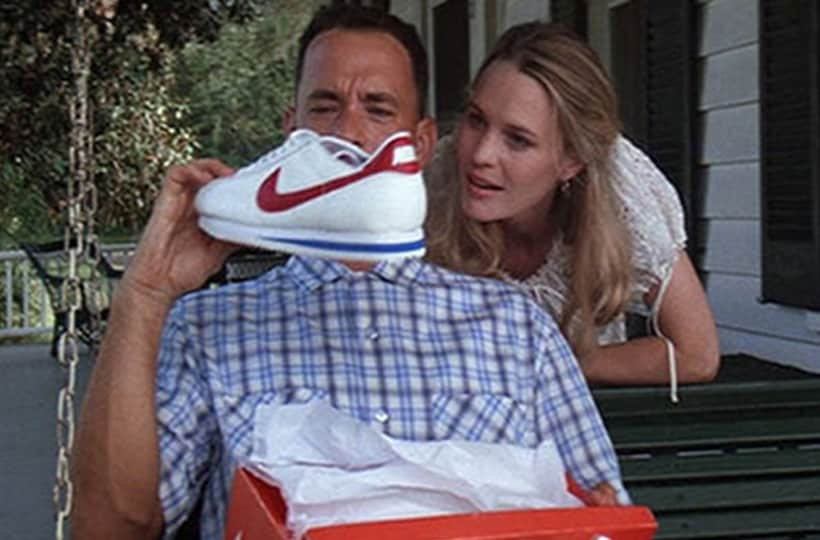 Sneaker in the spotlight
- Nike Cortez
If you haven't seen Forrest Gump, we're probably not spoiling much if we tell you that he really likes running.
The sneaker that catapulted the Nike Swoosh to stardom back in 1972, Forrest gets a pair of classic leather Cortez from Jenny, and uses them as his running kicks from then on. The first footwear with a dual-density foam midsole, we don't reckon Forrest could've run very far without these bad boys.

7. Back To The Future II
Sneaker in the spotlight -
Nike Air Mag
A futuristic take on Nike Air Max, these high top sneaks are some of the coolest footwear ever to grace the silver screen.
Although Nike have released replicas in the past, they had all of the looks but none of the technology. In 2015 though, Michael J. Fox and Nike made a joint announcement revealing plans to make Air Mags with fully-functioning self-lacing systems just like in the movie. The future is finally here!
8. Do The Right Thing





Sneaker in the spotlight -
Air Jordan IV "White Cement"
No-one likes it when their sneakers get scuffed, and Buggin' Out definitely doesn't appreciate the tyre mark left on his OG Air Jordan IVs when a careless cyclist pushes past him.
Pretty much the most iconic sneaker scene of all time, this appearance of the Air Jordan IV made sales figures skyrocket and 'cemented' this colourway in pop culture history.
Got a sneaker scene that didn't make our list? Hit us up in the comments and we'll check it out!



Top image by: Moviestore/REX/Shutterstock