After the
Nike Shox R4
bounced back onto the scene
two weeks ago
, Nike has released the latest colourway of the classic noughties shoe with a bit of help from Brazilian professional footballer Neymar Jr.
Our first sneak peek of the collaboration was teased on Neymar's Instagram account last month and, from that tiny glimpse, we knew these were going to be the shoes of the summer.
In some corners of the world, the R4 was seen as the "it" shoe, and in Sâo Paolo, it brings back memories of Neymar Jr's childhood. As a kid in Brazil, Neymar Jr's dream sneakers
were Nike Shox. Knowing he couldn't afford a pair from the official store he did the next best thing and went to the local market. Fast forward to today and after years of hard work to get to the top he now has his own signature pair. Speaking about the initial release of the sneak almost 20 years ago Neymar has said: "They were like a shoe of the future."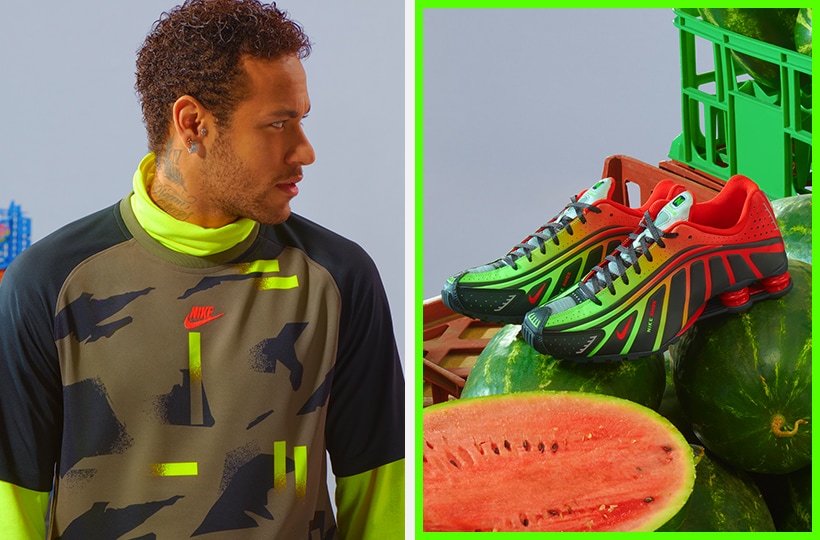 The two colourways cater for every Shox lover out there, whether you prefer a classic white colourway or a bolder neon sneak. If you're looking for the ultimate summer 2019 sneak, then the neon is the one for you. Inspired by the colours from a watermelon the bright colourway celebrates the markets around Sâo Paulo, Brazil, Neymar Jr's hometown.
Bold red and green tones are paired with black overlays to create a sneak which perfectly represents the Brazilian forward. Aside from the pretty out there colour scheme, the sneak has an interesting set of intricate details not seen on Shox before. The standard Swoosh sneakerheads know and love has been removed and replaced by a smaller inverted design by the mudguard while the classic Shox branded 'Z' logo has been moved on its side to convert it to an 'N' to honour the shoe's designer. The look is then completed by red foam columns and a black outsole.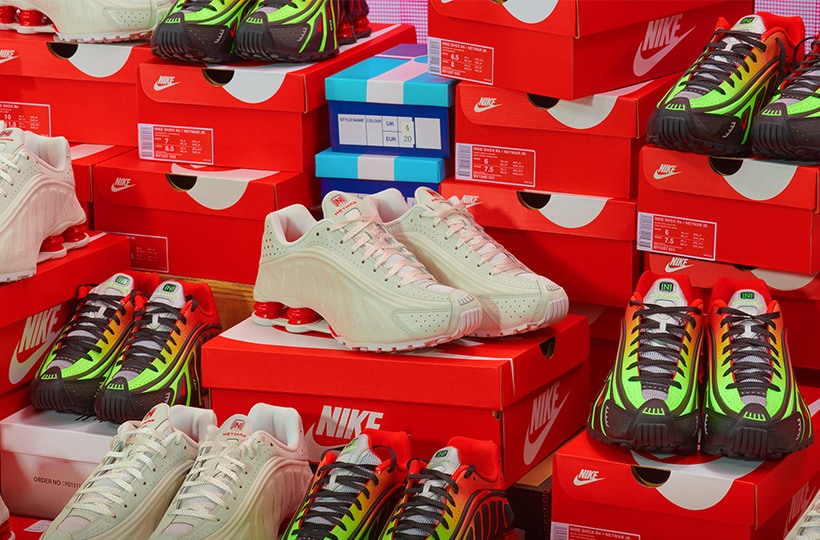 If you are looking for a more classic look then Neymar's silver colourway is probably the sneak for you. A nod to the sneaker's first launch 20 years ago, Neymar's second colourway is more muted but still make a huge statement. An off-white upper is paired with metallic detailing and reflective touches. The design is then finished off with red elements including the signature Shox columns and Neymar Jr.'s name on the tongue and the footbed. The springy shoes are one of the most popular sneaks in Neymar's hometown of Brazil so if you're going to trust anyone to design a fresh pair of sneaks then it has to be Neymar.
Launching on the 30th May
online
and in our Stratford and White City stores, cop the sneaks of 2019 before they sell out.
All you need to figure out is whether you're going to dazzle in white or wow in watermelon?