2000 was a pretty important year, we'd just celebrated the turn of a new millennium, Venus Williams became the first black woman to win the Women's Singles title at Wimbledon and the first crew was launched to the International Space Station.
However, there was one historical event that shaped streetwear forever- Nike Shox went on sale. That's right everyone's favourite sneak from the noughties was released 19 years ago and now they are being re-released for a whole new generation to enjoy.
Launching on Thursday 16th May, Nike is bringing back the boing with the Nike Shox R4, in both a white and triple black colourway. The sneak boasts a pretty sleek silhouette while incorporating the famous bulky Shox pillars, exposing the classic shoe to a whole new generation of sneakerheads.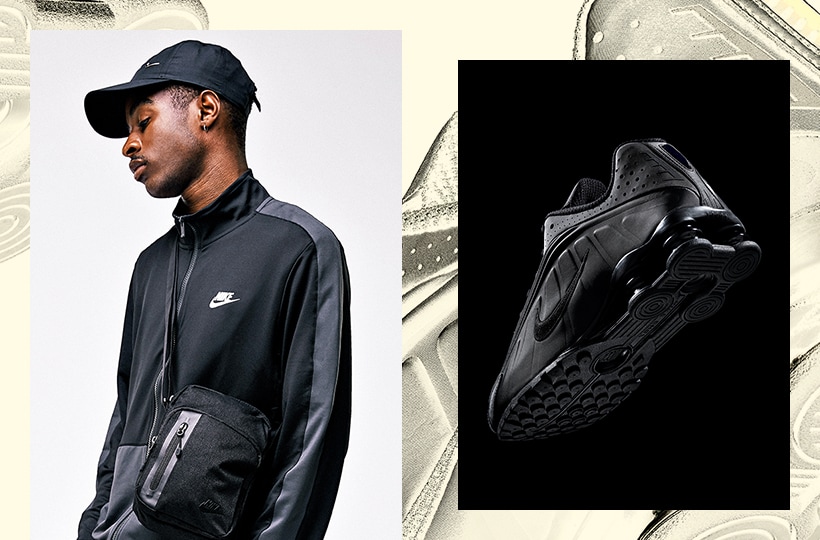 With the sneak being released in black and white, they are bound to become your ultimate summer 2019 sneak. The Shox's most noticeable feature is the foam columns underneath the heel, which provide much-needed comfort and an added bounce. The columns were the result of 10 years worth of research by Nike super designer Bruce Kilgore.
Inspired by indoor track sprinters who appeared to 'bounce' with each stride, Bruce, along with engineers began to conduct biomechanical experiments with the aim of optimising energy return with each step. Before Shox became what they are today Nike experimented with adding steel springs to a running shoe to see if it would improve running economy.
They continued testing a variety of springs and hinges through the 80s until 1997 when they discovered that twin plates with foam columns worked best. The running shoes first rose to fame on the track but it wasn't long before they were spotted on the streets. The sneak and its bounce remain a firm fan favourite and now you can be part of the revival.
Shop the Nike Shox R4 release
here
and discover our full range of
Nike apparel
for the latest Nike releases.