Introducing ReGAIN; the simple way you can shop for less whilst doing your part for the environment and sustainability.
Footasylum have partnered with ReGAIN to help reduce waste going to landfill, encourage recycling and ultimately, give back to our customers. Sustainability is at the forefront of our minds in every new step we take, and with a lot of loopholes and grey areas in the fast-fashion and manufacturing industry, we want to work with ReGAIN to make everything as easy and accessible for you as possible.
What is ReGAIN?
ReGAIN is a recycling rewards scheme where you can pack up your unwanted clothes, trainers or accessories, post them to ReGAIN for free and in return you will unlock a 15% off code to use at Footasylum. Simple!
What items can I recycle?
You can recycle basically anything in your wardrobe that you no longer wear or has just seen better days. Everything from tops, trousers and hoodies to swimwear, underwear and hats is accepted. Remember, the items can be from anywhere, not just Footasylum!
What happens to the items I recycle?
Depending on the condition of your items, they will either be reused or recycled into fibres used to manufacture new clothing. Pretty cool, hey?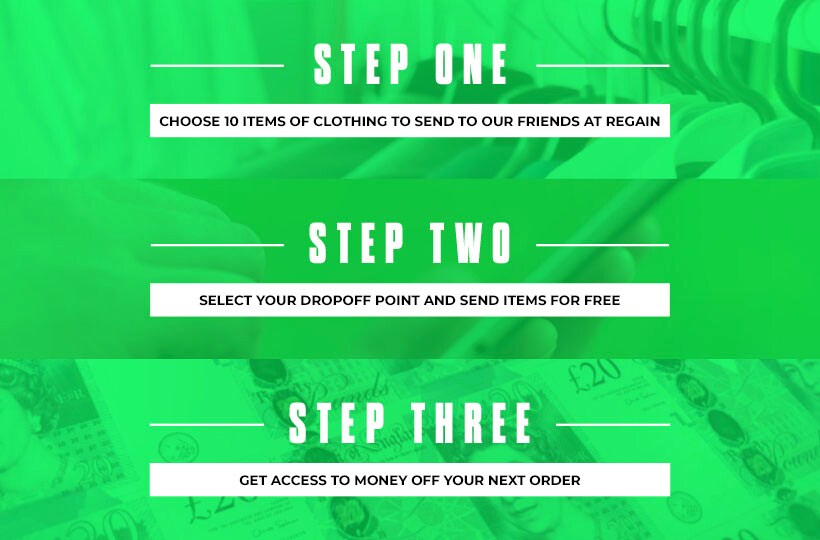 How do I use ReGAIN?
It couldn't be easier. Simply download the ReGAIN app, bag up your unwanted items, use the free shipping label provided and drop off your donations at your nearest drop off point for collection.
What's in it for me?
Once you have packaged up your items to be recycled, printed your postage label and left them at one of our secure drop off points, you will be able to access your 15% off voucher within 30 minutes. You have to be quick, though, as your voucher will expire after 10 days.
It's now time to start the wardrobe clear out and get downloading the ReGAIN app and take the first step to guilt-free shopping.