90's Girls – Bring Back the Jelly Shoe with JuJu Jellies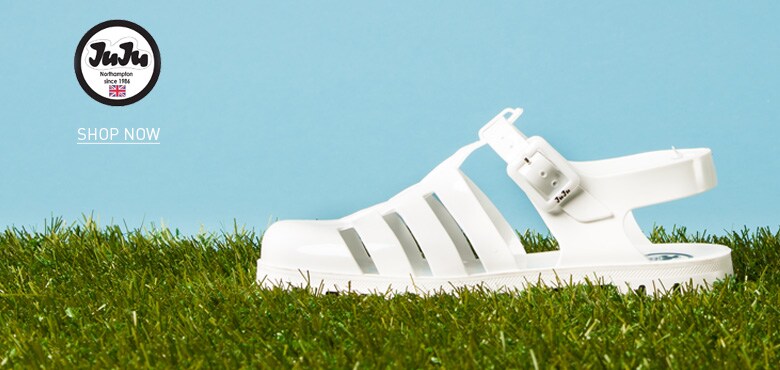 Date Posted: 26/05/2014
This sunny weather has got the Footasylum team feeling Summery! Remember when you were a kid, and summer seemed to go on and on – endless weeks of splashing in the paddling pool in the garden, playing out with friends late into the evening, slurping ice creams and trips to the seaside?
Of course back then your must have wardrobe staple was a pair of jelly shoes – not only were they the height of cool, coming in a rainbow of bright colours (glittery were the best) to match any outfit, but you could get them muddy, wet or sandy with no dramas. Fishing around in rock pools on holiday was no trouble with your fave jelly shoes.
If you're feeling nostalgic with all this talk of bygone summers, don't get too upset because the jelly shoe is back! Let your inner kid out with a pair of JuJu Jellies. Of course, like you they have grown up a bit over the years, and now come in a variety of bang-on-trend styles. A pair of JuJu Jelly flats are ideal to take away on a beach holiday or pair with a floaty summer dress for laidback garden parties, festivals and BBQs at home.
Opt for a Babe Heeled Jelly Sandal to take you from day to evening wear. JuJu Jellies are available in a variety of colours inspired by the current 90's trend, from pastel shades to glittery and even classic black. JuJu Jellies are perfect to rock the 90's look – team with a pair of pale denim dungarees or a skater skirt and crop top to look the part this summer. If you're feeling egdy why not wear with ultra girly frilled socks to make a statement.
JuJu Jellies are a summer must-have for any fashionista who wants a stylish sandal that is practical for any occasion. Not only are they bang on trend this summer, but they're super affordable starting from just £19.99 per pair - you might as well get two!