Why Converse Really Are All Star!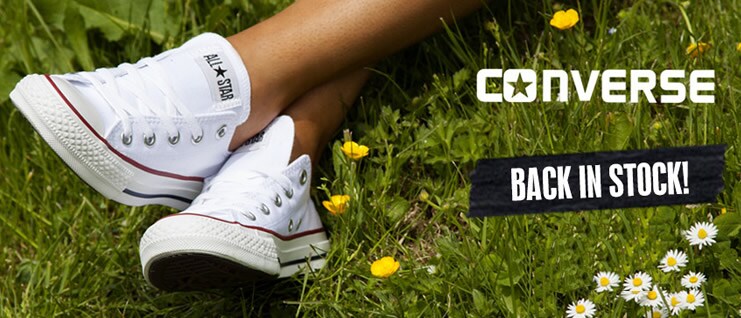 Date Posted: 09/07/2013

We try not to favouritise here at Footasylum HQ, but sometimes we just can't resist the urge to extol the virtues of some of our favourite brands. As you guys will be well aware from the huge repertoire of brands on our site, we consider ourselves aficionados of all things fashion and footwear. This week we just can't get enough of one of the world's most iconic footwear labels – Converse.
Converse, Converse All Star, Chucks or Chuck Taylors – whatever you want to call them, these sneakers really are the business for a range of reasons, which all make it easy to see why they are so resoundingly popular here at Footasylum. Aside from their ever changing motifs such as The Simpsons, Spiderman or even the star spangled banner themes; we have listed our five top reasons why we think Converse are so great!
Comfort
This is surely the bedrock of any trainer or sneaker and Converse have this well and truly boxed off. Used for basketball until a few decades ago when the likes of Nike took over with bulkier designs, Converse have remained incredibly popular on the street due to the fact they fit the foot like a glove. They also use high quality cotton and rubber to ensure there are no compromises on comfort.
Colours
You can get a pair of Converse in pretty much any colour you desire. Many people opt for classic navy, white or black when it comes to their sneakers but they are available in everything from yellow and orange to multicolour and also plethora of playful themes such as the ones mentioned above. There really is a pair of Converse to suit every mood and look.
Durability
Another trademark of the Converse All Star sneaker is the fact that they can be put through their paces. Whether you are wearing them to mooch around town, get around festivals or even wear at work – they can be easily put through the washer and dryer. This adds to their appeal and their aforementioned high quality means that they will hardly fade at all. Converse sneakers are hardy to say the least.
Versatility
Traditional high top Converse can be worn in a number of ways, helping the more fashion minded to apply them to any given look. They have remarkably long and durable laces and are very flexible meaning they can be done up to the top or rolled down for a completely different aesthetic. This means they can be worn by boys or girls and with long or short trousers and even skirts – Converse sneakers are the epitome of the all-rounder!
Personality
Finally, Converse are simply iconic. There are few sneakers or trainers out there that are as distinctive as the classic Converse All Star and this is one of the reasons we just love them. Everyone can find a Converse to suit their personality and we have the full range right here on the Footasylum site. Peruse at your leisure and be sure to get in touch if you are looking for a design you can't find with ease.