As part of our 'Creating With…' series with
Converse
, this week we're checking in with Nail Technician Learnah Starbuck to find out how she combined her love of nail art with her love of trainers.
With a super sleek
crochet Converse silhouette
and super sassy leopard print sole and nail combo we love Learnah's designs.
If you want to give customising your favourite pair of Converse a go check out Learnah's tutorial and interview below.
What was the inspiration for your two designs?
I created the first design using the Chuck with the crochet detail as inspiration. I tend to try and replicate exactly what I see, which doesn't always work, but thankfully this time it did. I've never tried any type of crochet designs before, so this was new to me, but I wanted to capture the design from the trainer as best I could without going 'overboard'. I added the black lines from the sole onto the nail which I think gave an edgy look to a set of 'pretty' nails.
The second design was inspired by my own nail style. I love animal print nail art, it's my favourite. I feel so at home when I'm creating it. Animal print doesn't have to be perfect and you can use so many different techniques the list is endless. I thought this would be super eye-catching on the trainer and look badass on a set of nails. I'm so pleased with how they turned out.
Describe the process of creating your designs.
For the crochet design, I used a sheer milky white for the base colour on the nails so the white pattern would stand out. I matte top coated to replicate the fabric of the shoe. I then went on with a white art gel for the crochet pattern which is 'no wipe' that means you don't need to topcoat, leaving the design 3D and shiny which again gave the look of the shiny crochet design on the shoe. It took a few failed attempts, but this design was pretty easy, and didn't take too long once I decided what I wanted to do.
For the animal print design, painting the sole of the shoe took a while at first. I used acrylic paint and I struggled to cover the black stripe along the sole. But once I got into the swing of it, it covered really well, and the design didn't take long at all. I used a sponge to create an 'ombré' effect along the sole and a thinner pointed paintbrush for the animal print pattern which I just dabbed on. I basically did the same thing on the nails using gel colours which didn't take long either and were super easy.
Did they turn out exactly as you wanted?
Both designs turned out better than I expected, I am so pleased with them both.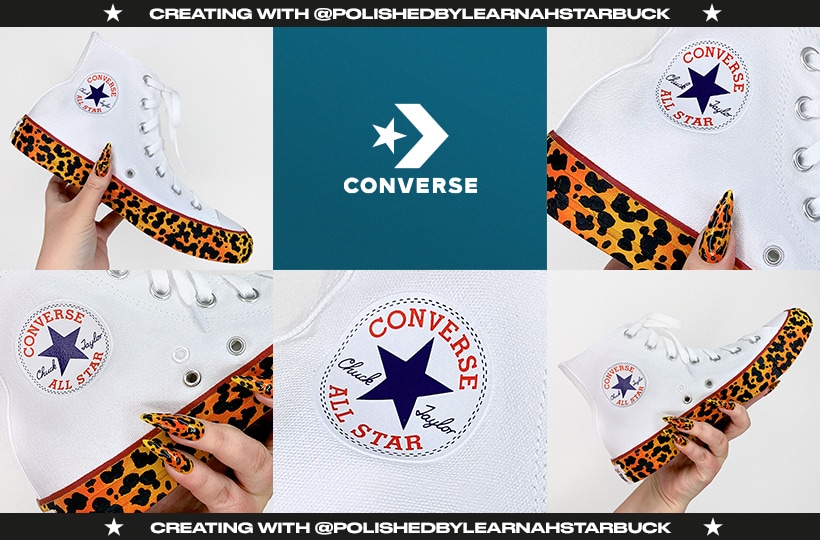 What is your favourite feature of your creations?
I love the stripe on the crochet nails, those nails are very 'pretty' but that stripe just takes them to the next level - it's the little things sometimes.
I absolutely loved painting the sole of the trainer with the animal print design, I was super nervous to remove the tape from them once I had finished to see the end result but wow, how they popped when I did - Complete satisfaction.
How do they reflect your own personal style?
The crochet design is completely new to me, I don't do floral very often but I do love simplicity, and although there is quite a lot of detail on the nails I created they are actually pretty simple when you break it down.
The animal print nails and trainers reflect my style through and through. The colours, I love oranges and earthy tones. Obviously, animal print is my thing lately, it just had to be done.
Has this made you want to customise more of your own trainers/clothing?
Yeah I'd definitely be up for doing more customising of trainers and clothing. It could probably become quite addictive.
How important do you think expressing yourself through fashion and your nails is?
Personally I struggle to express myself through fashion, being a bigger girl, the clothes I would love to wear don't come in my size or generally don't look right, so nails definitely help me to express myself massively. Nails are an accessory these days, whether it be a classic plain colour or crazy art the possibilities are endless. It's such a fun way to let your personality shine and it's customisable to everyone.
Do you think having a creative outlet has helped you cope with Lockdown?
Oh yes! I've done nails pretty much every day for myself through lockdown using press on nails. I crave the creativity, it's not just a job for me it's a release. The Converse customising was a lovely surprise, it's nice to have a purpose and sense of achievement. It was something different and I love a challenge.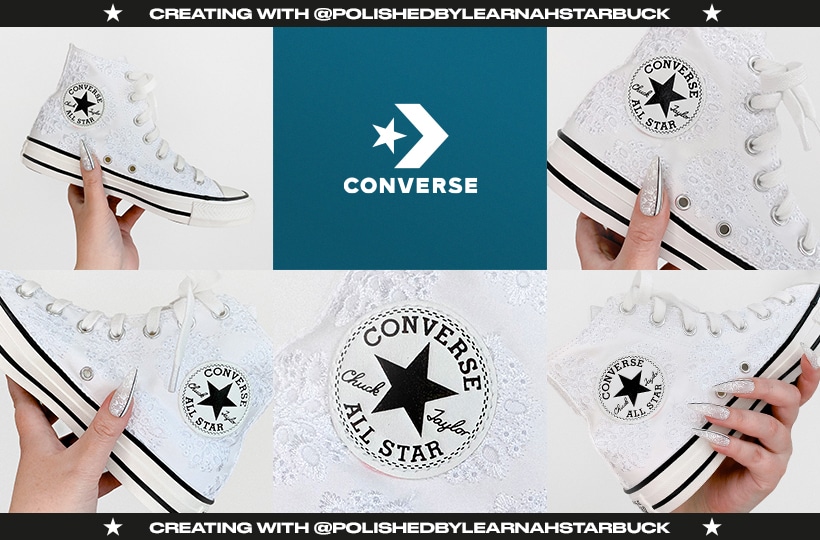 How long have you been a Nail Artist?
I've been a qualified Nail Technician for nearly 11 years.
What inspired you to do this as a career?
I had no idea I wanted to do nails at first, I went to college to study beauty therapy for a year after I left school which I didn't particularly enjoy that much. It didn't give me that creative satisfaction. I was going to take a year out until I went to 'Beauty U.K.' where I found my love for all things nails. As soon as I saw the stands with all of the endless possibilities you can create with nails, I knew that was the right path for me.
Any advice for any aspiring Nail Artist?
Work hard! I've always loved my job but it's only really been the past couple of years that I've put my all into it and taken my career to the next level. Before, it was just a job to get me by which I did enjoy, but I definitely didn't explore or make the most of it. In the last 2 years I have transformed my work, which I have Instagram to thank for. I joined 'nailstagram' around 2 years ago, discovered other nail techs, new products and created nails I've never been so proud of, which has lead to incredible opportunities like becoming a Brand Ambassador for multiple companies including The Gel Bottle Inc and obviously working on this campaign with Footasylum and Converse, which I am so grateful for.
I think it's important to invest in a brand that you love and admire and will be proud to display on your shelves.
Practice practice practice! It's so important to keep learning, start small with simple designs and work you way up to the more complicated and detailed nail art. Don't compare yourself to others, some nail techs may have been doing it for 10 years or so, we all have to start somewhere. Find your own style and own it and always know your worth.