The story of
The North Face
is one worth shouting about. The classic example of starting big and getting bigger, The North Face aimed high as the go-to for outdoor and mountaineering clothing, and now sits at the top of the retail mountain as one of the go-tos for outdoor clothing and streetwear essentials across the globe.
No mountain too big
Founded in 1966, the brand has over 50 years of history behind it. The name alone tells a story; the north face of a mountain in the northern hemisphere is typically the most difficult to climb. Creators Douglas Tompkins and Susie Tompkins had a vision, but the name alone tells us they knew it wouldn't be an easy climb to the top.
Throughout the 60s, the brand formed a loyal customer base with amateur and professional outdoor athletes and began putting their name behind some of the world's largest, and craziest, expeditions. This gained traction, and to this day is still something they are heavily invested in and helps them stand by their brand ethos; Never Stop Exploring.
By the 1980s they began to reach out to new communities – skiers and campers. A niche and over saturated market that requires practical clothing for everyone from beginners to the elite, young or old.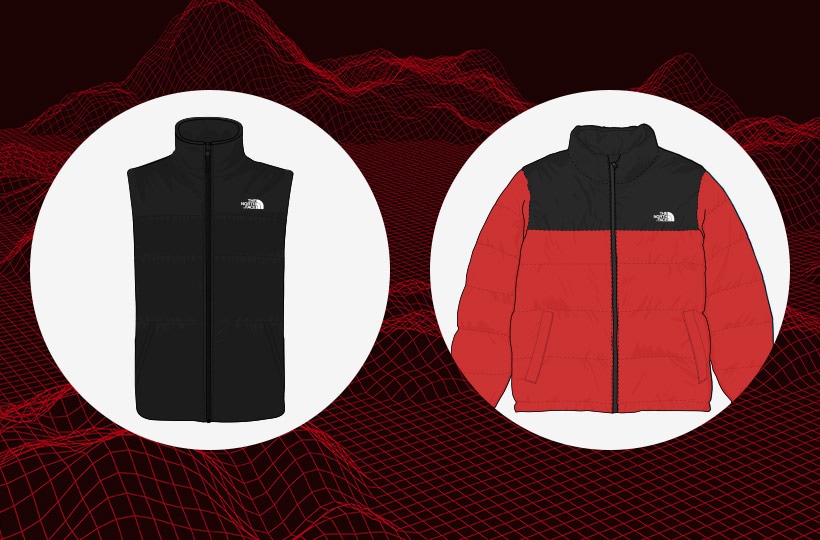 From the summits to the streets
The next decade saw their first step into the world of sportswear, a world where they have remained a staple.
More than 50 years since its birth on a beach in sunny San Fran, The North Face is a brand we all know, recognise and respect. Not only is it the first choice for climbers, skiers and explorers, but year on year some of its products have continued to gain appeal with a younger audience looking for stylish streetwear that is still going to protect them from the elements.
The Nuptse, the icon
One of the key pieces we can't ignore is the
Nuptse Jacket
. Made famous in the 90s for its stylish yet practical design, the North Face Nuptse Jacket is an icon on the streetwear fashion scene. Like all the brand's clothing, this jacket too started off as a practical outdoor coat, yet today you would struggle to walk down any high street without spotting one.
A close second to the infamous jackets and coats of the brands, is the simple staple t-shirts. Easy to throw on, casual and comfortable, the
Dome T-shirt
is nothing ground breaking in the style stakes, but provides an effortless everyday tee for men climbing mountains, walking the dog or catching up with mates.
Join the hype
The North Face is a permanent feature on the streetwear and outerwear scene that isn't going anywhere anytime soon, so discover your favourite
North Face
piece today and become a part of the movement.