In our Valentine's edition of #LoveAtFirstLace, Spanish sneakerhead and stylist, Natlaia Infantes (aka
@Natalia__Infantes
) tells us how she met the man of her dreams through a shared obsession with limited sneaks.
Hey, Natalia! Thanks for sitting down with us. Tell us a bit about yourself.
My name is Natalia Infantes and I've lived in Madrid for 11 years. I moved here because I wanted to move forward with my career.
I worked as a stylist for a long time in Salon44, a very well known Salon in Madrid, and I've been the director for the last three years.
I love my job and I've dedicated a lot time to it. But I love sneakers and fashion more than anything in the world.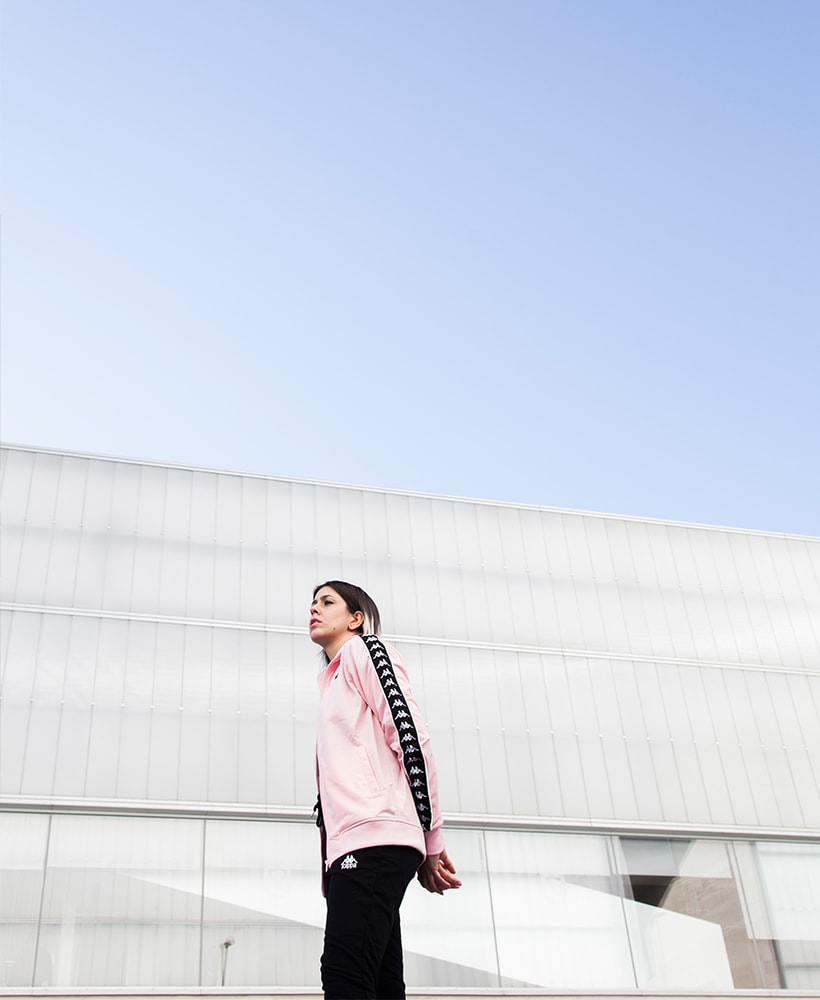 How long have you been into sneakers? What was your #LoveAtFirstLace? When did you buy them?
It all began around 11 years ago when I met Antonio Thiery (aka
@pata_negra_snkr
). He introduced me to the world of trainers and our obsession grew together! Haha. In my spare time I like to find locations for us to take perfect pictures together.
We started up a Facebook page together called 'Pata Negra Sneakers' and about a year ago I opened my Instagram account (
@Natalia__Infantes
) to share my own sneaker stories through photography on social media.
My #LoveAtFirstLace was the Nike Air Max 1. I loved the design, and that love quickly developed into the (un)healthy obsession I have today!
Soon after, my boy managed to get me a pair of Air Max 1 'Liquid Gold' (which sold out immediately!). When I saw them on my feet I almost died of happiness! I'm also a huge fan of the Air Max 95 "Parra". They're just beautiful!
What do you love about sneakers? How many pairs do you own?
I love the diversity of models that are out there nowadays. It's not difficult to find the perfect pair of sneakers to complete your outfit.
At the moment I have just over 100 pairs, and when you add that to my boy's, we have about 250 in total! I always want new pairs, but it's getting pretty crazy!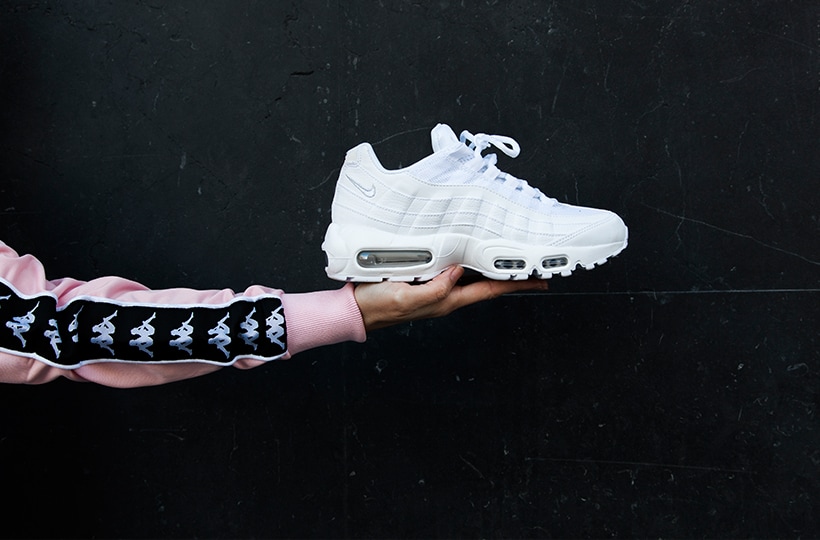 What are your top five favourite sneakers of all time? Are there any brands you prefer to wear over others?
My top five ever are:
1. Nike Air Max 97 'Silver or Black'
2. adidas Yeezy 350 'Pirate Black'
3. Nike Air Max 95 'Parra'
4. New Balance 993 'Cancer De Mama'
5. adidas EQT 'Pink'
For me, Nike is one of my fav brands. I own more Nike than anything else. I've worn every pair I own, but I must admit I've only worn some of them once. I'm really afraid I'll damage them!
Have you ever done anything crazy for a pair of sneakers? Camped out or queued for hours on end?
The craziest thing I've ever done for sneakers is sleep in the street in London. We were queueing for the Nike collaboration with Supreme.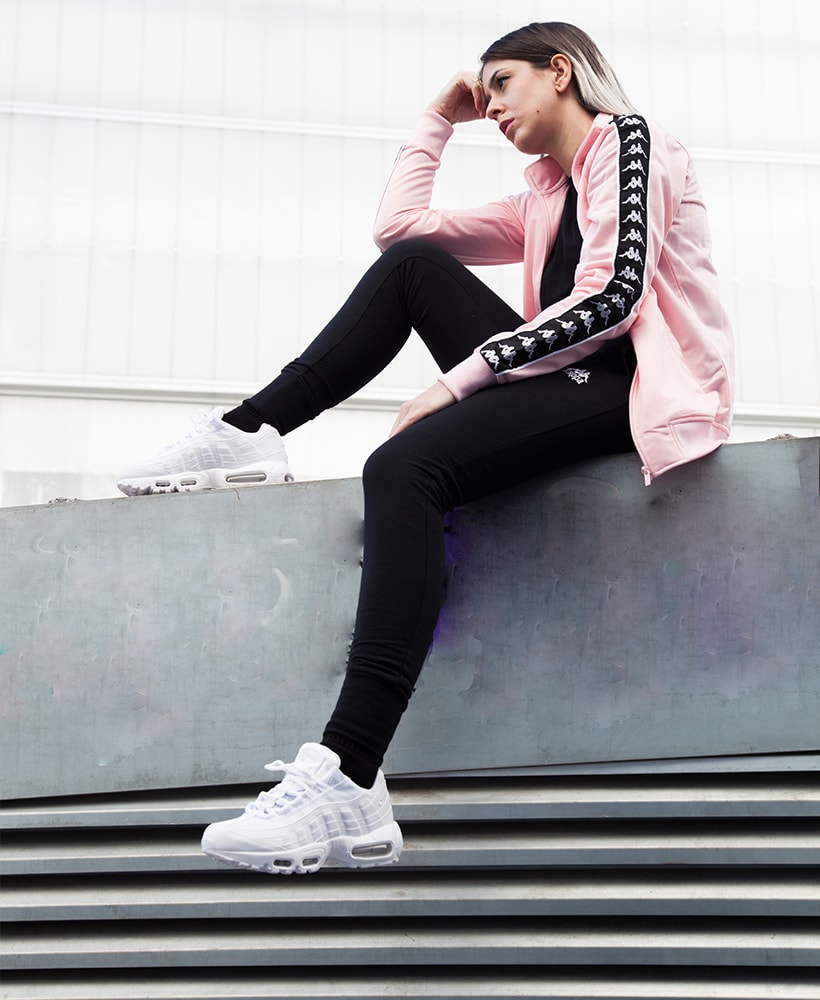 Tell us about the sneakers you asked us to send you. What do you like about them? What have you styled them with? How would you describe your look?
I've asked for the Air Max 95 in White.

The Nike Air Max 95 are some of my favourite sneakers. They're so pretty and super comfy. They're perfect for my job and my everyday life.
I absolutely love the Kappa Chupa Track top and Kappa jog pants, so I've styled my white 95s with those. I adore black, it's my perfect colour when matched with a touch of pink.
I really enjoy combining the perfect clothes and adding extra details (such as the right colour socks!). I never have more than three colours per outfit. I'm usually very neutral: classic trousers, unisex coat and a great pair of sneakers.
If you had to buy a pair of kicks for someone as a Valentine's present, what would you buy them and why?
The perfect Valentine's day gift would be for my boy and I to get matching sneakers. We love buying the same ones. It's the best way to combine our greatest loves: sneakers and each other!
Haha. That's so nice! Fingers crossed you get just that. Speak soon, Natalia. We'll be following your sneaker adventures on the 'gram!