Blogger, Instagrammer and YouTuber, Vanessa Daniels (aka @vanessrdnls) has been good friends with us for a while. Although she hasn't been into trainers for that long, her collection is already huge!
We asked her to get involved with #LoveAtFirstLace, and sat down to talk about the sneaks that first stole her heart.
Hi again, Vanessa! For those who weren't around for your Style Sessions, tell us a bit about yourself!
Hey! I'm Vanessa. I'm 22 and from Nottingham.
I'm a student and go to university in Birmingham. As part of my degree I have to carry out a year long placement in my penultimate year, so right now I'm working in marketing for an amazing beauty company in London.
I blog and make YouTube videos. My videos mainly focus on fashion, but also post a bit of beauty, lifestyle and other random stuff!
How long have you been into sneakers? What was your #LoveAtFirstLace? When did you buy them?
My love for sneakers only started when I moved to university. Now, 4 years later, I have an actual obsession! I did have a pair of Converse in college that I literally destroyed, but my first pair of official trainers were
a pair of New Balance
574s.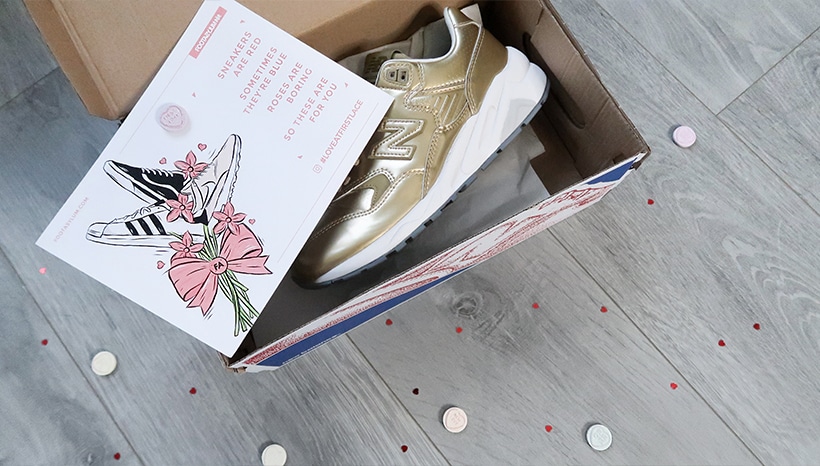 What colour was your first pair of them? What was it that attracted you to them?
They were black with teal accents. I love everything blue related, to the point where every part of my room at home was blue including the carpet! So that was an instant attraction for me. But the main reason I bought them was because I got a new job in retail and would always wear flat shoes and my feet would hurt so much.
I had good discount there so ended up getting those and they literally changed my perspective on footwear. It's crazy to think on my first shift there, I had on those studded flats everyone was obsessed with, and now all I own is trainers.
What do you love about sneakers? How many pairs do you own?
I have 100+ sneakers. I just love how comfy they are and easy to just throw on with everything. I automatically look at peoples sneakers so it's important for me to stay on trend and get freshly released pairs.
Are there any pairs you've never worn? Do you ever buy shoes just to collect them or do you wear every pair?
A lot of the sneakers I own haven't actually made it outside!
I have a select few pairs that I will just bang out on a daily (mainly black pairs because they are more forgiving if they get dirty). The others I just want to keep fresh forever, so always end up planning to wear them but then changing into something else before I leave the house.
When it comes to summer I'll definitely wear a lot more of my collection. But right now I'd rather play it safe because I don't want to destroy any of my precious pairs!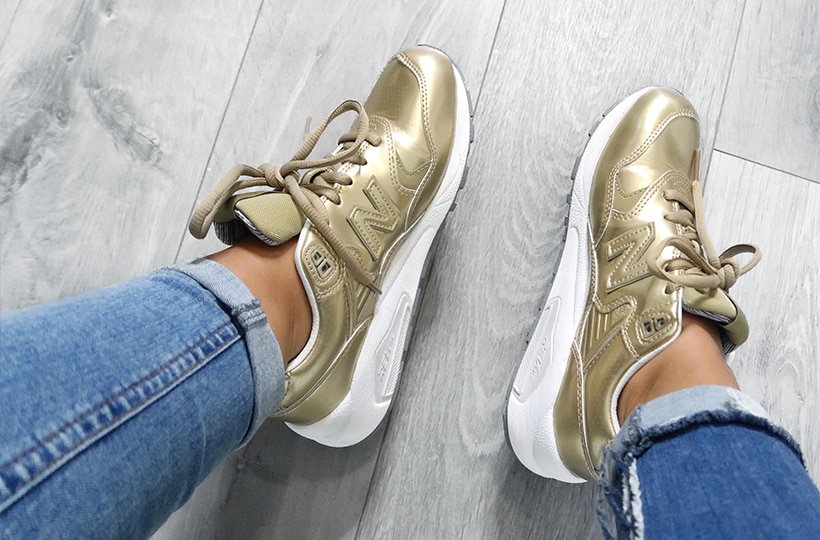 What are your top five favourite sneakers of all time? Are there any brands you prefer to wear over others?
I've been through my phases with brands. I used to love adidas Superstars and had like every colourway. Then I was obsessed with Reebok Classics. After that I went onto a Puma phase, mainly because of Rihanna's creepers.
I'm still loving Puma at the moment though, and will probably always get the latest Rihanna creepers because she's my fave.
Currently my top five pairs have to be:
1. Nike Prm Pink Air Max 95
2. Puma x Fenty Burgundy Velvet Creepers
3. Nike Khaki Crushed Velvet Cortez
4. Yeezy Boost 350 v2 in Black/White
5. adidas 20th Anniversary Beige NMD
If you had to pick one pair to wear for the rest of your life, what would they be?
My black NMDs with the pink accents. Comfiest shoes ever and go with everything!
Have you ever camped out for a pair of sneakers? If you haven't would you? What's the craziest thing you've ever done to get a pair?
I haven't
yet
. But if a new pair of Yeezy 750s that I like came out then I might consider it. Gutted I missed out on the light grey ones last summer!
I haven't done anything too crazy, but I remember when the khaki, black and white puma creepers came out I bought 5 pairs in a panic as I thought the purchase didn't go through! Then I ended up with 2 khaki pairs, 2 black pairs and 1 white pair for no reason!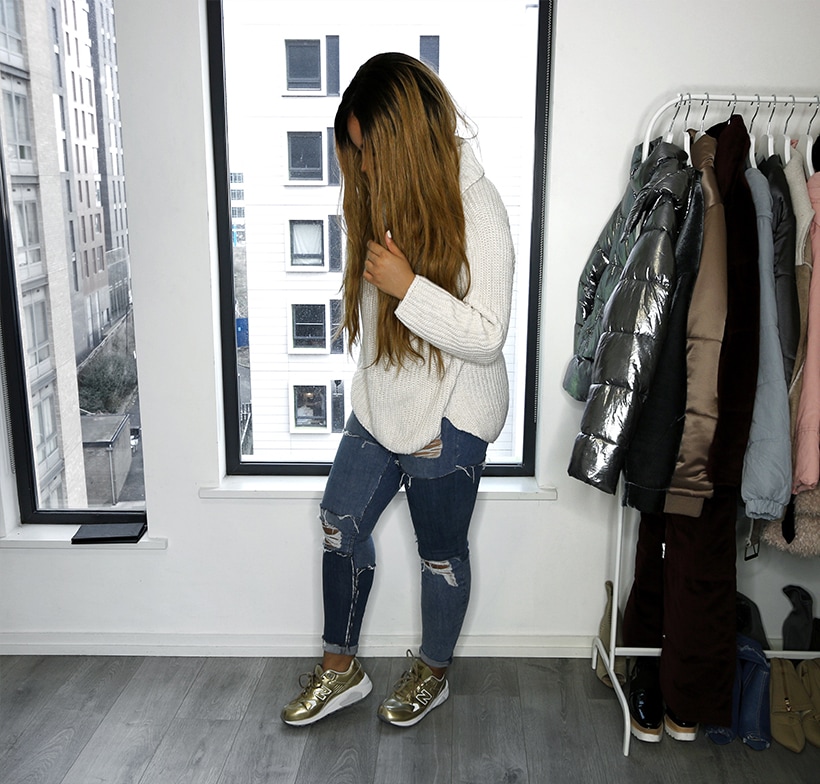 Tell us about the sneakers you asked us to send you. What do you like about them? What have you styled them with? How would you describe your look?
I got a sense of nostalgia when I saw these, like I say, my love for sneakers started with a pair of New Balance! I loved the gold on these as I am obsessed with a nude palette so thought they would fit into my wardrobe perfectly.
I kept this outfit simple as right now I am super busy, so just need quick outfits that still look good! I paired it with these blue patch jeans from that I love. They make a plain outfit look a lot better as they are not just a simple pair of jeans. Then I just threw on a cream roll neck as England is super cold right now! The sneakers speak a lot for themselves
seeing as they are metallic gold
, so I wanted to leave the main emphasis on them.
I would describe my style as kind of sporty chic! I do love to throw on a pair of heels every now and then, but for me it's definitely comfort over everything.
If you had to buy a pair of sneakers for someone as a Valentine's present, what would you get them and why?
I would get my boyf a pair of Yeezys because when I got mine he tried to take a picture at a certain angle for his Snapchat to make it look like they were his, even though I'm a size 4 and he is a 12!
If they weren't so hard to get then that would definitely be his present so he wouldn't have to try and stunt anymore by making my tiny Yeezys look like they could fit his long foot! Lol.
Haha! Poor guy wants Yeezys so badly! We hope he finally gets some. Thanks so much for chatting with us, Vanessa. Let's catch up again soon!