Blogger, YouTuber and Marketing student,
@Vanessardnls
is getting some serious attention on social thanks to her unique style. We talked to her about her love for fashion and how she puts her incredible outifts together.
So, who is Vanessa?
I'm a fashion blogger and YouTuber. I'm originally from Nottingham but I go to university in Birmingham. Right now, I'm living in London for a year as part of my degree, and will definitely be moving here after I finish.
It sounds like your diary is pretty packed!
My life is quite simple during the week. I'm currently completing my placement year so I'm working full time. Then I just spend my evenings chilling and eating.
On the weekends I try to be as productive as I can in terms of blogging, as I'm trying to make the most out of my year in London. I normally just get up as early as I can (but it never ends up being early) and then film and edit for the majority of the day.
Or I'll probably spend my day shopping.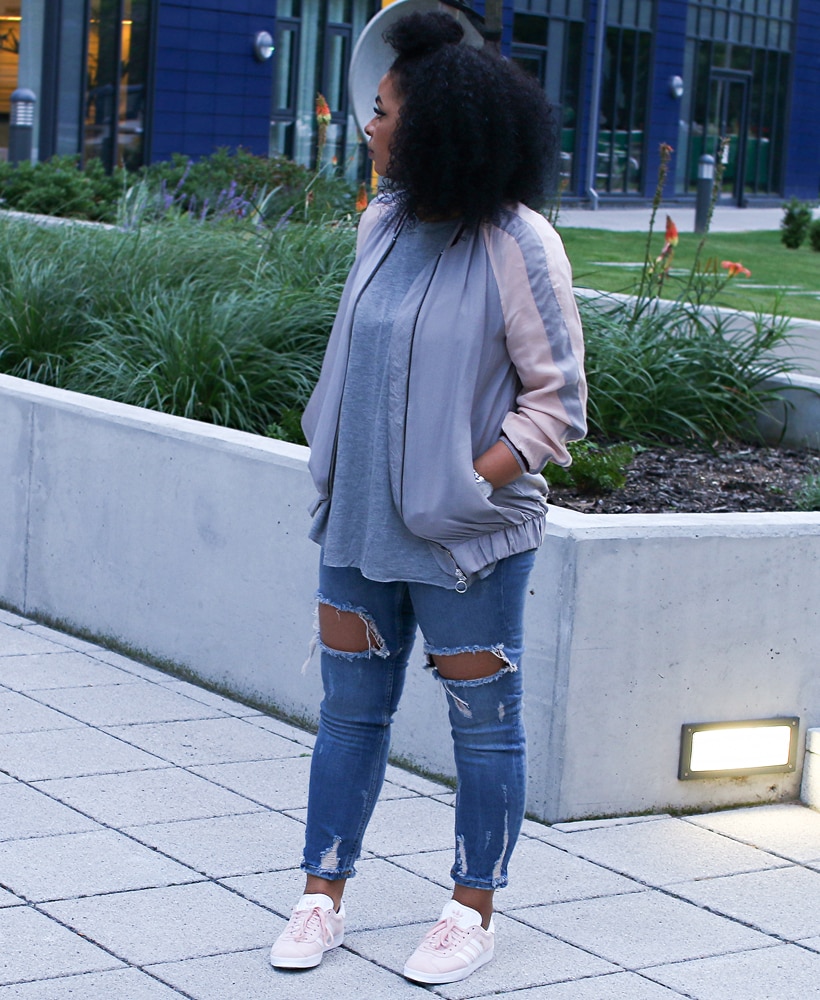 Can you describe your style?
My style is definitely quite tomboyish, but with a girly edge. I love being comfy and keeping my outfits simple.
Where do you find your style inspiration?
It can be from anything! A lot of the time it's simply while I'm out shopping, I'll see random pieces that will kind of inspire looks in my head. I love Rihanna and Kylie Jenner's style, so sometimes I look to them for inspiration.
Are you a sneaker girl?
Yes, I definitely am! I have a few pairs of heels but I'd much rather be comfortable in my trainers! I wouldn't say I'm particularly loyal to a brand but most of my trainers are from adidas.
My favourite style of trainer is definitely something with a platform. Puma is slowly becoming one of my favourite brands, mainly because of the recent Rihanna collaboration of creepers and slides!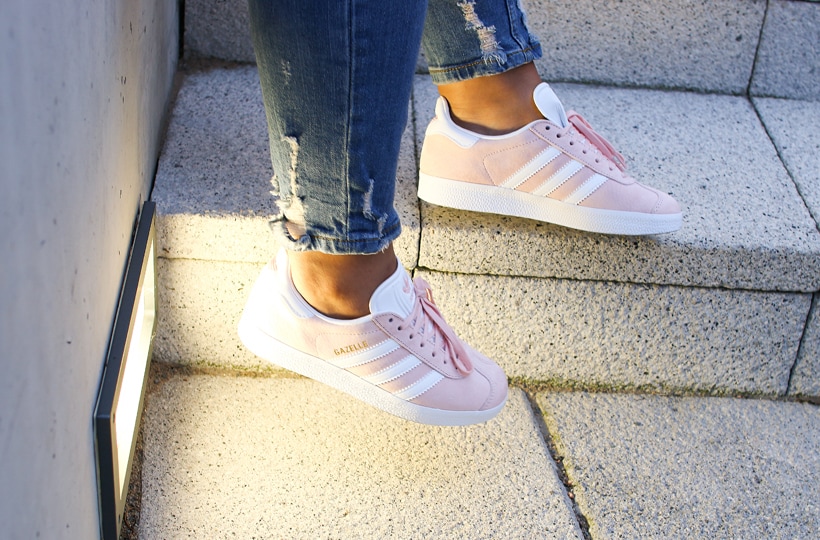 Nice!
Are there any Instagram profiles that particularly inspire you?
These girls inspire me to slay:
@arrestthisgal
,
@madelinemercedes
,
@sherlinanym
and
@desthydee
. They're all baes!
How many pairs of shoes do you own and where do you store them?
I don't actually know how many I own, but the number keeps on growing. It's definitely around 100 pairs.
Right now, I don't really have anywhere to store them, so they're all just stacked on top of each other on a shoe rack, or shoved in the bottom of my wardrobe.
How've you styled up the kicks that Footasylum sent to you?
I paired my
adidas Vapour Pink Gazelles
with some light wash ripped denim jeans, a grey basic tee and a pink and grey bomber.
I think all these colours complement each other well, and given the weather I wanted to keep the outfit light and airy!
Why did you pick this particular three stripes silhouette?
I've never had any Gazelle's before so I thought I'd try something different. I love the baby pink colour, and it's one of my favourite shades for the summer.
What's next for @Vanessardnls?
Right now I'm working in marketing for a year, for a global beauty company. I do enjoy it, but I would love to take my YouTube channel further as it is something that I actually love doing. The idea of being my own boss is very appealing.
Thanks for talking to us Vanessa. What are your social handles so we can check them out?
Instagram -
@vanessardnls
YouTube –
vanessardnls
Twitter -
@vanessardnls