Katie Shell (aka
@katarakagura
) is winning over a massive following on Instagram thanks to her incredible snaps taken all over the world.
We caught up with her while she was back in the UK to find out more about her interesting sense of style.
Hey Katie! It's great to meet you. What's your story?
Hey! It's lovely to meet you too.
I'm originally from London but am currently living in a small beach town in The South of Spain. I've dipped my mittens into so many things recently that I don't do any one thing. Anything creative... I'm in!
I like to keep busy. I used to teach dance but am now currently focusing on the modelling and blogging side of things. I also love cooking vegan meals and experimenting with tasty dishes from around the world, I'm currently super into Ethiopian food!
I'm also a gym rat that has never stepped foot in the Gym. I love to keep my body moving, I do lots of cardio and circuit training every day, all from home.
We're loving your Instagram feed! Was it a conscious decision to start one up or did it just sort of happen? How would you describe your profile?
Thank you! That means a lot!
No it was never something I planned to do. I just really liked the idea of expressing myself through imagery. I set up an account for fun and the rest, as they say, is history.
We see you love travelling, What do you love about it? How many countries have you visited and where do you plan to visit next?
I do I have the travel bug! I just love the feeling of the unknown, a whole new place to discover. Every trip makes you wiser, more cultured and more aware of how big this world is. Life is far too short to stay in one place.
I've pretty much been everywhere in Europe. I've lost count of how many places I've visited. I'm now so excited to finally be venturing outside of Europe. I'm flying to Australia in February 2017 and then to Indonesia! Cannot wait!
Describe your style in three words:
Eclectic. Vintage. Fun.
Who or what inspires your style?
I don't really have any style icons. Places and people influence my style.
What sort of stuff do you normally wear?
If I'm at home in Spain by the beach then my style is very chill, Birks, vintage denim shorts and a tee.
If I'm in London then my style changes to trainers, leggings or skinny jeans and a leather jacket.
I also have a ring obsession. I wear 6 rings always!
Do you think having a strong sense of style is important? What is it about fashion that interests you?
I think being an individual is important, and one great way to express that is through clothing.
Fashion is fun and limitless, there's no rules and I love that!
What do you focus on when putting an outfit together? Do you start with the shoes and work up? Is comfort more important than appearance or is it the other way around?
This is going to sound weird but I start with my hair! Haha. If it's in a slick, tight pony tail then I tend to go for a cute simple mini dress with black ankle boots.
If my hair's down and wild then I go for more of a rock chick vibe.
If I have it up in a Sumo bun then it's something super comfy with some mascara, red lipstick and some flatforms.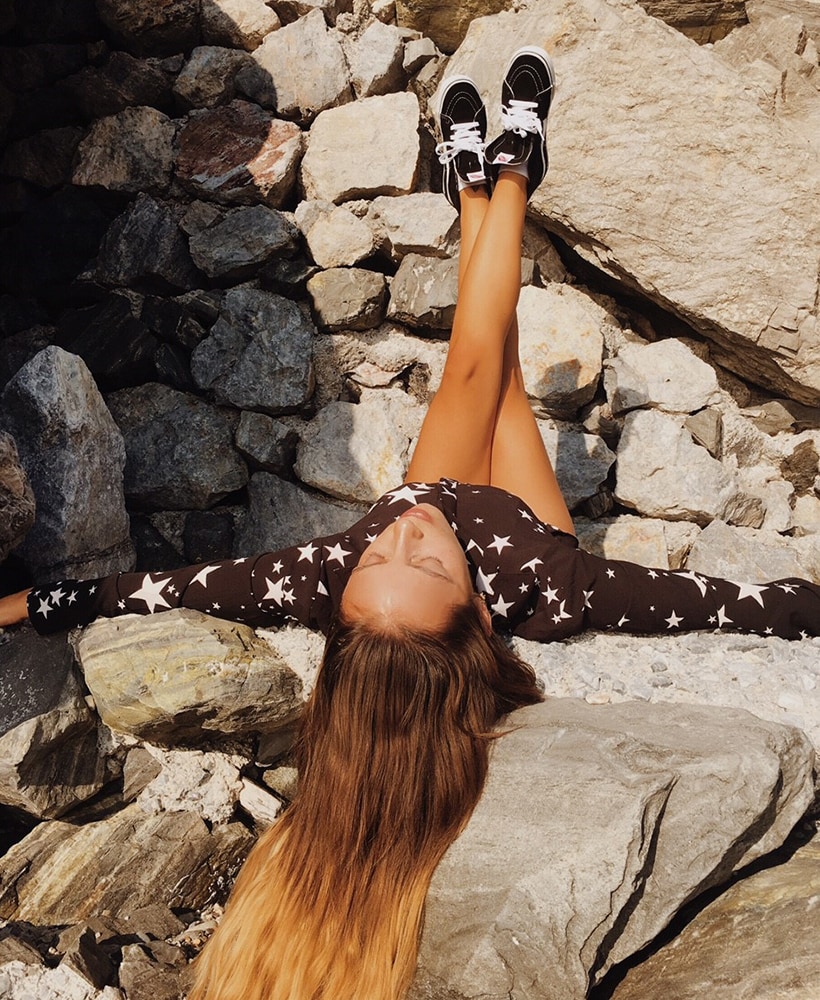 We've all committed fashion crimes at some point. What have you worn in the past that you'd never go near now?
The onesies trend. I had one, but never again! They are also really annoying if you need to use the bathroom.
Are you a trainer girl? Which are your favourite? How many pairs of shoes do you own?
Definitely a trainer girl!
I live by the beach and do a lot of hiking. Also the streets in my town are cobbled so heels are dangerous. I think I own one pair of heels and they are GoGo boots, totally impractical and ridiculous but I love them.
I think I own about 20 pairs of shoes! And that's not including my flipflop collection.
So you love the Vans SK8-Hi? What is it you like most about them? And how've you decided to style them?
They're classics.
I've wanted a pair for ages!
I think they're pretty versatile. I'd wear them with some funky patterned trousers, or a pair of vintage jeans, or a little summer dress with a denim jacket.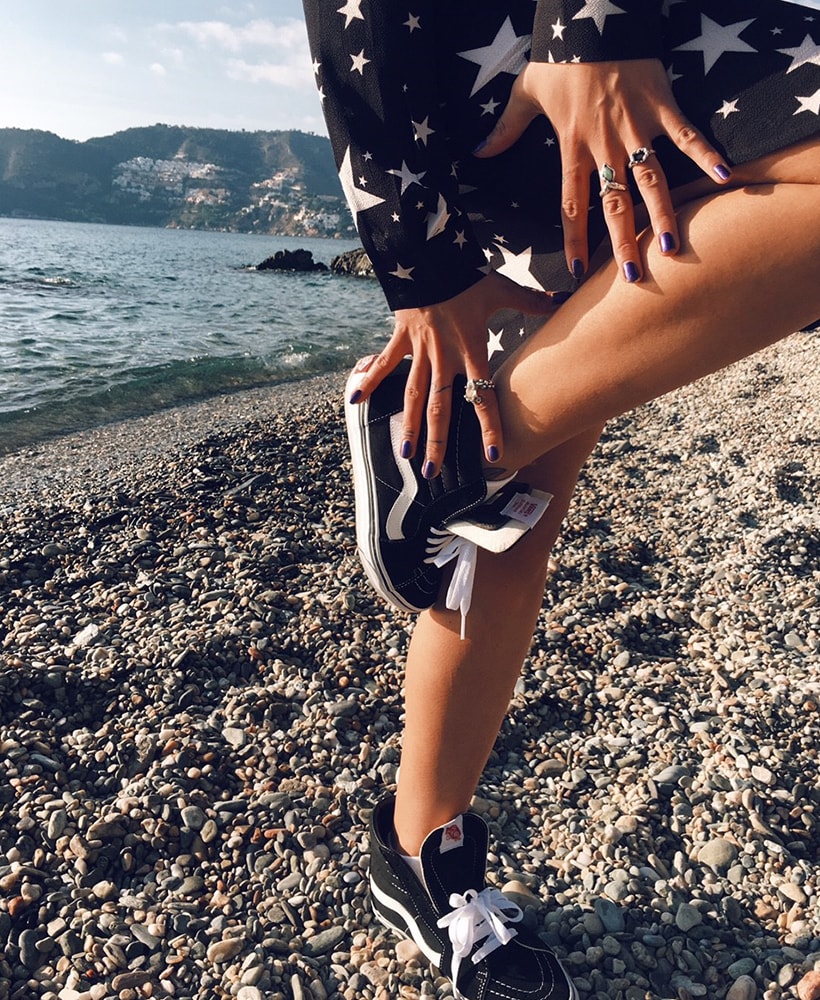 Where/when would you wear this look?
I'd wear it dressed down to meet friends for a coffee and I'd dress it up a bit in the evening with a cute slip dress and a leather jacket.
I think it suits a girl of comfort. A girl who likes to be comfortable but also classic, fresh and tidy.
What are your plans for 2017? Any New Year's resolutions?
My trip To Australia and Indonesia in February is my big adventure for 2017. So seeing in the New Year will be pretty low key, spent in Spain celebrating with my little town in the local bar.
I don't really have any resolutions just to keep doing what I'm doing, focussing on all of my little projects.
Where can people keep up with your adventures?
Instagram -
@katarakagura
Snapchat - @katarakagura2
Thanks, Katie! We hope you have an awesome time on your travels. You can bet we'll keeping an eye on your Instagram!

Photography by Alex Sedano (
@alexsedano
)