Content creator and jewellery maker,
Emily Cocklin,
is the one to follow for all of your style inspo on Insta.
Check out our interview witth her below to find out more about her style, starting up her own brand, and how she juggles her job with her blog:
Hey Emily! Great to meet you. Tell us a little more about the girl behind the lens…
Hey, great to meet you too! Well, to start, I live and grew up in and around Surrey. I started my blog while I had some Christmas leave from a web design job I was doing after I'd finished college. I wanted to have a blog to publish some of my photography work - but it turns out I wanted to focus more on my outfits and styling!
When my Instagram started to get a bit of interest I was lucky enough to go into it full time, and I ended up launching my own jewellery brand Elaina Grace while I was blogging.
Gradually, I missed having a routine so I looked for a new job doing something creative. Now I'm back doing web design and creating social media content for an online shoe brand - I only work 4 days a week so I still get to blog and work on my brand on the side.
So, let's talk more about your blog! Was there anything that inspired you to set one up, or did it just kind of happen?
It kind of just happened because I wanted to start a blog for my photography, but instead I ended up creating photography with me as the subject!
Anyone that reads my blog will know it's not about what I write, it's only really about the photography as I'm the type of person that likes to see things instead of reading them.
Well, we love your look! How would you describe your style to people that are new to your page?
Umm that's a tough one! My style does vary, but I'll always go back to my tomboy roots with a pair of trainers. I like the idea of skirts and dresses paired with trainers, and you rarely catch me in heels.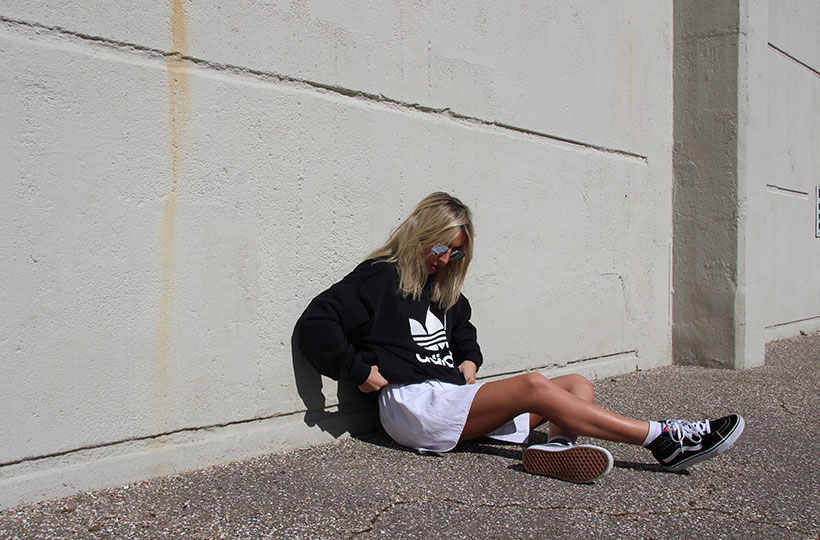 Is there anything or anyone that inspires your style, or is it all your personality?
I wouldn't say there's any one person that does inspire my style, but as a whole I'll always be looking on Pinterest or at other influencers that I think have sick imagery, then I'll think that I want to do something similar to that, but in my own way.
Even brands give you inspiration with certain campaigns!
Tell us about the items that you've chosen! Is your style usually sporty?
Yes, that's 100% my style! I'm always most comfortable in trainers, I usually pair them with a skirt or dress as I don't majorly like jeans with trainers - it just never suits me.
Did you find that you had a favourite piece when you were putting together your outfit?
I definitely say the
adidas jumper
was a fav, just because it's quite a bold part to the outfit and kind of makes the look.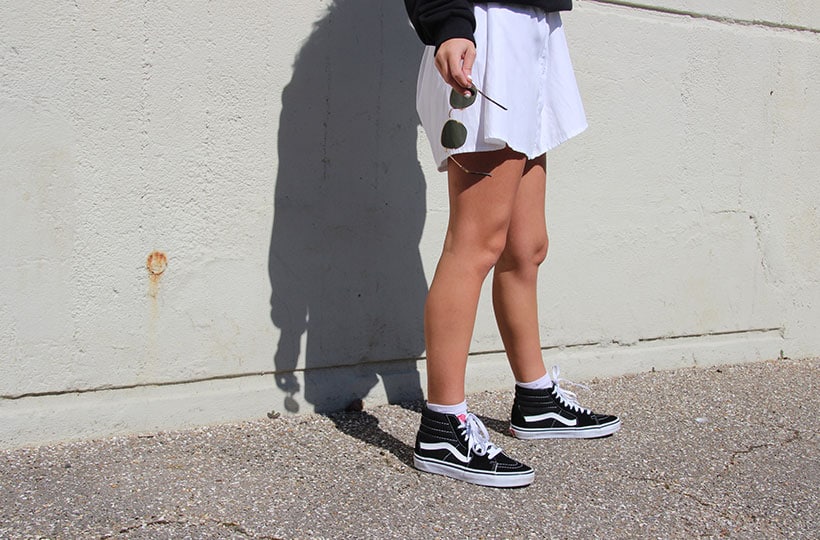 What about your shoe choices, how did you find the Gazelles and Vans?
The gazelles are a dream - the light shade makes it easy to mix them with so many outfits! I never really wear green but I wore them with mint the other day and it went together pretty perfectly.
The
Vans are just easy to pair
and wear with anything and any outfit. Classics!
How do you usually go about putting together a look like this? Does the outfit fall into place every time, or do things something not work out as you originally thought?
I'd say usually I focus on one thing, so this time it was the jumper first then the shoes.
Weirdly, I went to wear the shirt under the jumper with adidas trackies but it looked better with the shirt hanging out, so I just went with it.
Which are your key pieces for this season, and are there any trends that people should look out for as we move into summer?
Right now, I don't really have any key pieces, but I did just get some Nike Airforce 1s which I can't stop wearing, so I'd say to keep it white for summer.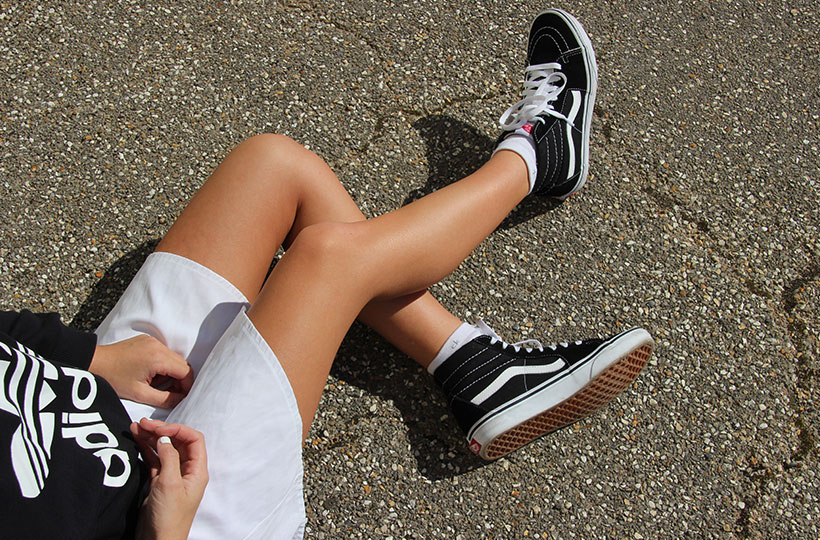 Do you have any style staples that you keep on going back to year after year?
Hmm, not really, but I'd say I've never not had a pair of Vans in my wardrobe!
We know that blogging isn't your full-time job, how much time do you put in and how do you find juggling everything together?
I wouldn't say I find it too hard because I don't feel the need to be posting on Instagram every day - if I don't post for a week it then It's not the end of the world!
I have a life beyond blogging so I don't let it stress me out, I just go at my own speed. But I'd say most Fridays I'll try and shoot if the weathers good, because you just never know with the UK weather when you're going to get sunshine again!
With juggling my job and my jewellery brand I definitely struggle a bit, I'd say the two suffer more because I like having a weekend and don't want to always shoot looks.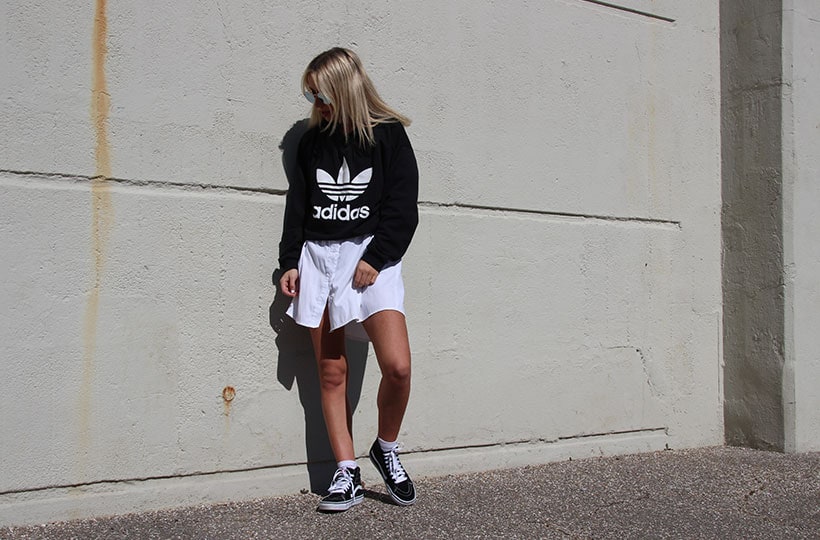 Finally, we know that there's a lot of people out there like us that love what you do. Have you got any words of wisdom for bloggers that are just starting out?
I can't say I'm great at giving advice but from experience, and when I first started, I got a lot of stick and got called a wannabe fashion blogger for doing something different in my area, but if you can rise above that and keep doing what your passionate about who cares?
For anyone starting, it's not about how many followers you have, it's about what you create and who you inspire. I've seen so many Instagrams that inspire me or have a better eye for photography or fashion that have less followers, and I wish my page looked like theirs.
So, bottom line would be just be yourself and don't change your style because you think someone else's style is more popular than yours.
Thanks Emily, great talking to you! Where can people catch your style online?
Check out my blog at
www.emilycocklin.com
And my Instagram at
@emilycocklin