Tell us about yourself...
My name is Zeke! I'm a club DJ/music producer from Liverpool, with a love for kicks and vinyl. I also used to wear a UK 13!
What are you wearing on your feet right now?
Nike Air Max 1 EM London.
How long have you been collecting trainers?
I've been collecting ever since I've been old enough to buy them myself so I'd say about 15 years.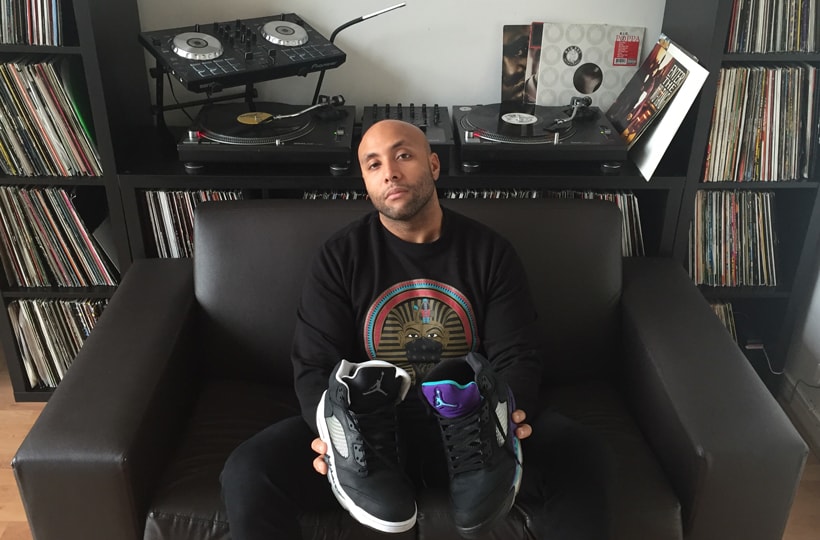 Do you have regular clear outs or stash everything?
Yeah, I always lose a few pairs when I'm moving house. Plus I had every collector's worst nightmare when I had to get rid of about 45 pairs four years ago due to a big weight loss. I started training and dropped two shoe sizes in the process. It was heartbreaking! I couldn't justify keeping them as they took up too much space. Only consolation is that I sold them to a fellow sneaker lover.
What was the first pair that you were desperate to buy?
Probably Jordan 4s. I remember the famous scene in Spike Lee's "Do the Right Thing" where the guy gets his Jordan 4s stepped on and there was a massive argument because of it. I fell in love with the sneaker from that day but was too young at the time to even know where to get them from.
How many pairs do you have and how do you store them?
I'd say I've got about 60 pairs. I keep them all in the original boxes. The ones I rotate on a daily basis are kept in my room. The more special ones are kept in the spare room and the ones that I hardly wear at my parents' house.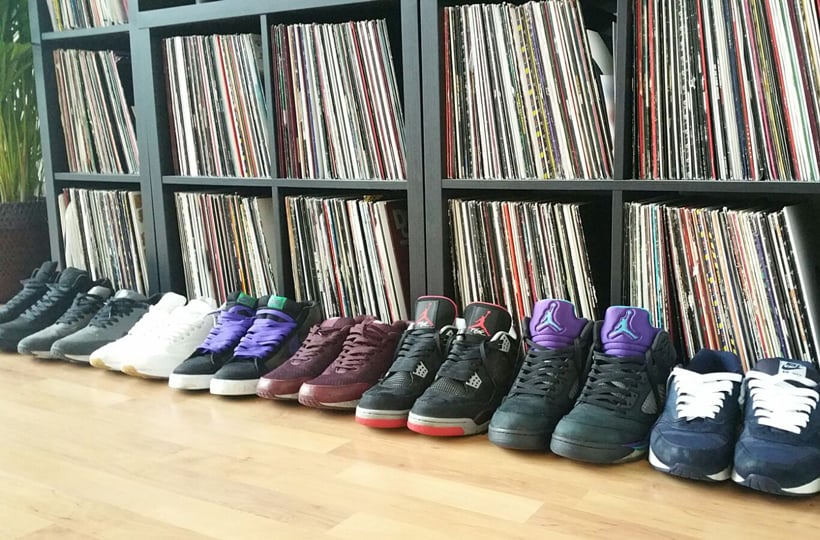 Do you have any that you've kept box fresh?
Yeah, the most recent ones are the Black History Month Air Max 1.
What's the next pair in your sights right now?
The Camo Green Air Max 1 Ultra Moire!
What are you looking forward to dropping in 2016?
The air Jordan 5 '90, the black Chicago Bull's colour-way.
What's the most important thing when it comes to picking your footwear as a DJ? Style or comfort?
Thats a tough one, but it would have to be comfort as I can be standing in the same place for hours while DJing.
What are your top three pairs that you currently own?
Jordan 5 Black Grapes, Jordan 4 Bred, and a Suede Navy pair of Airmax 1 I.Ds that I designed.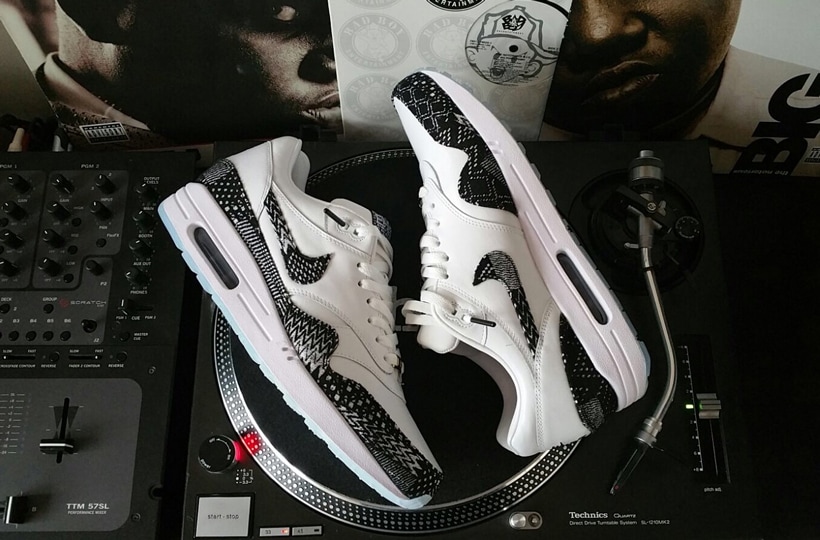 Have you ever repurchased the exact same pair?
Yeah, definitely. Certain trainers were hard to come by as a size 13, so if I was lucky enough to find them in my size then I'd get two pairs. Plus I always buy two or three pairs of whatever white Nike I'm feeling at the time and rotate them over the summer because white trainers scuff so easily. I did it recently with the white Air Max 1 Ultra Moire.
Kicks, sneakers, trainers, webs - what do you call your footwear?
In Liverpool, especially Toxteth, we say trabs. Its scouse "Back Slang" for trainers. So yeah trabs.
What would be your ultimate brand collaboration, or if you could create a sneaker hybrid then what would it be?
Thats a tough one. A collab I recently saw that interested me was the Air Max 95 x Stussy collaboration, the olive green ones in particular.
Who in your opinion has a crazy sneaker game?
DJ Khaled. His collection is unbelievable.
As a DJ you must be listening to a lot of music all of the time - what track is shutting down the clubs this month?
Hot Since 82 - Veins
Where can people find you online?
soundcloud.com/dj-zeke
twitter.com/DeeJay_Zeke
Thanks Zeke! Think you've got a better sneaker collection worth showcasing? Hit us up in the comments!