One of the biggest events in a sneakerheads calendar, Crepe City is the go-to for anyone wanting to cop a fresh pair of kicks.
In celebration of Air Max Day, we spoke to Crepe City's Morgan Weekes to find out the man himself and his thoughts about Air Max turning 30.
Hey Morgan, nice to meet you! Tell us a bit about who you are and what you do.
Hi, I'm Morgan but most know me as @Morprime from my social handles. I'm one of the guys behind Crepe City the UK's Original Sneaker & Streetwear event.
So, for those who don't know about Crepe City, can you explain what it's all about and how it got started?
Crepe City was started in 2009 by my friends Ronal & Paul. At the time, there was nothing around in the UK for collectors to buy and sell pairs, and over the years it's evolved into a massive beast that attracts fanatics from all over the world.
You're obviously big into your sneaks! Have you always been into sneakers, or was it a gradual thing?
I've been into sneakers since around 14 when I used to get bought 2 pairs per year by my mum at an old sports shop around the corner. My first pair was a plain Nike Dunk Low in tonal grey.
Once I started to bring in my own cash I started buying 2 pairs at a time and from there it spiraled into madness.
How/ when did you get involved with Crepe City, and what do you love most about what you do?
I joined Ron & Paul in 2011 working in marketing and social, and now deal with most of the brand relations and photograph and clothing. My work is never boring I get to fly all over the world, talk and work with the best brands and create a sell-out line of clothing. It's something I'd never thought possible, and I'm very lucky to be in the position I am.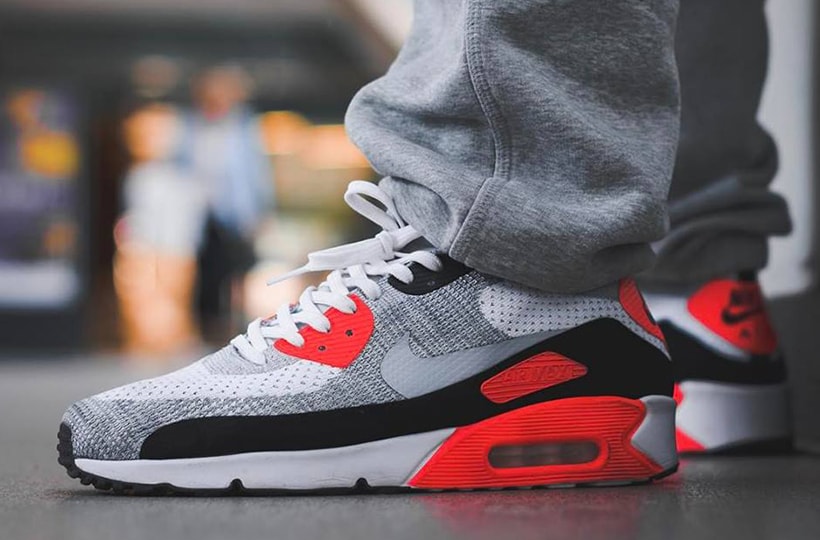 Tell us about the sneakers that you've chosen, what was it about these Air Max 90s that made you want them?
So I've chosen
the Ultra Flyknit version of the Infrared 90
- an absolute classic pair that's been updated for 2017 with a lighter sole and a knitted upper. What I like about these is that it doesn't tread too far away from the original silhouette like some the Ultra variations have done in the past.
What are your thoughts on the Infrared colourway? Do you think it's a good look for the AM90?
This colourway and shoe should be in every collection at some point, it's a work of art.
So, you know that Air Max Day is this month, what are your thoughts on Air Max being 30 years old?
It just shows how strong the original innovation was that it's stood the test of time that we're still in love with Air after all these years.
Do you have any particular memories that you associate with Air Max, or Nike in general?
I remember my Mum handing me £50 to grab a pair of school shoes and coming back with Black AF1's. I wore those into the ground haha!
We know it's a tough call, but what's your favourite Air Max sneaker of all time?
It's a tough split between the 90, 95 & 98.
Does Crepe City have anything planned for AMD?
We've got something huge going down all weekend, I can't say anymore now but it's very special and I'm sure a lot of our guests will enjoy it and walk away with something grail worthy.
What's the plan for Crepe City in the future?
Growth. Steady, and well-planned growth.
Finally, where can we keep up to date with your happenings?
Keep an eye on @CrepeCity for all our official news and dates or alternately slide a follow to @morprime to see all the behind the scenes.
Thanks for chatting with us Morgan!