Sherlina Nyame (aka
@SherlinaNym
) is the Queen of Instagram. With well over one million fans, let's just say there are plenty of people who love her sense of style and incredible trainer collection!
We sat down with Sherlina for an exclusive interview to learn all about her and her #LoveAtFirstLace.
Hi, Sherlina! It's amazing to finally to meet you. Tell us a bit about yourself!
Nice to meet you too!
People know me as
"Sherlina Nym"
but my full name is Sherlina Nyame. Before I decided to be a full time blogger I was working part time at H&M while being a law student.
Fashion has always been my passion, which makes me the worst shopaholic ever. Haha. I also love listening to music, working out and travelling! There's nothing better than making memories in different countries.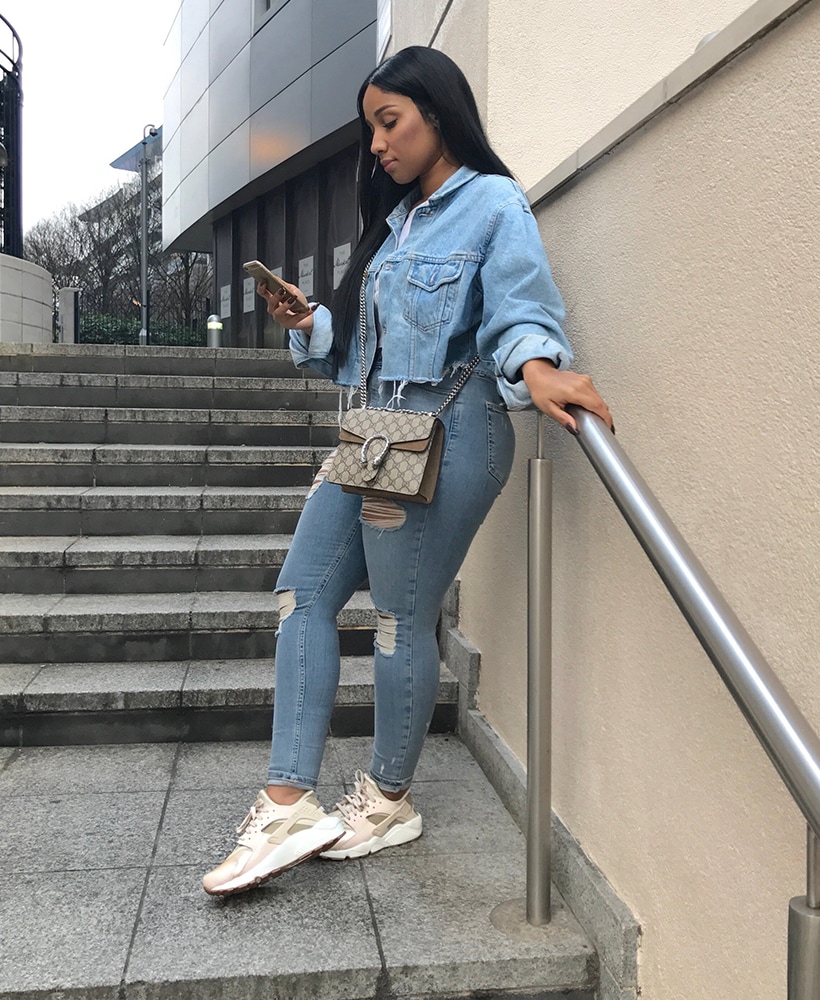 How long have you been into sneakers? What was your #LoveAtFirstLace? When did you buy them?
I've aaaalways been into sneakers even when I couldn't afford them.
I remember when I was nine years old and Reebok Classics were a must-have! You had to have a pair of them. I was the happiest girl ever when my mum bought me some.
What colour was your first pair of them? What was it that attracted you to them?
It was a pastel baby blue. At that time this colour was just different from the other simple ones that were on the market.
Wearing sneakers that stand out is so important to me, especially because I keep my outfits simple.
We love your Instagram! How did it start? How long have you been a fashion blogger for?
Thank you!
It all started in 2014 when I left my mum's house. I had a big mirror in my flat and you know what girls are like when there's a mirror in the room, I couldn't leave it alone.
So every time I put an outfit on, I had to take a picture and upload it. Quickly after it became a hobby and people really responded to it well. I would've never have thought that I would have this many supporters though!
In March 2016 I quit my job at H&M and became a full time blogger. That was the best decision I ever made in my life.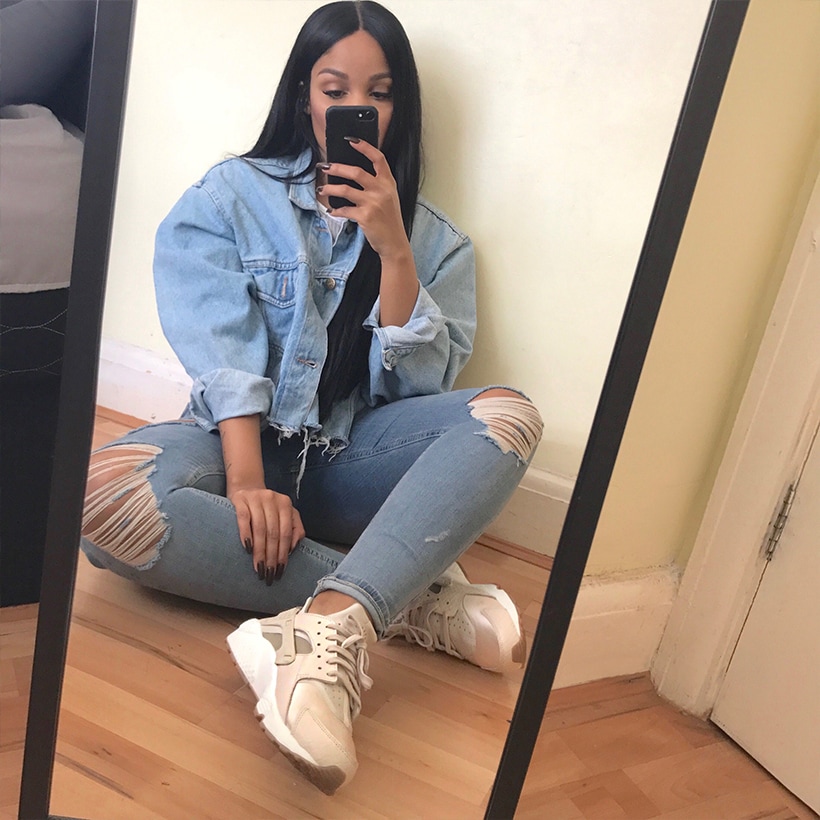 What do you love about sneakers? How many pairs do you own?
I love that there's such a big variety of styles and colours. Whether you're young or old, there's something for everyone.
Also, fashion repeats itself. I bought my first pair of Reebok Classics when I was nine years old and now, 17 years later, I'm buying them again!
Same for so many other retro pairs that we have on the market. I now own roughly about 115 pairs of sneakers after giving away so many as well.
Do you have any pairs you've never worn yet? Do you ever buy shoes just to collect them or do you wear every pair?
It's awkward to say but I own a lot of pairs that I've never even had on once.
I don't know if it's my OCD but I don't want some special pairs to get dirty. These are the ones I simply bought to have them in my collection.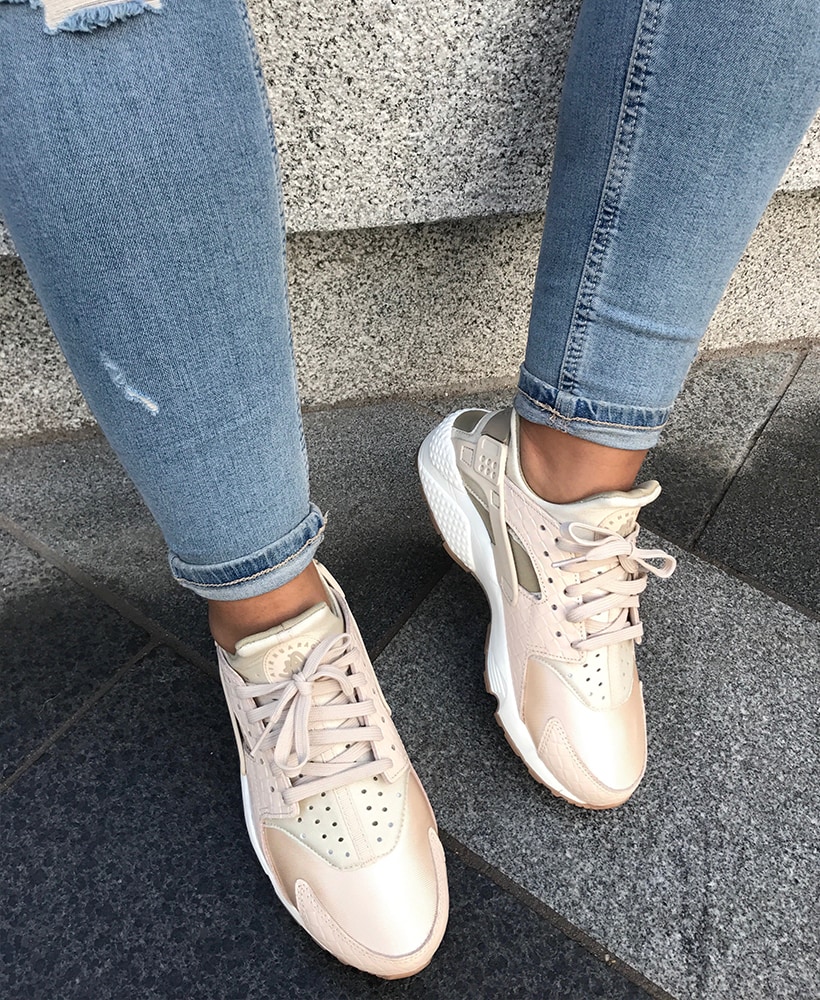 What are your top five favourite sneakers of all time? Are there any brands you prefer to wear over others?
My top five are:
1. Nike Air Jordan 11
2. Vans Sk8 Hi
3. Puma Creeper
4. adidas Originals Superstar
5. Reebok Classics
I'm open to any brand because I always want something new. I think style and colour of a sneaker is more important than the brand behind it.
If you had to pick one pair to wear for the rest of your life, what would they be?
Hmmm, that is so hard to decide! It has to be a pair that's super comfortable and simple but stylish as well.
I would probably go with the adidas Originals Stan Smith because I can wear them with almost anything.
Have you ever done anything crazy to get a pair of sneakers? Waited in line for hours or camped out anywhere?
I've never camped out but I stayed up all night being on my phone, iPad & laptop all at the same time to have a higher chance of getting the latest release.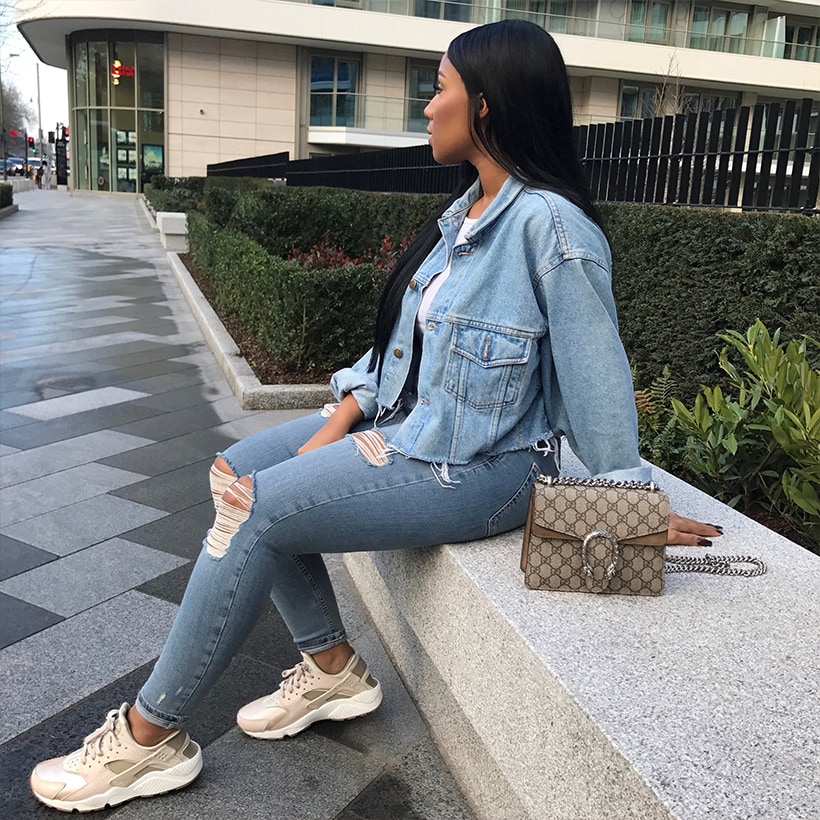 Tell us about the sneakers you asked us to send you. What do you like about them? What have you styled them with? How would you describe your look?
I've chosen the
Nike Air Huarache Premium in Oatmeal and Khaki
.
I love Huaraches in general but this specific pair has such a nice neutral colourway. They're perfect for the upcoming Spring/Summer season.
I styled them with light wash blue jeans and a cropped denim jacket. I would describe this look as simple yet stylish. I usually try to focus on one item when I'm dressing and the rest of the outfit follows suit. In this instance the highlight of the outfit was the shoe so I kept the rest minimal.
If you had to buy a pair of sneakers for someone as a Valentine's present, what would you get them and why?
I would try to buy a rare pair because it's always good to receive something that not everyone has. Most of the time you have to go out of your way to buy these type of sneakers which makes it more perfect for Valentine's!
Thanks so much, Sherlina! We love what you've done with the Huaraches. We'll be keeping an eye on your Instagram for more of your awesome outfit shots!