In an industry still dominated by 'it's who you know' and unpaid internships, we caught up with two young artists blazing a trail for themselves through passion and quality cinematography.
You'd be excused for thinking Luis Cross and Kieron Spencer have been in the videography business for decades. With international shoots under their belt and a client list boasting Bipolar Sunshine, between them the lads offer everything from equipment hire to full creative direction and video editing.
Both 20 years young, 03AM Studios director Luis and independent videographer Kieron are taking their businesses from strength to strength. The friends embody the spirit of today's talented youth – using their passion and penchant for self-promotion to carve their own path.
We linked up with the Manchester natives to chat trainers, humble beginnings and breaking into the industry.
How did you get into filmmaking, and what inspired you to make a career out of it?
Luis
- I don't know actually, I feel like I accidently fell into it - in the best way possible. I mean, I was always into films as a kid but it wasn't until I got older I realised how much it impacted the way I think. It's an experience and you'd leave the room thinking differently about a situation, a person or character – I feel like that was pretty powerful. I never imagined myself in a job, I thought if I'm here for however many years then I might as well have fun and do it with people who want to do the same thing. I feel the inspiration came from many of the people around me who were creative and believed in me – I just keep pushing every day, you never know what's around the corner.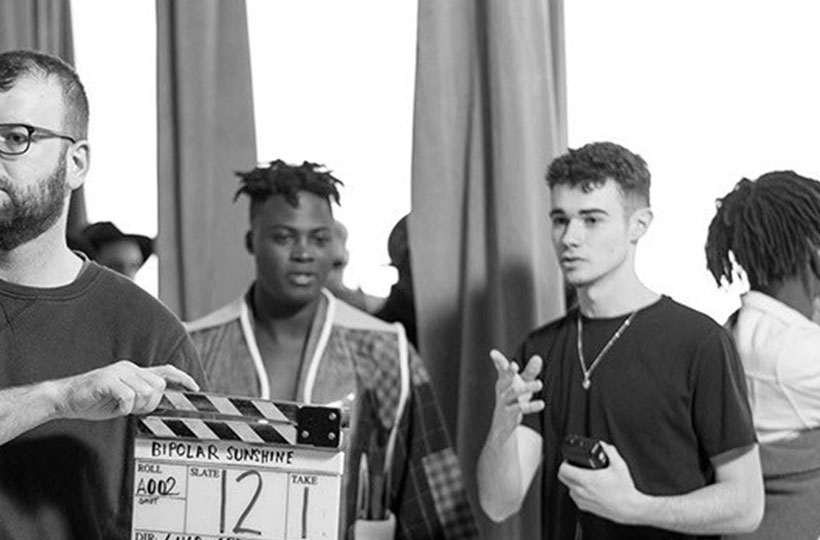 Kieron
- I first got into filmmaking when I was 15 years old - I asked for a camera for Christmas after seeing a Google chrome advert, which showcased the success of SBTV Founder 'Jamal Edwards'. I saw the empire he had built in London and I decided I wanted to launch an urban media channel based in Manchester.
From there, I created a YouTube channel called KTS.TV, which became a well-known platform for local artists to promote their music. My channel grew to well over half a million views, and this initial taste of entrepreneurship made me want to turn my focus on to making a career out of cinematography and directing.
What's your first memory of recording video?
Luis
- My first proper experience of filming was with a band called The Mouse Outfit, I remember emailing them when I was 16 asking if I could film their gig. They agreed, and even give me £50 for filming and coming down. Safe to say I was gassed.
Kieron
- My first memory of recording a video was walking to meet an artist in Oldham at the back of a church on one cold and wet December afternoon in 2011. I was filming my first ever video for an artist from Bristol called Jack Johnson - who kick started my YouTube channel.
Which other creative medium would you like to learn more about, and would you ever consider trying something else out?
Luis
- I'd probably like to learn music. Not for a career, more for the artistic value of understanding things from a sonic perspective. I have a lot of friends who are musicians, singers and rappers so it'd be good to look at it from more than a 2d perspective.
Kieron
- I quite enjoy the idea of being on the other side of the camera for a change - so possibly acting. I've also been asked quite a few times to model, so if you ever need an extra face you know who to give a call, haha.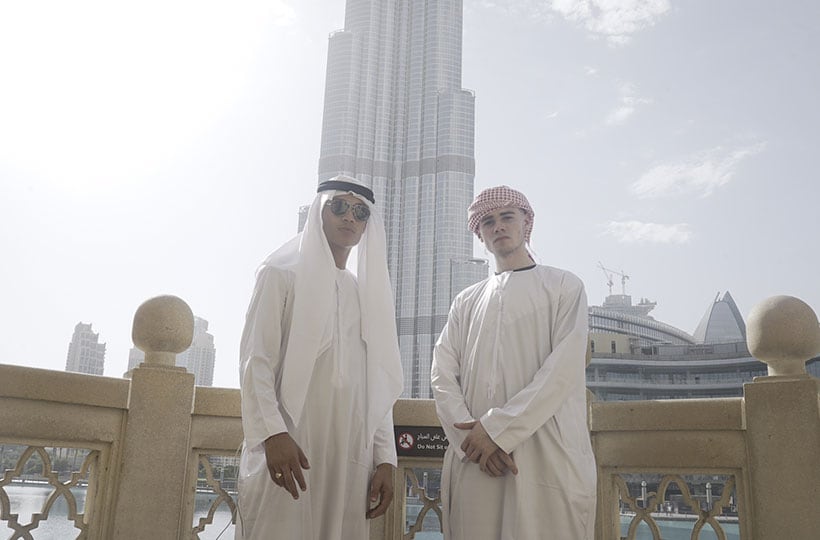 What's your greatest achievement to date?
Luis
- I don't really rate my videos in terms of greatest achievement but I think my most challenging one was working on a shoot for Bipolar Sunshine. We had around 20/30 people on set and it was my first directed project with other staff including director of photography, assistants, gaffers, set design etc. It was definitely a successful and productive shoot, I learnt a lot and it felt good to wrap the day up and go into the edit.
Kieron
- My greatest achievement to date is probably the fact I get to wake up every morning and decide what I want to do. If I don't like something then I can change it.
I know a lot of people my age and even older who aren't happy with their current situation and don't have the freedom to make a change. Filmmaking has given me the power to work with who I want, when I want! Being in control of my future is my greatest achievement.
What's the most important quality a filmmaker needs?
Luis
- Never be afraid to learn anything from anybody, whether it's on set or in a real life situation. You could take a bad experience and put it into a script, or you could be listening to an audiobook about self-development, which helps you communicate better with people on set.
Kieron
- The attribute to be able to take other peoples advice and criticism and to build with it and not take it as a personal attack on yourself.
What advice would you give to young people that aspire to be working in the creative industry?
Luis
- Send that email to that company or artist you've been following. Just do it - you'll be surprised who replies.
Kieron
- Just get started! You don't need the best equipment or the best people to work on your craft!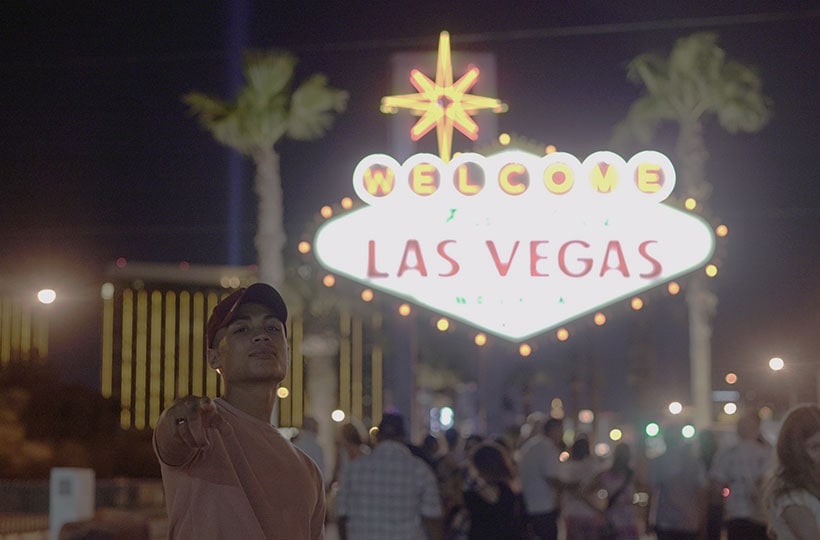 What's the biggest thing you've had to overcome to get where you are today?
Luis
- Probably confidence and not caring what somebody thinks of you or your work. Everything is personal in art so just do what feels right and believe in your work. If you don't, nobody will.
Kieron
- Probably over coming bad minded people. There was a lot of people who at the start didn't share my vision including family who'd tell me I need to 'get a proper job'. I started filmmaking at the age of 15, which was out of the norm for anyone where I'm from to be doing anything other than dossing about or playing sports.
Outside of your own work, what's your favourite piece of film you've seen recently?
Luis
- Probably Dunkirk – madting.
Kieron
- My favourite piece of film I've watched recently is probably 'Belly', it's an old film but I love the cinematography and the feel hype Williams managed to convey throughout the film.
If you could work with anyone on your next project who and what would it be?
Luis
- Sheck west, bare energy.
Kieron
- I'd love to work with Bugzy Malone, I've been a fan of his since early 2011 when I came across his track 'never forget the days'. He's consistently released well produced visuals with strong storylines whilst branding himself really well, which I think other Manchester artists have struggled with. I admire his journey and how well he's executed his plan and it only makes sense being from the same city that we work together.
Who's your favourite filmmaker?
Luis
- If we're talking music videos and commercial stuff probably Nabil, Romain Garvas and Colllin Tiley – 3 big guys who have been in the game for years and stayed consistent. But present day film director probably David Fincher or Chrisopher Nolan.
Kieron
- DIRECTOR X. His set designs and style have been distinct since the late 90s/ early 2000s and changed the way music videos are viewed.
Who would play you in the biopic of your life?
Luis
- Probably friend Tyler, he knows me better than anyone, he's an actor and he has a similar trim to me.
Kieron
- Malique Thompson, he's local and I'm all about supporting that local talent!
So, this year marks the 20th anniversary of the Nike Air Max 97. Are you guys big into your sneakers, and what's your favourite Nike silhouette?
Luis
- I actually copped the 97 silver bullets years ago but they started to crease so I put them on Depop. I would say they're probably one of the most interesting shoes I've seen in recent days, but I also like the classic Cortez, I first spotted them in Forrest Gump.
Kieron
- I'd have to say Airmax 90s! I had pair of white 90s with suede on them and they were my pride and joy for a good 6-months!
The internet and the relative accessibility of camera equipment has changed the industry in the last 20 years – how do you see your industry changing in the next 20 years?
Luis
- I'm have no idea, I feel like we'll reach peak level of quality pretty soon – in terms of VR I think that it will be used for more teaching, information and engineering purposes.
Kieron
- I can see it going full circle and people using more primitive technology, more use of film cameras and going back to basic with more stories being told rather than it being about the quality of the image.
Hit the guys up on Instagram: Luis (
@03amstudios
), Kieron (
@kieronts
)