Tell us a bit about yourself!
I recently moved up' North from London and spend my days working in a busy ad agency. The rest of the time I'm creating crazy characters, typography and branding.
When did you first get into art and illustration?
I've always had a creative streak and followed the usual path through school and university studying graphic design.
One awkward teenage memory involved a life drawing class with a large, naked, ginger-bearded man with a cane. Thinking about it, this may have influenced my obsession with drawing odd characters.
What's your favourite thing to draw?
My current fixations include anything with a beard.
How would you describe your art style?
My style is quirky, bizarre and very colourful. I have a bit of a dark sense of humour which can come through in my work.
What inspires you?
I take inspiration from so many different mediums; films, fashion and music are really key in my work.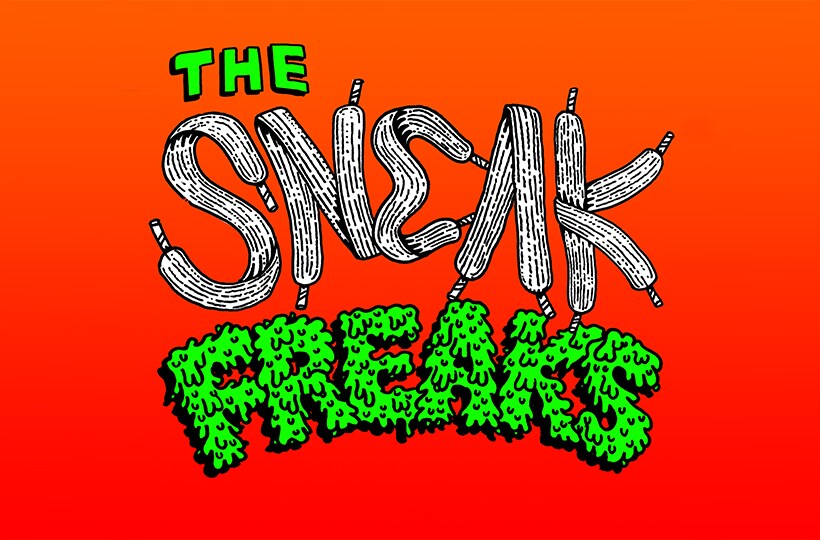 Which artists are you feeling right now?
Jean Jullien is an amazing French illustrator who is huge at the moment. He has a simple, unique style.
We're loving your 'Sneak Freaks' fam, what's their story?
I've created a series of characters that reflect each of the fashion tribes who love Footasylum – each one unique with different tastes.
They are known as 'The Sneak Freaks' and represent all of the diehard sneaker fans out there.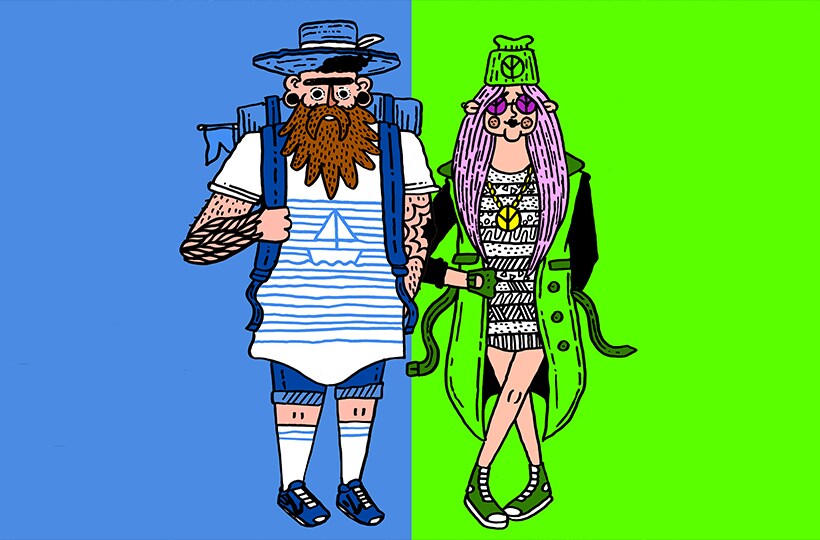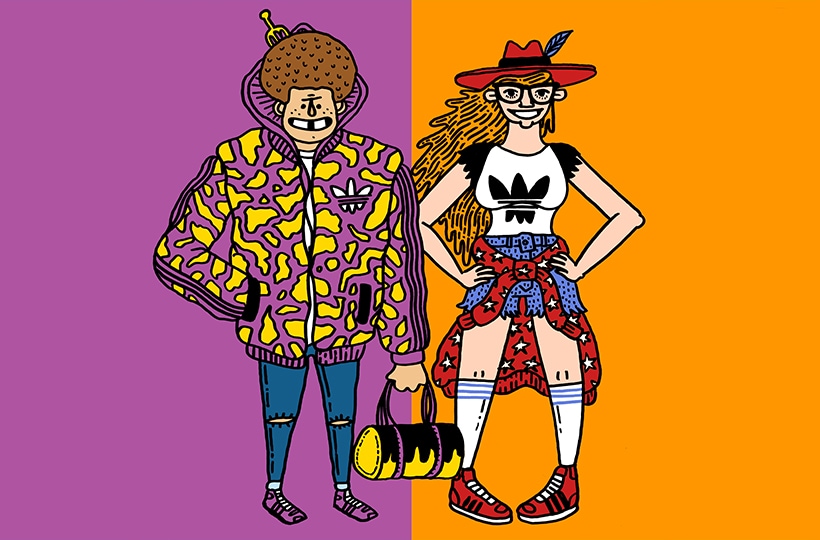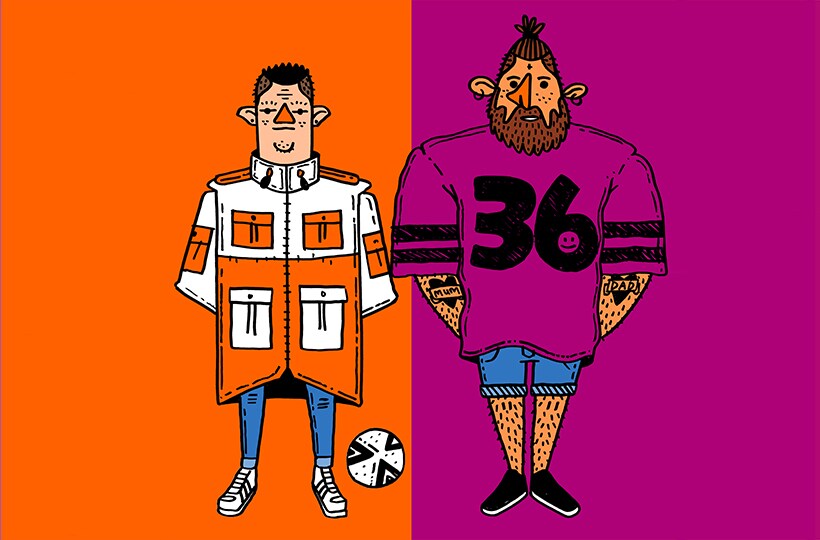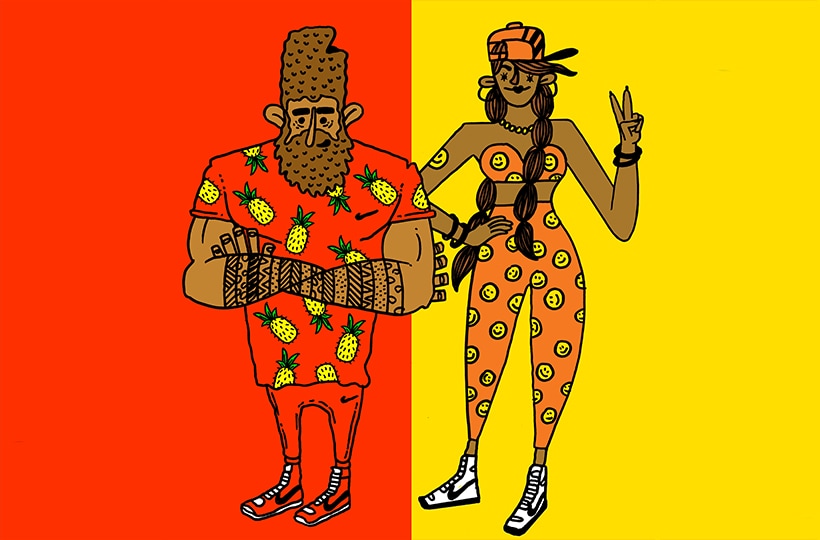 Who's your favourite character in the squad?
I love the 'Weekender' – the big tattooed dude wearing a tee covered in pineapples.
A lot of your art is based around kicks. Which are your favourite?
I never used to be a sneakerhead, but I've caught the bug in the last couple of years. My current sneaker fixation is with Nike, I love everything they do. My faves at the moment are Nike Blazers - really old school with a simple design.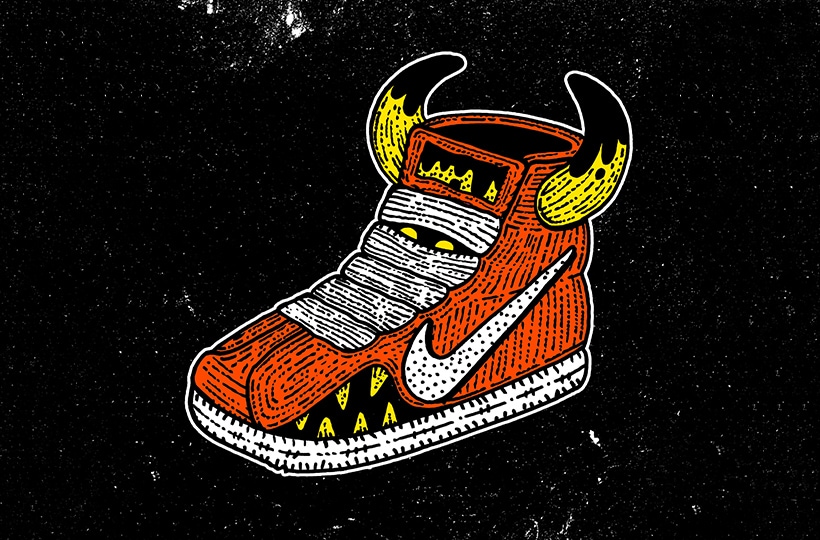 Where do you fit in terms of fashion? What's your style?
I trend to dress quite preppy, crisp shirts teamed with nice sneaks and Nudie jeans.
I also have a massive hat obsession – whether its beanies, trilbies or flat caps, I have one for every occasion.
What are you wearing day to day?
Well I'm never one to shy away from bright colours. You'll mostly see me in colourful shorts, denim shirts and some Nikes. I'm also likely to be sporting my bright yellow rain mac – a wardrobe staple in Manchester!
Do you see yourself collaborating with fashion designers in the future?
I've previously worked on a series of t-shirts using my illustrations which was pretty cool. I'd love to team up with a fashion designer who could utilise my work within their designs.
Are there any artists you follow at the moment who are doing big things right now?
One of my friends – James Wilson (@jamescwilson) - has a great style. He takes classic movies such as Terminator, Aliens and Die Hard and brings them to life in intricately illustrated film posters. You can see a lot of his work in Little White Lies magazine.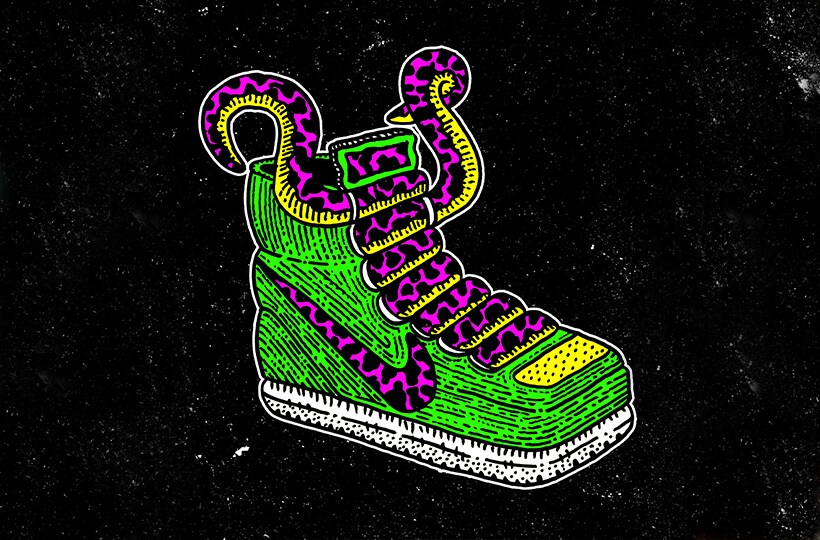 What's next for you?
I've got a lot of plates spinning at the moment. I have an exhibition showcasing my work in Manchester's Northern Quarter, that will be towards the end of August where I'll be showing a collection of my illustrations and paper craft works.
I'm also part of an illustration collective made up of a group of guys working across advertising, illustration and design called 'Brass Knuckles' – we've got some pretty cool new work coming out soon so watch this space.
And to round this off: What motto does Mister Woody Woods live by?
Well, it's a bit of a twist on a classic - 'Play hard, Play hard' – which basically means I try and have fun with everything I do, work included, and don't take things to seriously.
You can check out the rest of Mister Woody Woods' work at:
Instagram
-
@misterwoodywoods
Twitter
-
@woodywoods
Website
–
mrwoodywoods.co.uk