A graphic designer and illustrator hailing from Porto, Portugal, Laro Vilas Boas aka Laro Lagosta is our latest up-and-coming artist to take the stand for our Artist Takeover series.
Utilising the internet to create his unique concepts, Laro self-admittedly mines the comment sections on Instagram for inspiration, making his take on sneakers, style and cultural events both innovative and inspired in equal measures.
We caught up with him to find out more about Laro, his art, and of course, what his most recent Netflix binge was.
Hey Laro, great to meet you! Tell us something interesting about yourself!
Nice to meet you, too.
I bit a dog when I was about 3 years old. I have a photo that proves it.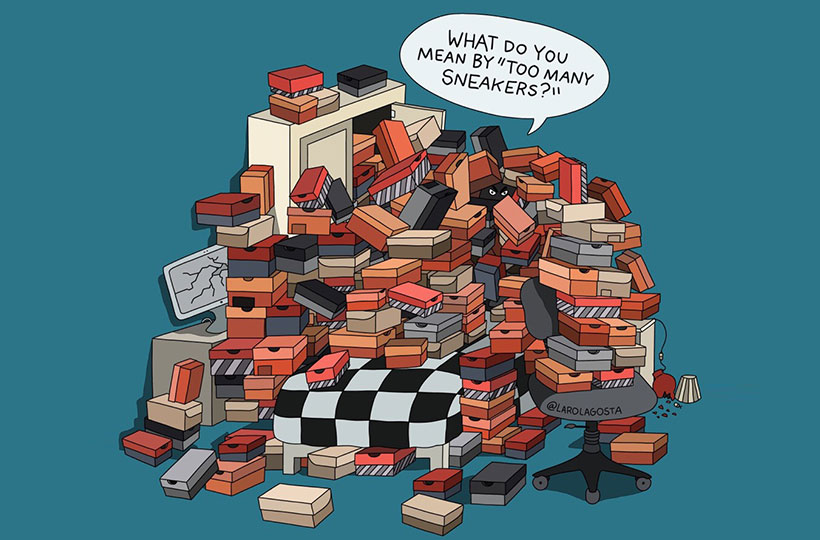 If you had to describe yourself in three words, what would they be?
Never not working.
So, you're obviously interested in sneakers, how big a part does this play in your work?
For now, it plays a big part. Maybe in a few months' time, I'll do something else - I don't usually do the same thing for a long time. I don't know why but that's the way I like it!
How many pairs of sneakers do you own?
Around 20.
Do you have a favourite brand to draw?
The most controversial brand, Supreme.
Tell us about your ideas process, how do you come up with the concepts for your work?
I think almost all of my concepts come from the internet. Reading comments on Instagram is my favourite because it shows a lot of people's desires, frustrations and conflicts - it's very real and fake at the same time.
I write ideas on my phone that come up at any time. Jokes, punchlines, thoughts. I draw in my head first, then I make it real.
Your personal style is really unique – who is your style icon?
Thanks! My parents and Pharrell.
They dress in their own way and don't care about what others think. For me, that's the best thing you can do regarding your own style.
We can see that pop-culture also plays a part in your work. What would you watch on a typical Netflix binge?
My last Netflix binge was Mindhunter. I loved it and can't wait for the second season.
What's your favourite medium to use when creating work? Do you prefer hand drawn or digital?
I've used digital in my most recent works, but I don't have a favourite. It really depends on what I want to do.
Have you got any projects on the horizon? What does the future hold for you and your work?
The future is today. I want to create something new as often as I can and work hard every day.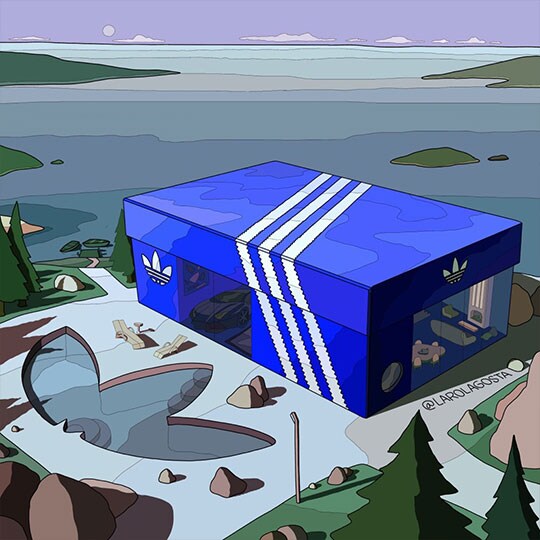 Thanks for chatting with us Laro! Where can we keep up to date with your work?
My Instagram is the best place - sometimes I have stupid stories too. Follow me at
@larolagosta!