Welcome back to The Lowdown, Jaypee! How's it been working on another project for Footasylum?
This project was a great one! Translating sneakers into weird characters was a nice challenge, I had a lot of fun.
Could you describe each shoe character and the theme and thoughts behind it?
Asics Gel Lyte III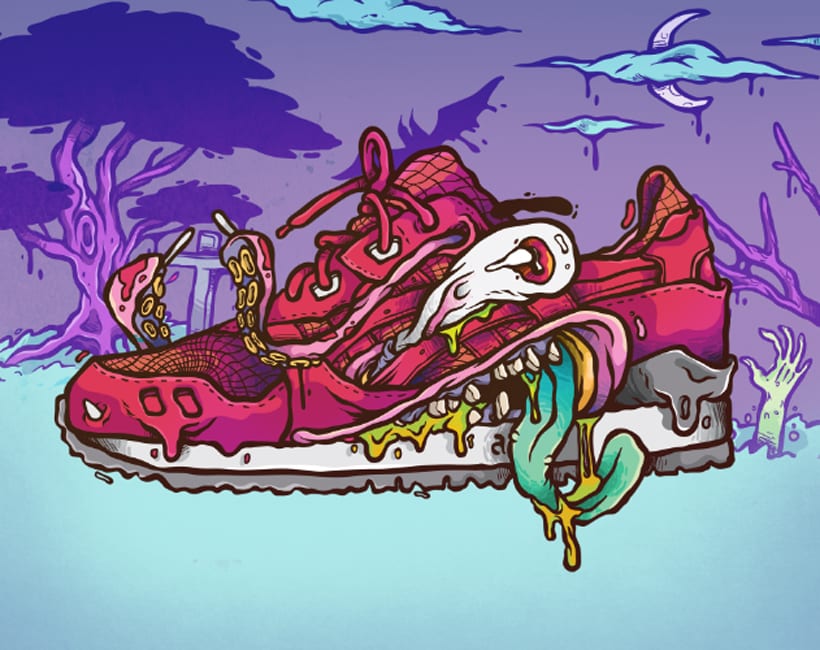 This character has a bit of a swamp creature kind of feel, with a bulging eye and a slimy tongue. I felt like the textures on the shoe lent itself well to this idea.
Nike Air Max 95 OG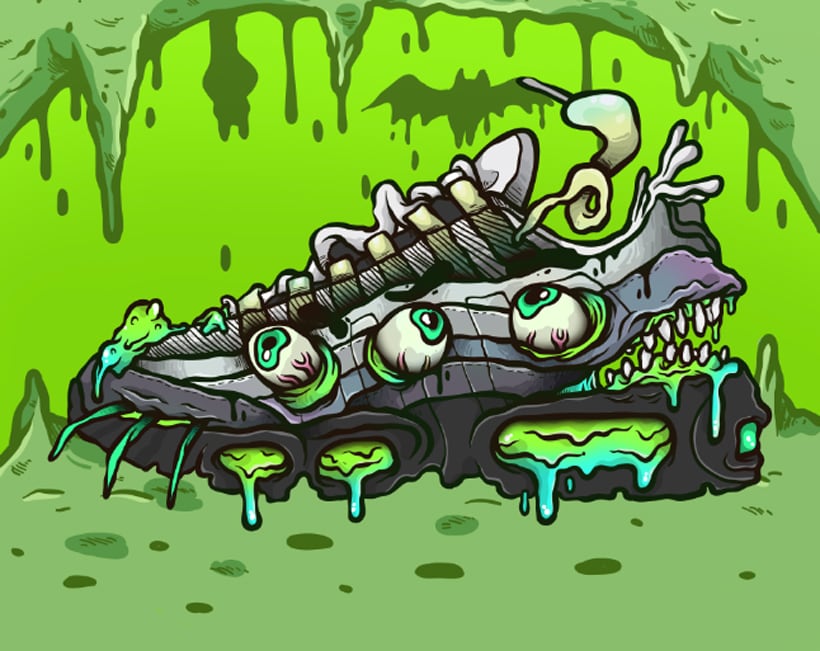 I wanted this one to look like a toxic waste mutant because of all the acid green colours already on the sneaker. Multiple eyes, limbs growing out of strange places - beautiful.
Converse Chuck Taylor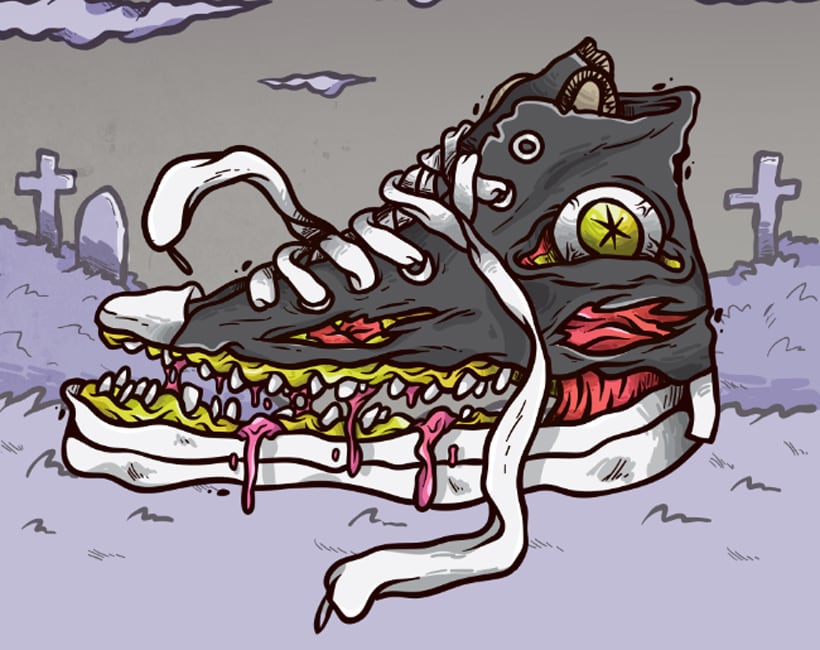 Because Converse are quite often associated with punk and rock music I wanted to turn this sneaker into a zombie. Zombies are probably the most rock and roll horror characters out there. Ripped fabric to expose gooey skin and a torn soul showing a row of grimy teeth.
adidas Originals Stan Smith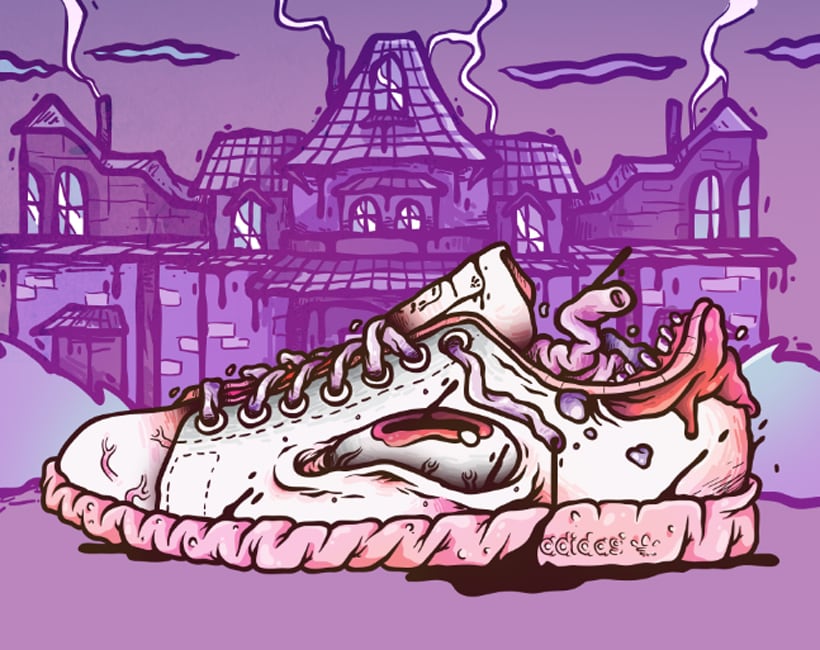 As the Stan Smith is iconically white and minimal I wanted to try and keep to a dominant white feel whilst throwing some awesome colour in there. I decided to make this one into a bit of a crazy gore freak.
Timberland 6 Inch Boot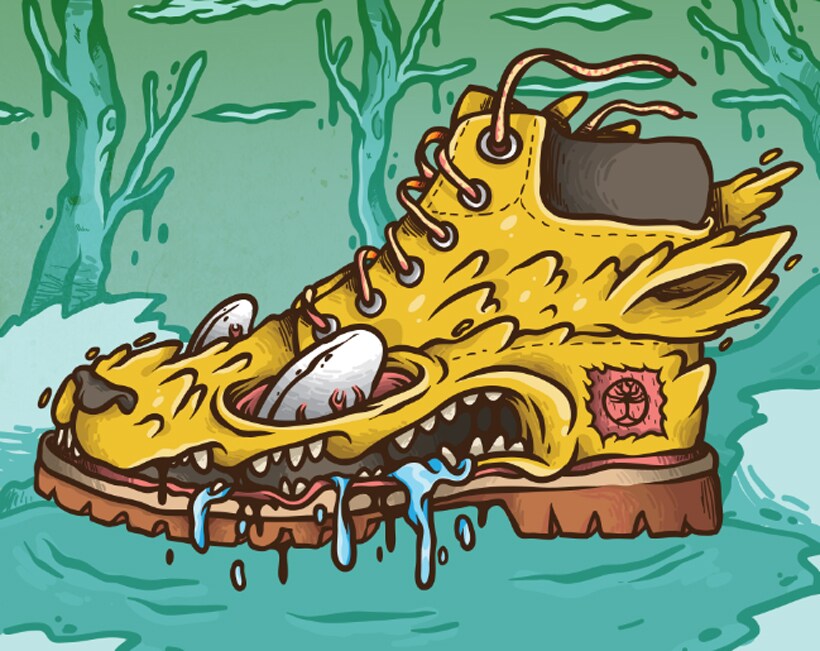 I wanted this one to look like a werewolf so I added patches of fur, a row of teeth and some wolfy features. With it being the only sneak in the set that is close to being furry I thought it was fitting - plus, you can't have Halloween without werewolves!
What are your top three scariest films of all time?
3. Alien
2. Saw (SO messed up!)
1. The Descent (In my mind there is nothing scarier than being trapped in a cave with human eating goblins.. Eurgh!)
Can you see any famous horror characters wearing your kicks? Who and why?
I think The Xenomorph from Alien would look pretty dope in the Asics.
What's the scariest thing that's ever happened to you?
I was once out with some friends from my neighbourhood on a field messing about a few years ago... It was around 2am and the edge of a forest was at the bottom of this hill. It was dark and misty and all of a sudden one of my mates noticed a weird white shape in the woods, just on the boundary between the trees and the field. Then it noticed us and started coming towards us! We ran SO hard.
Later on, we found out that it was a goose.
What are you going to be doing for Halloween this year?
The guys I work with have said they're all coming to the studio in fancy dress, so I guess we'll be goofing around dressed like zombies!
Trick or treat?
I like pulling pranks. So definitely trick!
If you could dress up as one character for Halloween who would it be?
I don't need to dress up, I'm scary enough!
Check out Jaypee's other work on his Instagram @jaypeeart