How's it going, man? Tell the people a bit about Davo...
I am an artist from Manchester with a passion for art, good food and fashion! I'm the thin lad with a big beard on an exciting journey through the art industry.
Your artwork has been getting insane levels of attention recently. Describe it to us...
In a word: BOLD! I love making statements with my artwork, whether it be a portrait of a person, a shoe, or even a household object such as a laptop.
You've produced some sick pieces of artwork using different materials, like sweets and flowers. Where do you come up with these concepts?
I take inspiration from literally anything. I will be eating my breakfast and think how cool would it be to create a portrait out of cereal. Maybe a famous serial killer?
You have done a lot of work with adidas! How did you get involved as an ambassador of the brand?
The adidas story is great. I received an email from an adi brand rep saying that Wretch 32 had recommended they check me out. I was like, "What?!". A meeting was arranged between myself and adidas. Our vision was very similar and we quickly agreed to bounce off each other.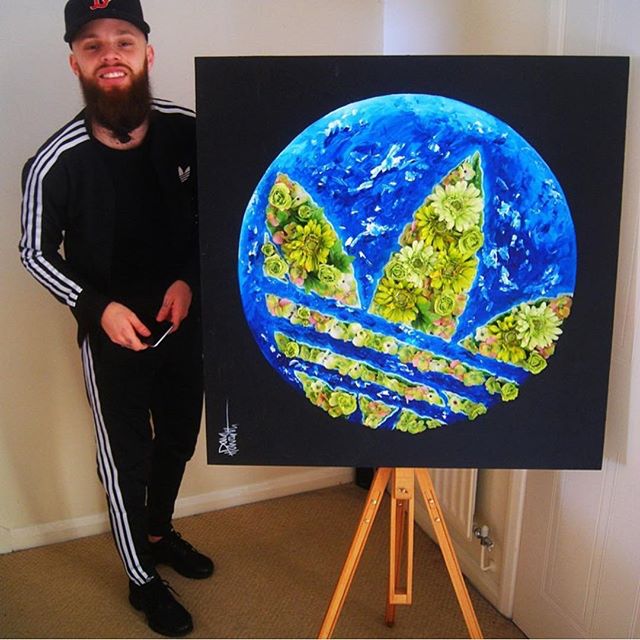 What's the biggest collaboration or commission that you've done up until now?
I was commissioned to fill every room in the biggest hotel in Magaluf with various pieces. That was really cool because they could have picked anyone to do it! Aside from that I've worked on pieces for Bieber and Mayweather, which is pretty cool I guess!
You've done loads of paintings of famous personalities. Which one are you most proud of?
Mayweather! He asked for the painting a few weeks before the big fight earlier this year, so the fact that he had me in mind at such an important time was unreal.
What's the best thing about what you do?
The reaction from a happy customer is priceless. I've had people crying in front of me. Mental!
What other artists are you inspired by?
Davo Howarth!

Kidding! I love the way KAWS paints. Unbelievable. Takashi Murakami too!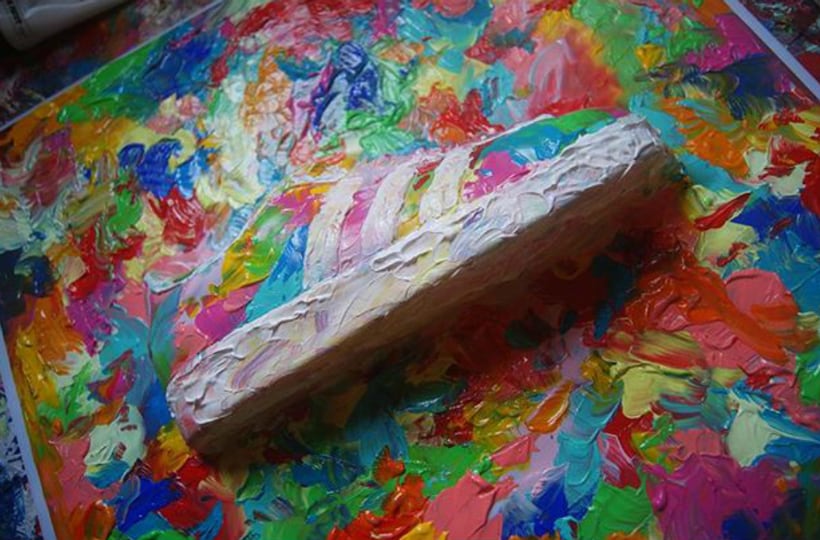 There's no hiding that you're a sneakerhead...
I fell in love with shoes around age 10 when my mum got me a pair of Forrest Gump Nike Cortez. I dont even wear 'em. My budding relationship with adidas has certainly solidified my love for their trainers.
How many pairs do you own and what's your favourite?
Around 250-260. My favourite are my 'Made in France' Superstars. Amazing quality, rare, and my parents live in France so it's somewhat warming!
What's the rarest pair you own?
Probably a pair of 2002 adidas Climacools finished in all red which I'm told were a 'Spanish Edition'.
Have you got involved with the Yeezy hype?
I have a pair of the 350s but all the others are just ridiculously priced!
Where do you fit in terms of style trends – can you describe your style?
I just go for comfort. Most days you will find me wearing adi slides or UGG slippers. Same goes with clothing, I just prefer comfort.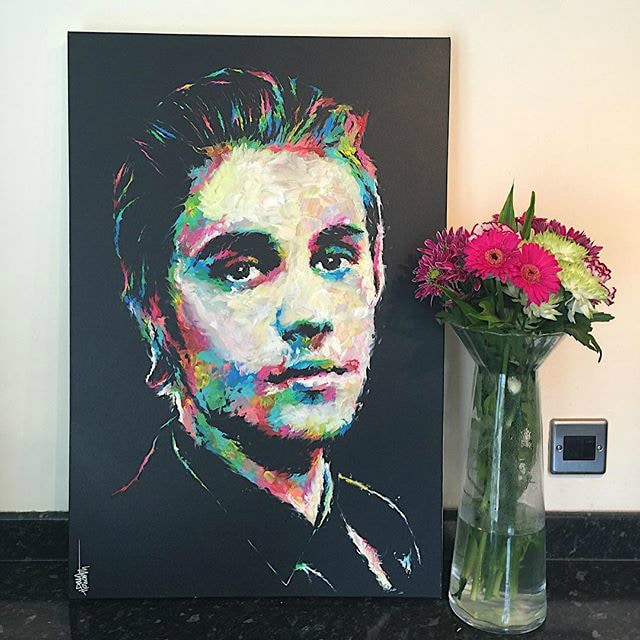 What's in style for Davo this year?
Anything that's baby pink or khaki! Literally anything.
Do you see yourself collaborating with fashion designers in the future?
Yeah, definitely.
Are there any artists you follow at the moment who are doing big things?
I am lucky enough to have met an artist called Funnytummy. If Wiley is the godfather of Grime then FT is the godfather of art! My good friend FVB is also making waves!
Tell us about the artwork you've done for Footasylum...
I was asked to commission a tile for a mosaic in the Leeds Footasylum store so look out for that!
What's next for Davo?
More of the same. I try to improve each time I pick up the brush!
Do you have any mottos which you live by?
In college my friend said to me "we are here for a good time not a long time" - it really stuck with me and if I ever find myself in a situation where I may be hesitant to do something I just go for it!
Where can the people find your amazing work?
My work is available via davohowarth.bigcartel.com or if you just want some easy viewing you can find lots of pictures on my Instagram which is @davohowarth!