In the same week that Glastonbury revealed their plastic-free policy saved 1 million plastic bottles from going to landfill and Sir David Attenborough managed to make thousands of festival goers silent while he talked about plastic usage on the Pyramid stage, we present to you the latest release from Converse- Converse Renew.
If you haven't guessed from the name and topical intro, Converse's latest release rethinks waste, with each canvas pair being made from 11 recycled plastic bottles. Which is an incredible move towards creating more readily available sustainable fashion.
Converse has always been one step ahead on the design front, and this new reincarnation of the classic canvas Chuck Taylor Ox and High Top is no different. Opening a new chapter, with a new sustainable era, Converse are hoping to make sustainable fashion more accessible.
The Renew chapter proves how Converse are dedicated to experimenting and creating new ways for sneakerheads to be a little more environmentally friendly while still repping the freshest trends.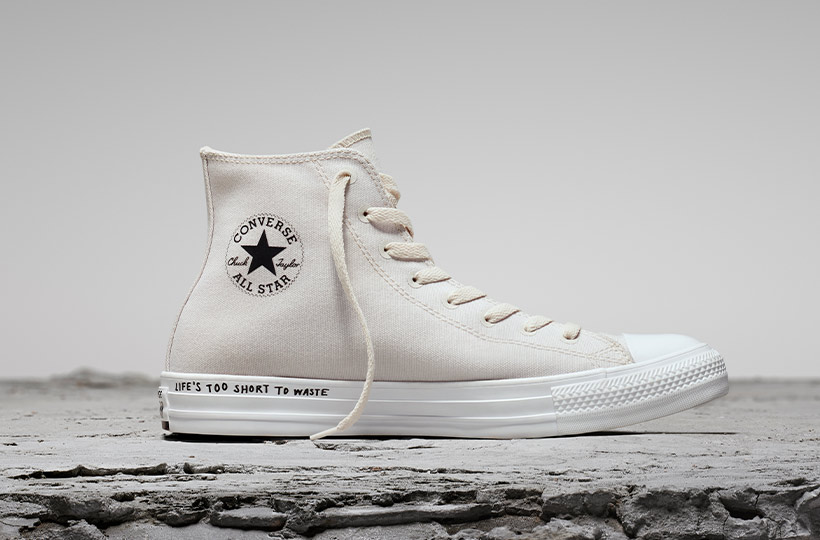 Dropping on the 5th July, the Converse Renew Canvas features recycled Polyethylene terephthalate (PET) created from millions of plastic bottles that are put in the bin day to day. The sneaks still have the same feel as the original chucks but their 100% recycled plastic construction means you can feel a bit better wearing them.
Launching in six different colourways in a range of Ox and High Top styles for both men and women, these sneaks are perfect for summer and you can do your bit while wearing them too.
Each labelled with the new Converse Renew slogan, 'Life is too short to waste', these sneaks are the first of many Converse renew packs planned. The brand are later planning on releasing Renew Denim, made using denim jeans that have been diverted from landfills and Renew Cotton, crafted using cotton canvas waste from the manufacturing process to create a 40 percent recycled cotton with polyester to form a new yarn.
Keep an eye on our
Converse collection
for the Renew drop.