Michael Jordan, through Jordan brand, has transcended his primary purpose in a way few ever will.
The Jordan 11 is testament to this. The silhouette is seen as one of the sneaker industry's all-time grails – a must have for any Jordan collection. Maybe this is because Tinker Hatfield designed the sneaker to be something Michael could wear on and off court, its sleek patent leather panelling not only providing less weight and more support (due to less stretch) than standard leather, but giving the shoe a formal shine. The 11 is the bridge between hardwood and red carpet. Shorts and tuxedo pants.
Hatfield has gone on record saying the shoe might be his all-time favourite because of the technical features underneath the glossy exterior. Ballistic mesh, cordura nylon, a carbon fiber spring plate in the outsole – every technical aspect of the Jordan 11 was geared toward letting Mike fly.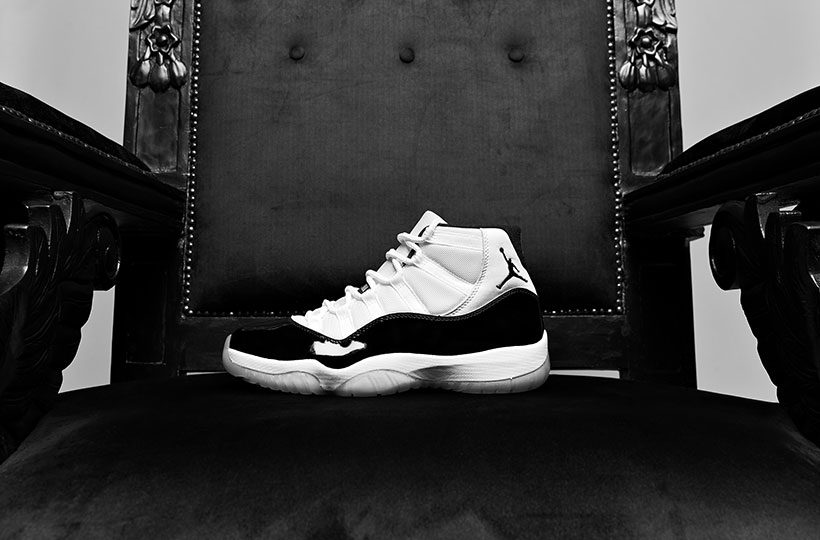 And fly he did. In 1996, Jordan made good on his two word fax the year before. 'I'm back': back from minor league baseball; back from the tragedy of losing his father; back to standing head and shoulders above the rest of the game. He won his fourth NBA championship wearing a Bulls Jersey, a face streaked with tears and the Air Jordan 11.
23 unofficial, rising UK Rap star and Jordan fan, doesn't hoop. He's connected to Jordan through the clout each silhouette has in street culture. He settled on '23' as a name after he and a friend observed his sneaker collection after a studio session. The number represents being the best, from winning multiple NBA titles to conquering the MLS, it represents 23 striving to be the best at what he does.
Shop the full range of Jordan footwear and apparel right
here.