Looking for product care that looks after our planet as much as you look after your favourite trainers? A new range of sustainable product care has landed at Footasylum- introducing
DFNS
.
Defend your trainers and streetwear whilst also defending the planet with the latest sustainable footwear and clothing care brand on the streets.
DFNS' people and planet-friendly products will refresh, revive, de-wrinkle, waterproof, clean and deodorise- keeping you looking fresh from head to toe.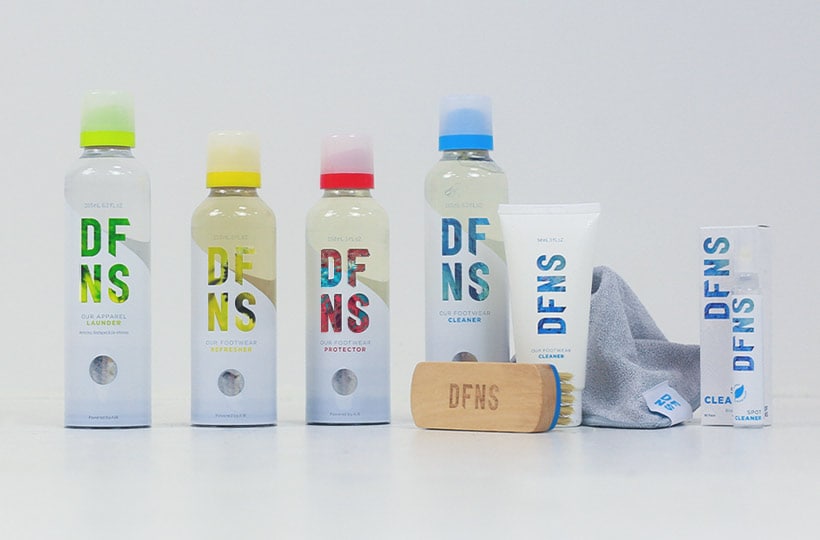 Aside from the products being top class, DFNS' combination of innovation, expertise and enthusiasm made sure that as well as creating high-quality products, their products don't compromise the planet or our health and we're 100% here for it.
Biodegradable formulas, sugar-cane packaging and air-powered alternatives to traditional aerosol packaging give them a huge boost in becoming the greenest product care brand in the industry.
Powered by the brand's Airopack technology, the spray product care from DFNS use compressed air instead of the usual chemicals you'd find in an aerosol. Clear packaging also means you can always see how much product you have left and thanks to the Pressure Control Device you'll use 98% of the product- mega.
With a full range of protectors, refreshers and cleaners launching on Footasylum we've got a breakdown of our favourite products from the collection and how to use them.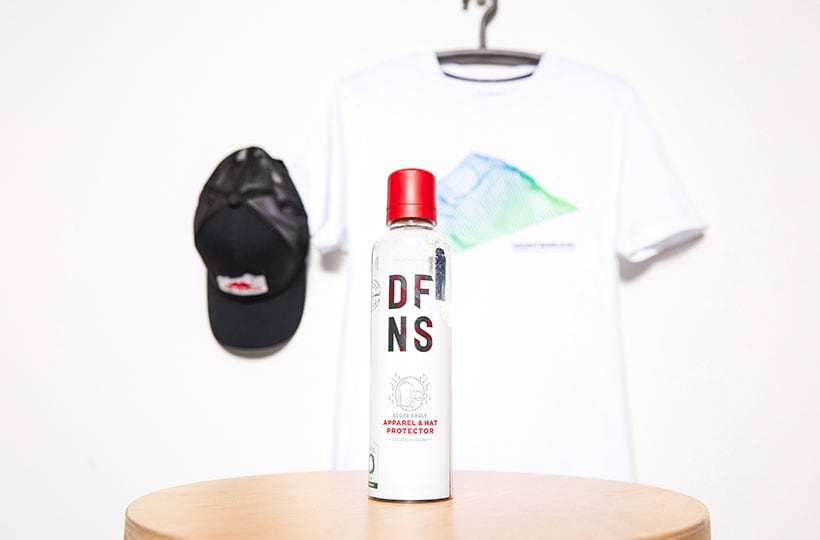 Apparel and Hat Protector Spray
Got a favourite t-shirt or hat that you want to protect from everyday spills? DFNS has got you covered with their Apparel and Hat protector spray. The water-based spray will protect your favourite pieces so you can enjoy them for longer. Simply spray the protector evenly over your chosen piece and leave to dry.
Spot Cleaner
We all know that stubborn stains have the potential to ruin our favourite outfits, but luckily DFNS is here to save the day with their Spot Cleaner. Featuring a formula that uses special stain lifting technology, this pen is your best defence against the most common food and drink stains.
A spring-operated micro-felt tip dispenses the solution nice and easily helping the solution lift and absorb the stain before drying on the spot with no need to rinse- bonus. Once you've used up all the solution the tube can also be recycled.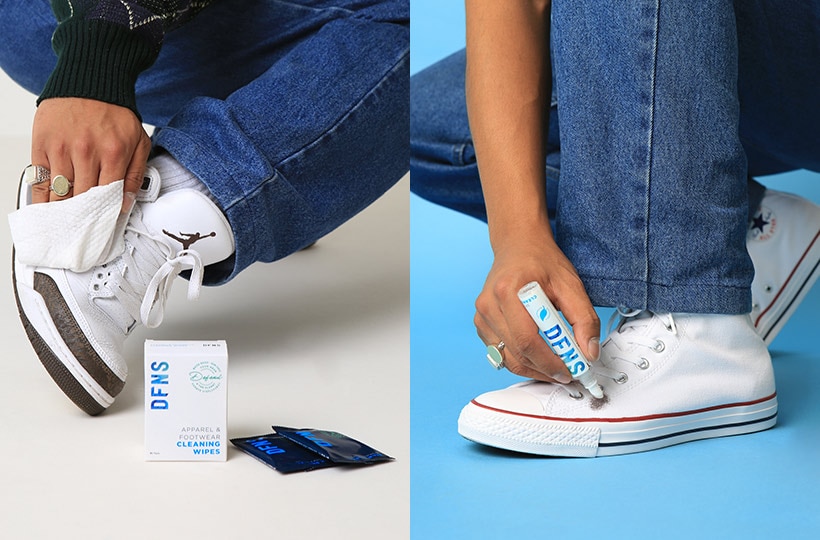 Cleaning Wipes
Keep your sneakers and clothing fresh on the go with DFNS' compostable bamboo cleaning wipes. These water-based wipes are non-toxic and biodegradable, while also being handy enough to carry in your wallet/bag for those emergency trainer care moments.
The unique solution quickly attaches to marks, lifting them from the source without the need for harsh chemicals or aggressive ingredients. Once used, they can be thrown straight into the compost. Their packaging—a renewable, bio-based plastic, is petroleum-free, carbon-negative and 100% recyclable.
Footwear Protector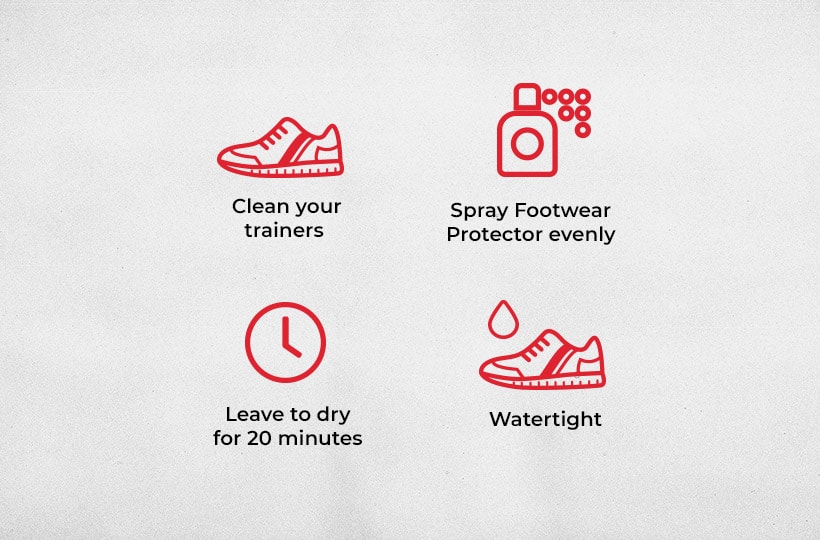 Use this water-based, solvent-free liquid on your favourite kicks to keep them watertight and totally breathable.
Make sure you've given your trainers a bit of pampering and cleaned them before applying the protector. Spray evenly over your trainers to make sure your whole shoe is left watertight. Leave your sneaks to dry for around 20 minutes away from direct sunlight and you're done. Easy right?
Footwear Refresher
Trainers got a bit fragrant? It happens to the best of us. DFND's Footwear Refresher is a non-toxic, biodegradable, waterbased product that uses probiotics to eliminate odour in your favourite trainers.
Simply spray the inside of your trainers and leave them to dry completely, away from direct sunlight. After 24 hours your kicks will be smelling as fresh as you look.
Footwear Cleaner Kit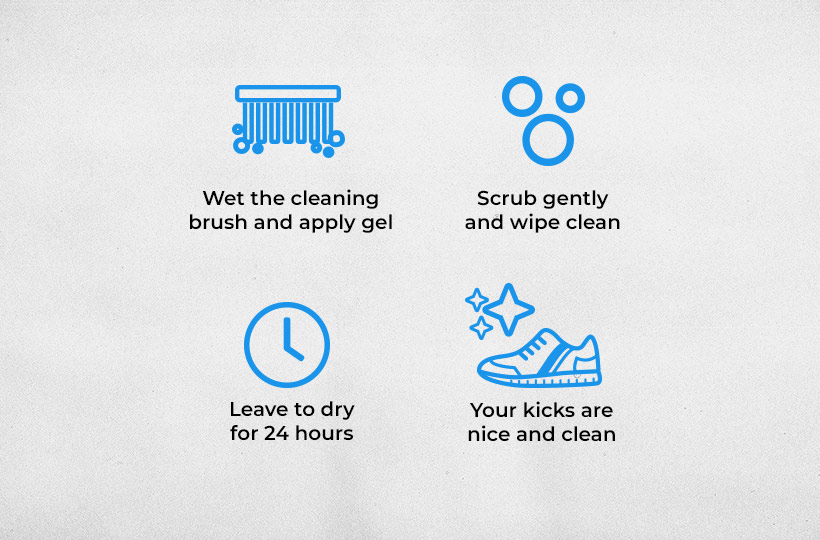 Serious about trainer care? Then this kit is a must-have. This kit contains a premium cleaning brush, microfibre cloth and DFNS' water-based and 100% biodegradable Footwear Cleaner.
To get your kicks sparkling simply wet the brush and apply cleaning gel. Gently scrub your sneaks and wipe clean with a soft cloth- you might have to repeat this step a couple of times to get your trainers gleaming.
Leave them to dry away from direct sunlight for 24 hours and then you're good to go! We'd probably give them a spray of the Footwear Protector too so they have an extra level of protection.
Apparel Launder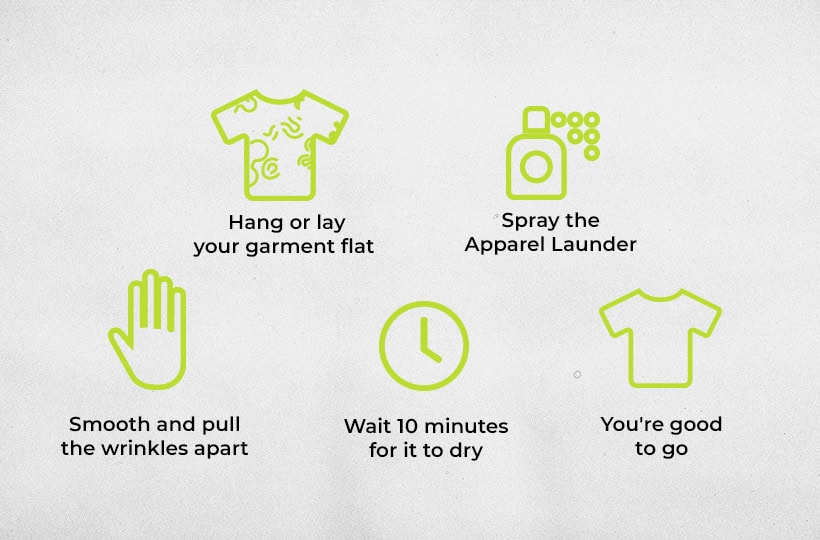 Hate ironing? Us too. But the good people at DFNS have got us covered with their Apparel Launder. This spray refreshes reshapes and de-wrinkles your garments in just 10 minutes.
Hang your garment or lay it flat on a surface, spray the product on the piece of clothing and wait 10 seconds. Smooth and pull the wrinkles apart and in 10 minutes your clothing will be looking refreshed and is good to go.
Shop the full
DFNS range
and defend your streetwear while helping to defend the planet.