We're pretty sure if you looked up girl power in the dictionary Snoochie Shy's name would be underneath. This lady is killing it and recently became the new face of the latest Footasylum Women's campaign with Converse.
Also known as Cheyenne Davide, Shy already has a pretty long list of achievements and milestones- and she's only 25. Goals!
Shy previously hosted the breakfast show on Radar Radio before joining the team at BBC 1Xtra and becoming a host on YO MTV raps in Sept 2018. She has also live-hosted major events including MOBO awards red carpet and 'Grime-A-side'.
You can also find Shy on the airwaves between 11pm and 1am Monday- Thursday with her own show on BBC 1XtraSnoochie currently hosts her own show on BBC 1Xtra. Oh, she's also a model too and travels around the world DJing.
We caught up with the all-round superwoman while shooting the latest Footasylum Women's x Converse campaign around Manchester and she seemed pretty excited to be rocking a reimagined classic Chuck Taylor.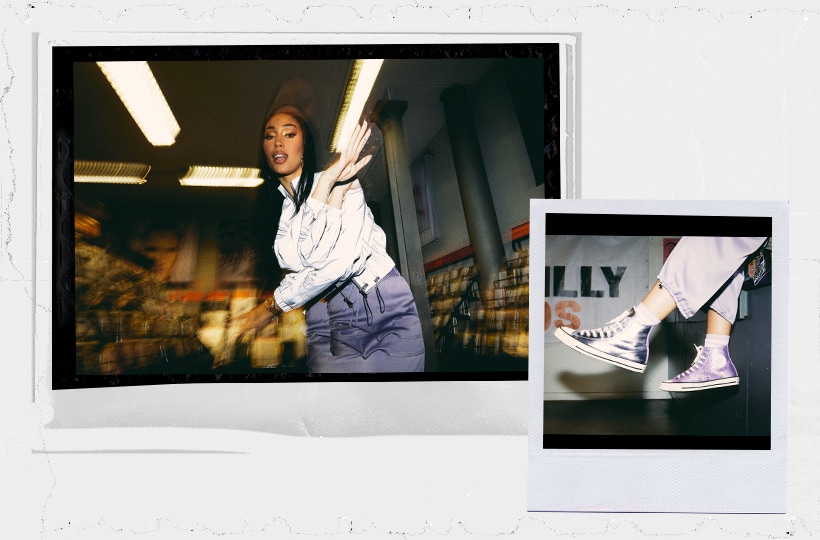 What do you love about DJing?
DJing is so fun! I love music, so getting to play it out to people and seeing them enjoy themselves is the sickest feeling. Emotions wise, I'm always super nervous before a set to the point I have like 10 minutes silence to myself but as soon as I get the first mix out the way, the nerves go and I end up on a mad high.
Tell us what you think being creative means.
A creative to me is someone who creates art that also manages to bring out their individuality. Your brain is always thinking and you're constantly coming up with new ideas. When you see your vision come to life you get a buzz off it.
What does the future hold for you?
By constantly developing new ideas and just growing as a person. There's so much I want to do and I'm not even halfway there yet. But doing creative stuff excites me, so I'm always up for a challenge.
What do you love so much about Converse?
Converse is such a sick shoe, especially the original chucks. I just feel they have a huge sense of nostalgia to them. I'm a 90s baby, so for me, these creps scream 90's. Also, you can wear Converse with anything so it's LIT!
Shop the full collection of
women's Converse
at Footasylum and discover your new go-to sneaks.