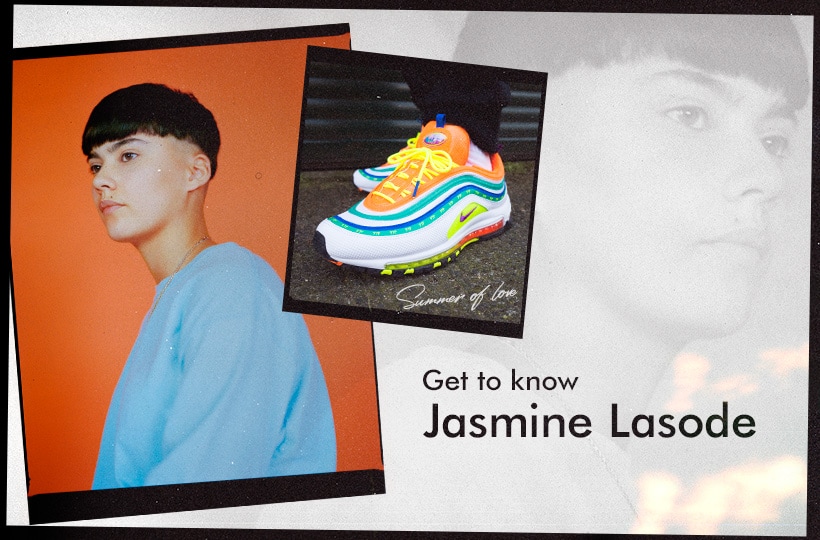 Last year, to celebrate Air Max Day 2018, Nike launched the On Air competition- giving shoe fans the chance to design their own Swoosh to go on sale for summer 2019.
Nike fans across the globe were then trusted to narrow down the entries to six different designs, each from different cities.
London's winner Jasmine Lasode designed a pair of fresh sneaks named The Summer of Love. The Air Max 97's have an on-trend neon colourway and a hidden tribute to Jasmine's girlfriend and we can't wait to cop a pair on the 13th April.
We caught up with Jasmine ahead of the release of her trainer to see how she feels about designing her very own Swoosh.
Outside of what you've done recently what else are you into? We've seen on your Instagram all the graphics you've done for the Party People, do you want to just tell us a bit about that?
Yeah, so I am a graphic designer I do freelance and stuff like that. My main goal apart from this whole shoe thing is to have my own brand out there. Party People is one of my new projects at the moment. It's for the party people, I like my music I like people. I just want to make not necessarily just clothing, branch it out to accessories maybe? Do a bit more. For the people.
Going back to how this all came around what made you enter London on Air in the first place?
The reason I entered London Air is that my friend sent me the application, and she said: "you should try this". So I thought why not? I looked at the application and it looked fun so I filled it out thinking that no one was actually going to see it. But I got through so I was like "oh wow".
Do you feel like you put a lot of effort and time into it or did you just think this would be cool, I'll shoot it off?
When I first applied I thought this would be cool, shoot it off. There was a question, that asked what was your inspiration, and I said, my girlfriend. I don't think I would have said that if I knew what I'd got myself into.
So tell us about the design process and what each element of the trainer really means to you?
This shoe is quite personal really it's kind of a memory in a shoe. So you have the 97p going across one of the stripes which I took massive inspiration from those price tags in off licences from. They are coloured card, normally neon which is kind of where the colour comes in. But it says like 89p, I don't know, you've got Yam for 99p and the shoe is obviously a 97 so that's where the 97 comes from and the p comes from the price tags in an off licence.
The colourway is very summer, good vibes, party people vibes and that also come from the shop price tags too. You've got Air 247, obviously, this is an Air Max and 24/7, off licenses are mostly 24/7. Also on one shoe you've got closed and the other you've got open so that has an off licence feel. 'Good Chat' on the back of the shoe is actually my girlfriend's nickname, when we first ever met, she saved her name as 'Lauren good chat' on my phone and now still in my phone it's 'Lauren good chat' so I thought this shoe is based on a memory we shared so why not have her on the shoe?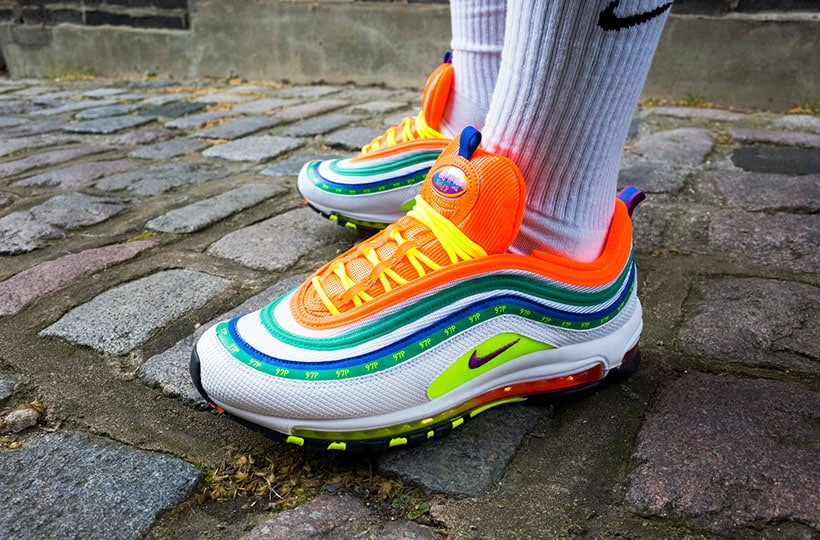 The shoe's going to be there forever as well.
Yeah, we can't break up now.
You spoke about the elements from the off licenses and the London colours and summer vibes, but why the Summer of Love?
Because that summer, the Summer of Love was when we first got together and I love her. Obviously, it's in summer, summer is my favourite time of the year, I'm a summer baby so that's my time.
When you got told that you won do you remember where you were? How did you even get told?
So when the voting was going on, half a day it would change who was in the lead. When it cut off I didn't know if I was in the lead. So I got a call from Nike in London and they told me to come in. They said all the winners were coming in, they said you're going to come and we're going to speak to you.
So I didn't know what I was coming in for because they said they were doing it with all them. I sat down in the room with three Nike team members and one of them was smiling. I thought 'have I won, no have I?' And then she was like thanks, you did really well and I thought 'oh I've not won I can't believe it' and then she was kind of like Simon Cowell vibes and then they told me on the spot in the office that I won. I couldn't believe it really.
How did you react?
I was shocked, I didn't try and rein it in at all. I was very surprised.
So the big question what is the Nike World HQ like?
It was a mad experience; the Nike HQ was a mad experience. When I got there I didn't realise how huge it was. There's a room of history and it was really interesting to see all the different elements and all the Nike shoes in the past and how many there really are. Some shoes I'd never seen before. But it was such a memorable experience.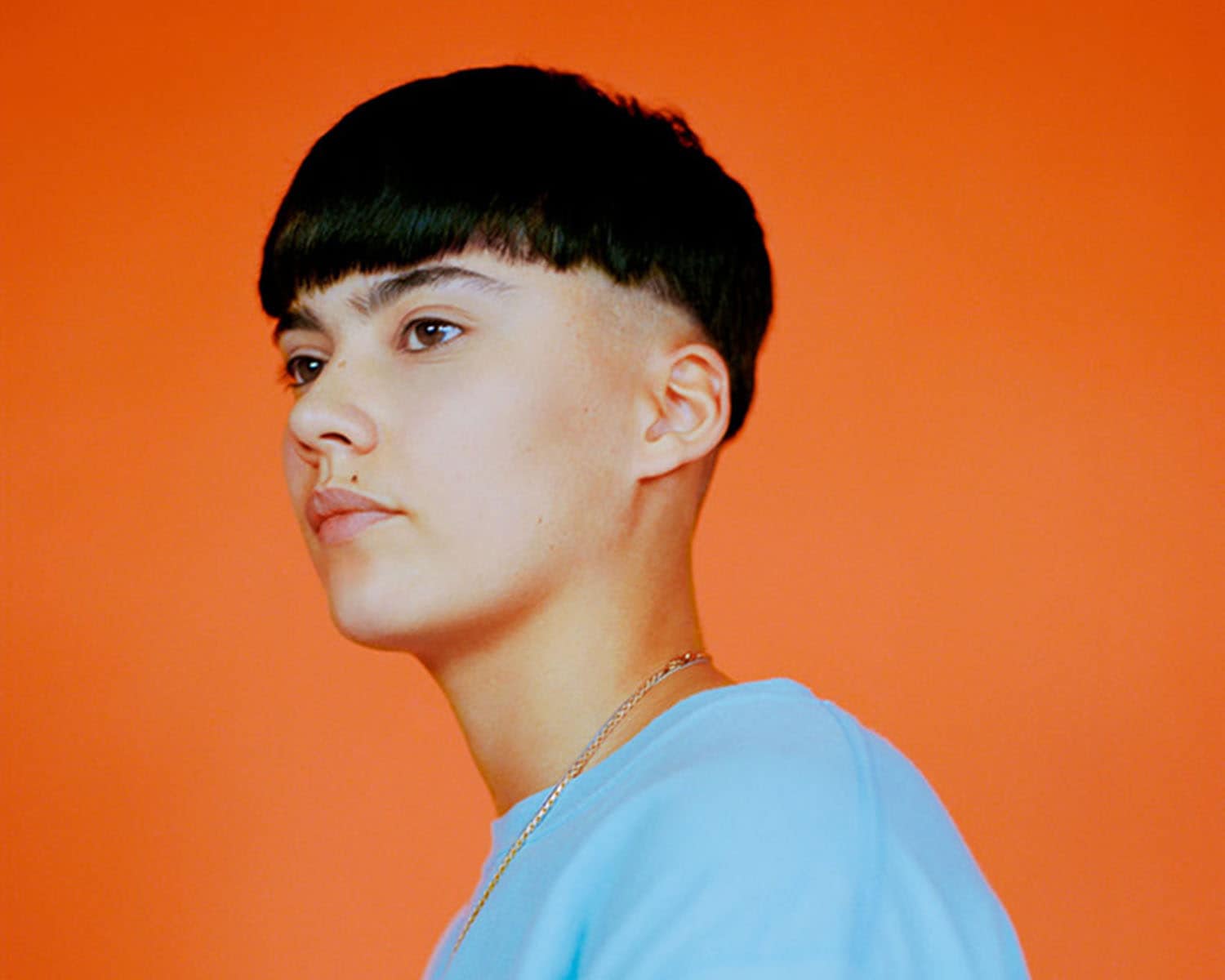 Talk us through the production process, was there anything that surprised you?

This process has been nearly a year now, the production for me I thought was quite quick. The first sample which was different from this one, the time that was changed wasn't long at all. It was like that's number one change that and that, oh there's number two.

I have massive respect for the whole production of the shoe. The colours, I didn't realise how perfect they could get colours. It's such a bright orange and I wanted a bright orange and they did what I asked them to do.

Was there anything that surprised you?

Not really, it was pretty streamlined, Nike is very streamlined.

Have you carried on designing since and has winning the competition ignited any hidden passion for designing shoes?

I have continued designing since. I have projects I'm getting into for the Party People, there's another brand my girlfriend and I want to do but this whole process kind of re-inspired me to do my own thing. Not many people see my work but this shoe, a lot of people have seen it. Actually realising people like what I do has kind of given me more confidence within my work to go on to venture to do other stuff. I wouldn't say no to another shoe design at all Summer Love part two, but I'd love to do something with shoes after this situation.

How will you be celebrating the release of your first shoe design?
I'm going to celebrate the release with a massive party. This whole situation has been a year, but I want to celebrate with all my friends with good vibes, have fun just throw a party.
What's next for you and can we expect any more designs?
What is next? I don't know what next is really, definitely continue designing, get some of my old stuff out to the world. You might see shoes, you might not, I can't tell you.
Jasmine's Summer of Love Air Max 97 will be available online only from the 13th April 2019 so make sure you pick up a pair for the ultimate summer vibes.

While you're waiting to cop a pair why not shop our new in men's footwear and clothing to keep yourself looking fresh.