Whether you're an All Star High kind of girl or you love the silhouette of the Ox, a pair of
Converse
is a must-have in every trainer collection.
If like us, you have a huge collection of Chucks and you want to give some of them a new lease of life- we've got you covered.
We have partnered with some of our favourite creatives on Instagram during the lockdown to show you how to customise your favourite pair of Converse.
This week Body Painter and Make-Up Artist
Shannon McConnell
will be showing you how she created her Mandala inspired high tops and 3D floral design inspire you to get creative with Footasylum Women's and Converse.
What was the inspiration for your two designs?
The inspiration for the black pair was Mandalas. I used to want to be a tattoo artist until I realised, I wouldn't actually be able to go through with tattooing people, so then it turned into wanting to be a tattoo designer. When I wanted to be a tattoo designer, I used to draw lots of Mandalas. As soon as I picked up the shoes, this was the first thing that came into my head, so I knew that was what I wanted to do with them. With the medium being paint and not a pen to create these designs I decided it would be much easier to do straight lines. I work better if I don't plan exactly what I want to do and just go with the flow of whatever pops into my head and be creative.
With the crochet Chucks I struggled a bit deciding what I wanted to do. I had originally decided I wanted to add gold glitter, paint and jewels to these but as I was trying to come up with an idea of how I would do this I decided to abandon the idea completely and start fresh. The crochet design on the shoes made me think florals and I recently did a makeup look with Shrine's dried pressed flowers where I stuck them to my face, so I thought how could I do something like that with these? And then it just popped into my head about using fresh flowers! If they hadn't stuck down, I would have been back to square one so I'm glad they did!
Tell us how you created the designs.
For the Crochet pair the only materials I used were fresh flowers, scissors and super glue. I just had to make sure that I did them as quickly as possible as I didn't want the flowers to die before I had finished. These really didn't take long as the glue dried almost immediately, I had to work fast. These were so easy to do, it's just a shame that the flowers died and I had to take them off after a few days.
For the black Chuck Lift, I knew that I needed to make sure I had the smallest, thinnest, shortest bristles I could find on a paintbrush. I went to 'The Range' (I knew they would be open) and was expecting to be buying a paintbrush to customise to how I needed it, however I found the one I used and it was amazing! I'm using it for everything now. As for the paint, I annoyingly couldn't get any fabric paint delivered quick enough so I used acrylic paint for these. This just means that I can't wear them out in public now as the paint will just wash off if they get wet, so they will just be on display in my house instead. I am tempted to order some fabric paint and paint over the designs though so that I can wear them out. These took a lot longer as I had to paint one section at a time so that they didn't smudge.
Did they turn out exactly as you wanted?
If I'm honest they turned out far better than I imagined they would. Going into the designs without planning the outcome makes it more exciting and allows me to explore more possibilities.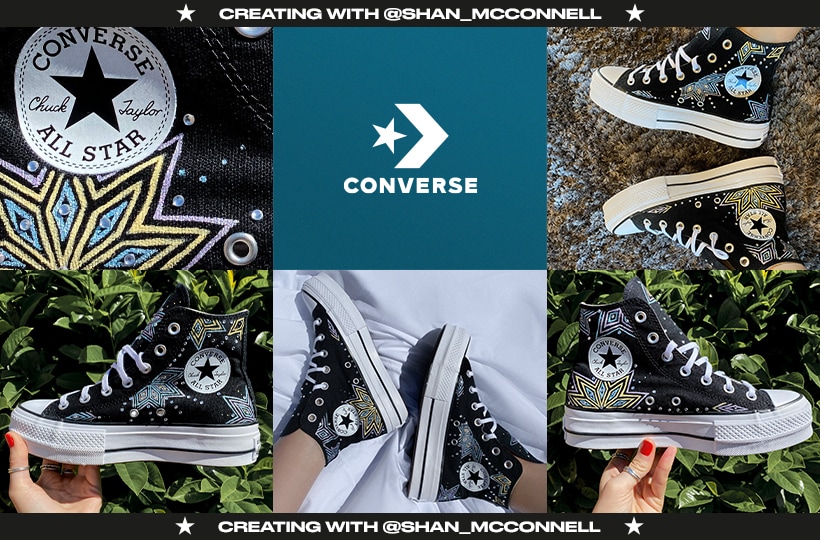 What is your favourite feature of your creations?
This is a tricky one haha, they're both so different. I would probably have to pick the paintwork on the black pair, I love that none of it is the same yet there is a sense of symmetry included.
How do they reflect your own personal style?
Annoyingly you can't see how metallic the paint is on the black Chucks and how sparkly the jewels are. I feel these are quite similar to my own style, I always pretty much only wear monochrome colours and accessorise my outfit with lots of jewellery. That's what the colours and jewels on this pair remind me of.
Has this made you want to customise more of your own trainers/clothing?
Yes! I'm dying to! I've wanted to paint on the back of leather jackets for over a year now but just never got round to it so I think I might buy the proper paints and give it a go! I also really want to customise more trainers now too. I'll end up painting everything I own soon!
How important do you think expressing yourself through fashion and makeup is?
I think it's really important to express who you are and not to worry about what other people think. I don't think anyone should ever hide who they are, I say wear whatever you want to wear and do your makeup however you want to - don't be a sheep! That's the great thing about fashion and makeup, you can be as creative as you want to be.
Do you think having a creative outlet has helped you cope with Lockdown?
Yes definitely. I go crazy if I'm not doing something creative, I have the attention span of about two minutes unless I'm doing something I really love. So, by being creative I've not actually felt like I'm trapped in the house, it's made the time fly by and kept me sane.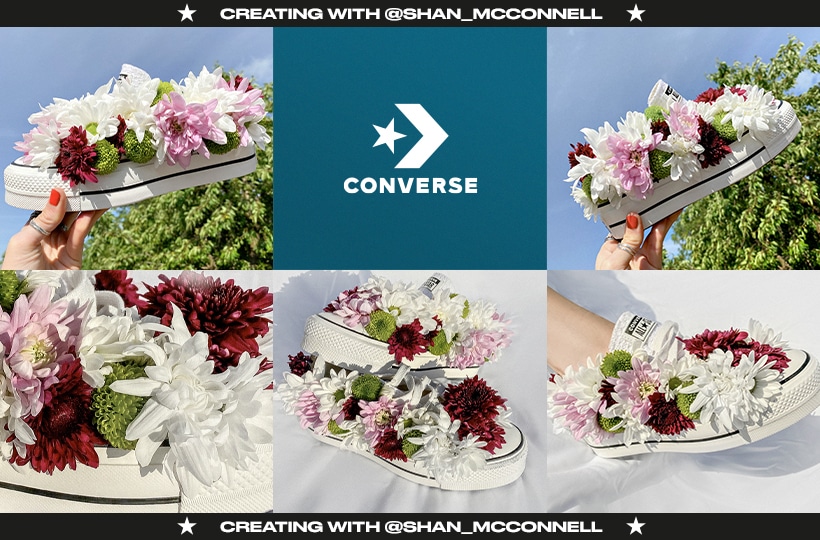 How long have you been a Body Painter and MUA?
I've been body painting for almost three years now and then I've only been a qualified MUA since December. I've always been able to do my own makeup and taught myself over the years but I put off doing a course until I had come back from travelling (I went a year after I graduated). I also wanted to make sure that I was picking a course best suited for me and the jobs I wanted to do.
When inspired you to do this as a career?
It was in my last year studying Fine Art at University, I knew I wanted to go into makeup, however, I wasn't completely sure whether I wanted to still be painting or whether I wanted to just focus purely on makeup. So after Uni, I did a body painting masterclass with Shrine and they offered me a job on the spot. That's when I knew Body painting was what I wanted to do at that time. Painting comes naturally to me so it wasn't any different painting on a human to on canvas haha! Wanting to become an MUA came along with body painting.
Any advice for any aspiring Body Painters and MUAs?
I would say just go for it! Keep trying and pushing yourself, you don't realise how far you've come until you look back at what you did a year ago!