It's hard to imagine a world without being able to just throw on a pair of jeans with our favourite pair of sneaks.
Our jeans are a style staple and keep us looking fresh whether they are blue, black, distressed or skinny.
And if there's one brand we want to thank for giving us endless killer outfit options, it's
Levi's
.
It isn't just high quality jeans that the brand creates as they produce apparel which will see you through from the gym to a night out.
Whether you're a diehard Levi's fan or have never actually wore the brand our collection of men's and women's apparel will have something to keep you looking fresh.
If you're looking for a go to outfit that will see you easily go from a day roaming the streets to a night out team a pair of Levi's
511 jeans
with their
classic red tab logo tee
.
Throw on some
Vans Old Skools
or
Converse All Stars
to keep it casual.
If you're a gal looking for a casual day out with the squad outfit, try a pair of Levi's
Ribcage Ripped Knee Jeans
with a
graphic T-shirt
.
Keep it simple with a pair of classic
platform Converse All Stars
for a casual look and for later in the evening swap to a pair of
Mile High Jeans
to impress on a night out.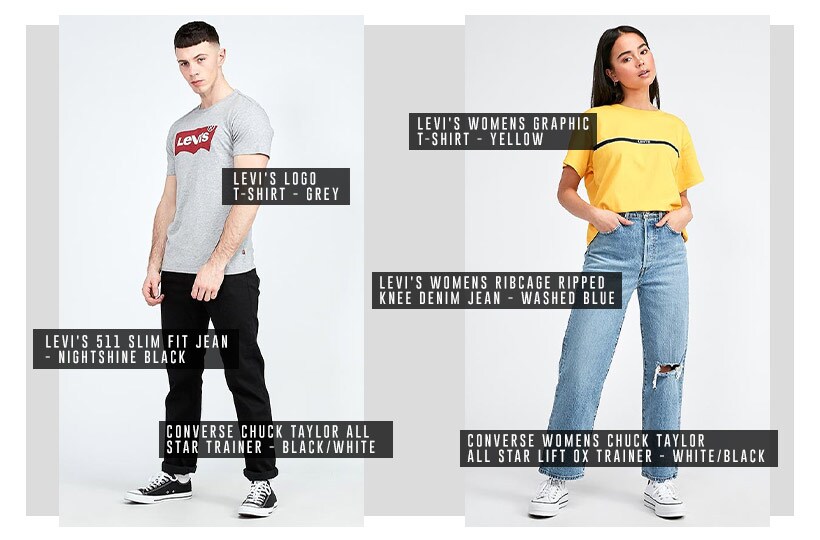 Perhaps one of the most iconic jean brands in the world Levi's has been creating high quality denim clothing for well over a century.
In 1853 Levi Strauss founded his company selling handkerchiefs, blankets and clothing to small stores throughout Western America- far from the brand it is today.
Denim was always a popular material for creating work wear, however 1873 saw the birth of the blue jeans we pair with our sneaks almost every day.
Levi Strauss and Jacob Davies decided to add rivets to their denim pants to make them stronger and on the 20th May 1873 the jean was born.
Blue jeans were originally created for men with women having to wait until 1934 to get their hands on a pair of Levis thankfully all good things come to those who wait.
Their red tab, introduced in 1936, is instantly recognisable all over the world and Levi jeans pride themselves on creating clothing that is both stylish and ethical.
If you love your denim check out our full range of
denim jeans
so you can make sure you're repping the hottest looks.