The adidas Originals Yung 1 embodies a youthful energy. It's multi-layered, cushioned and dynamic design moves to the energetic wearer. Someone who is always on their feet, but always wants to look good doing so. It came as no surprise that the face of Footasylum's Yung 1 campaign would be the most buoyant music artists on the scene: NSG.
Zipping through the gargantuan warehouse which once housed an assortment of aircrafts, NSG's Kruddz rode fast on a mini motorbike trying to avoid anyone who stood in his way. The motorbike isn't the only fun prop in use today. Bouncy balls, space hoppers, dollar bills and confetti canons were on standby. Everything screamed fun at the set. After gathering the boys during a much-needed breather, we caught up on a summer of festivals, their massive social media presence and building the foundations of their musical career.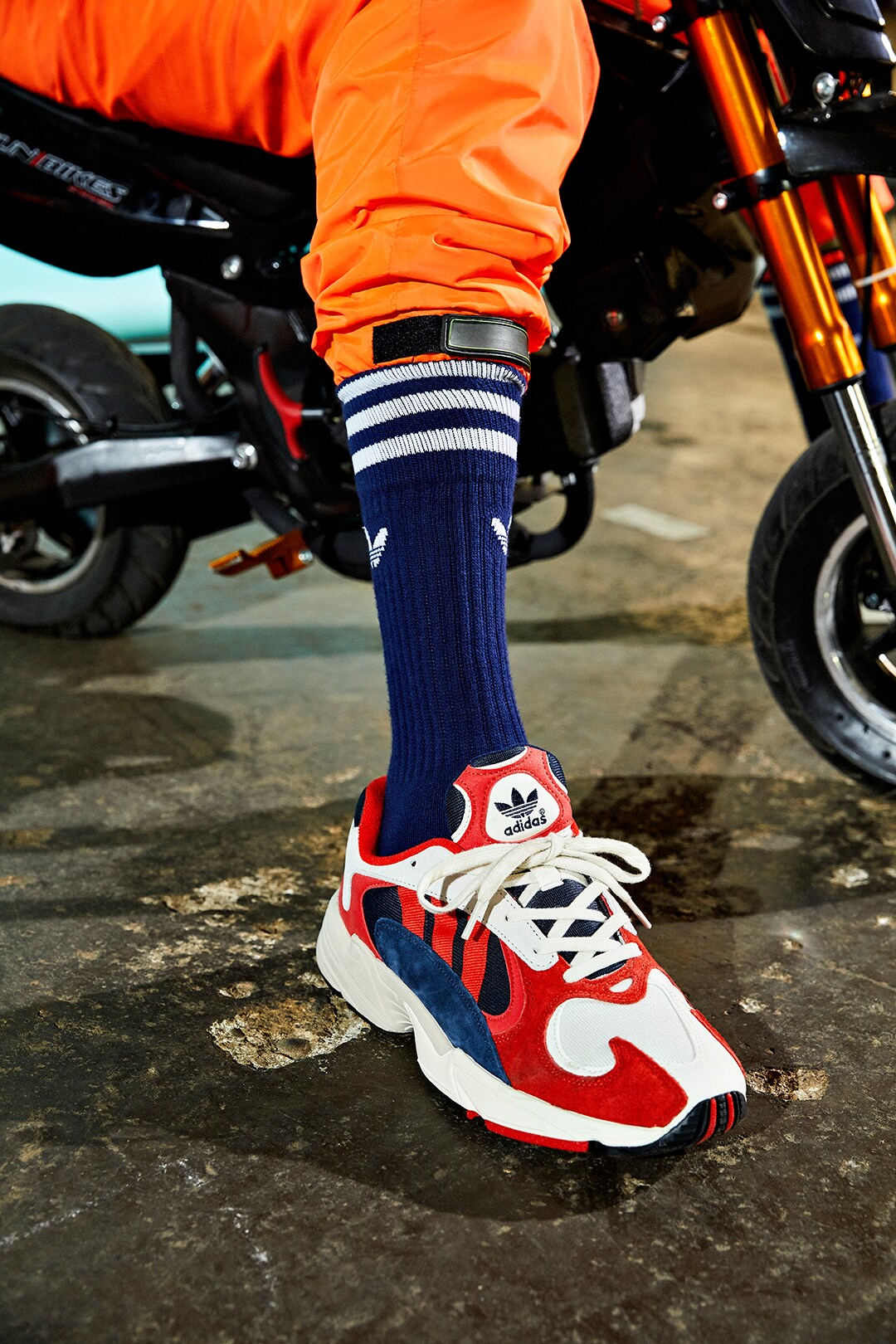 FA:
We are here on an airfield in Bicester on a pretty fun set. Are you excited to be here?
Mojo-NSG:
We are so excited to be here. We are the most fun people you will ever meet.
FA:
We're shooting the Yung 1 and, you guys are always wearing the freshest creps on stage. Who has the most sneakers out of all of you?
Pappi-NSG
: I don't know. We all have a lot. Probably OGD, he has bare creps.
OGD-NSG:
Come on man, I've got them all. All the grails you know. They wish they had my creps.
FA:
This year has been quite busy for you guys. This summer you are performing at loads of festivals, you've got wireless coming up this weekend. How is the festival scene for you guys compared to normal gigs?
Pappi-NSG:
Everything. Like normal gigs, festivals, big gigs- we shut it down. The difference is like, festivals are bigger. I enjoy it more. Everyone that's there, they're off their head, having a good time. There is a video online of us going from OT to Options. It went off.
FA:
Your online presence is massive. You always seem to dominate social media.
Pappi-NSG:
Look look, there's proof. They're all on social media right now. They're glued on, they're active.
FA:
How important is social media to you? Is it a big part of how you became viral?
Kruddz-NSG:
It's played a big part. In this day and age, the generation we are in, you can find anything on social media. Trump won the election with social media. He still uses social media loads. Everything is on socials, don't underestimate.
FA:
You all say, your aim is to reach global domination. Would you say you are there yet? You and your sound are very recognisable now.
NSG:
*All at the same time* Woah far from.
Pappi-NSG:
When we say global, we mean global global. We are just building the foundations right now. The UK isn't even finished yet.
Dope-NSG:
Literally all age groups as well. Like Michael Jackson global. We're not joking. I bet the dads out there know Westlife, but they don't know us yet.
FA:
Supporting Drake at o2 must've been a big highlight and push in your career too.
Pappi-NSG:
o2 arena, well o3. It was lit. After performing with Drake, there were tweets after, where we were in the same sentence as Drake and J Cole. It's energy names right there. Just to grace that stage with those names, wow. Big up J Cole, he's my boy.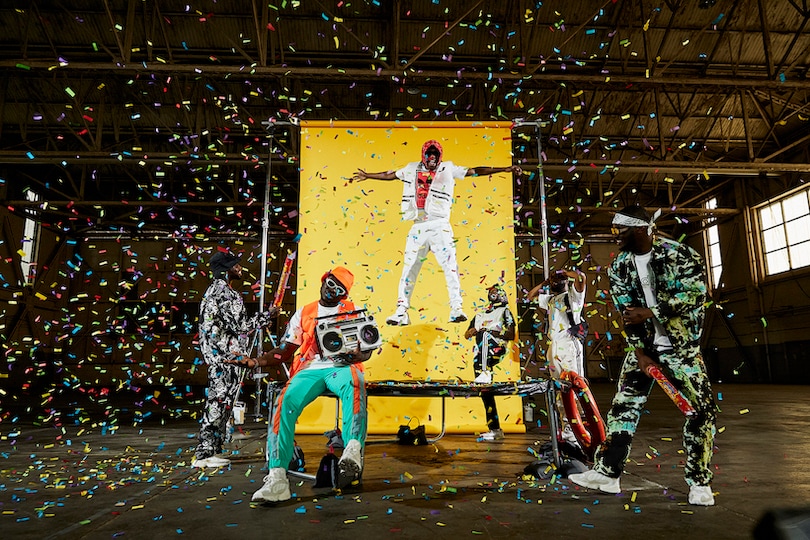 FA:
You guys are all high energy. Loads of fun. Lots of action all the time. Do you ever take a break?
Kruddz-NSG:
I don't take breaks no more. What's the point in having a break? There is no point. You're gonna rest when you die.
Pappi-NSG:
Sometimes you have to take a break and unwind. Hibernate and sleep at night. When I'm awake I'm always active.
FA:
You always say NSG is a lifestyle, not a collective. So how does one achieve and live the NSG life.
Pappi-NSG:
You are living the NSG lifestyle. If you are non-stop grinding then you are living the NSG lifestyle. You work hard and don't wanna stop because that is your journey. Non Stop Grinding- that is NSG.
The adidas Originals Yung 1 is availible now - shop the collection right
here.