It was a shut down in London for Deji The Gamer aka DTG, celebrating the release of his new single "LDN". Following on from his second campaign which explored his hometown of Croydon and the inspiration behind his music, performing in his self-confessed favourites
Converse
, DTG brought London city out.
With DTG'S name soon to be a household one, with hits such as Just Do It, Rover and Money, taking the movement off the phone screen and to a live audience was the only next step. His love for music was heavily influenced by his London surroundings, speaking to the name of his new single. He's now one of the biggest up-and-coming artists in the UK, so make sure you remember the name.
From his first edit with Converse x Footasylum last year DTG has been showing us how to style the classic Chuck Taylor High Top silhouette and the All Star Ox.
Keeping it simple and letting the footwear do the talking DTG styles his Converse with a monochrome colour palette and mix of textures from denim jeans to fleece sweatshirts to lightweight overshirts.
Teaming up with Converse to put a spotlight on the brand for a once in a lifetime performance, DTG decided to throw it back to his childhood favourite and one making a huge impact at the moment, the classic black high top. A wardrobe staple for decades, the high top is the perfect silhouette all year round.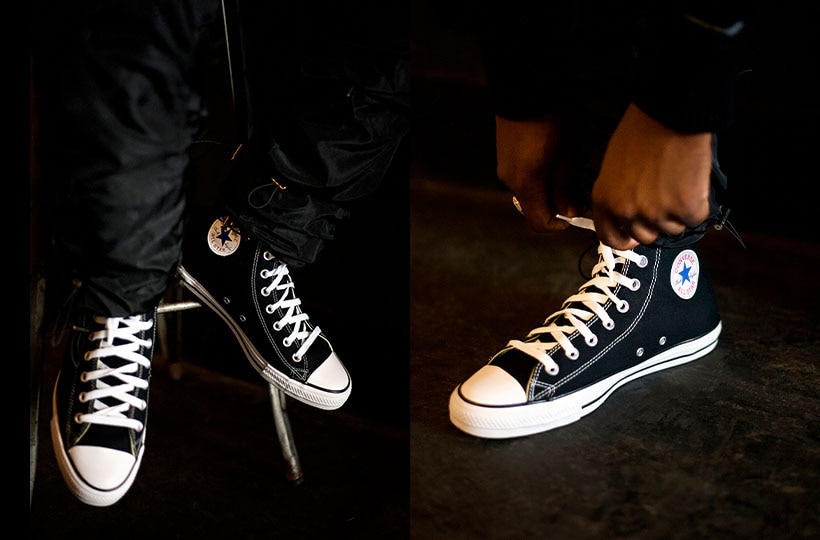 Whether you're going for a night out with friends or performing to a crowd in the heart of London, you can't go wrong with an iconic Chuck Taylor high top.
Stream DTG's latest single "LDN" today the latest music from DTG over on Instagram @dtgyeahyeah and shop the latest drops and old school classics from
Converse
online today.