David Robertson, better known as Dave Lurky by his friends, is admittedly one of the most fun-spirited people in the North of England. And it's easy to see why.
Over the past 10 years, Dave has racked up an extensive Adidas Superstar collection, one that any collector would be proud to own. From an unreleased Stussy collaboration, to the entire 35
th
Anniversary pack. His Superstar collection is a reflection of his utterly unique personality and suggests there's more to find out!
When we went to visit Dave a few months ago, we weren't mistaken. The trip was filled with anecdotes and stories, and most importantly, we found out how he got that questionable nickname. Read more to find out what he said.
What do you first think of when you think of the Superstar?
Indestructible. It's the shoe you can wear everywhere. You can clean it and it looks the same the next day. They are built to last.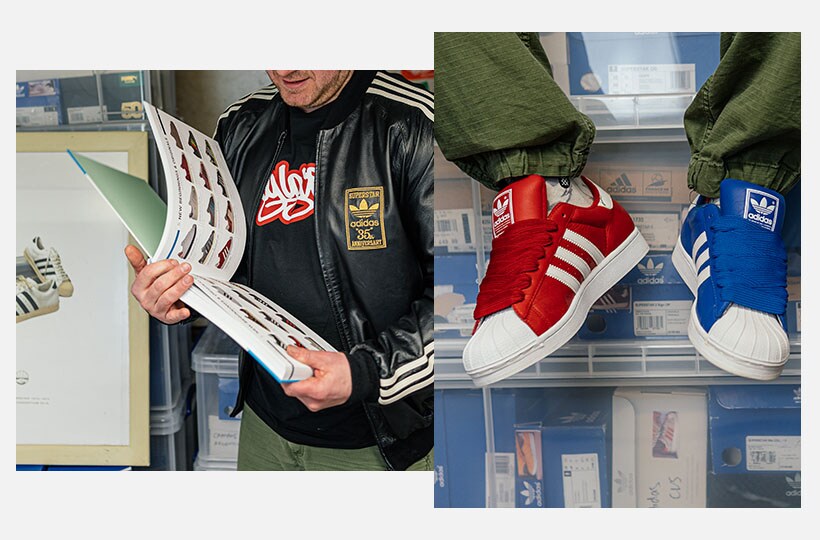 Is that what attracted you to start wearing them?
Yes! I'm a tight Yorkshire man. I want a shoe that can stand a few nights out. I used to fall off curbs and things, and I used to have Rockports- they were wrecked.
Taking it back, what was your first memory of the Superstar and when did you first start seeing it?
I think it was Madonna, on one of her album covers, she's got some red and white ones on with big, fat laces. I think that was the first time I saw them personally. They were not available to buy in the shops. The shops in Scarborough, where I was brought up, didn't have much like that. It was more air rifles and fishing rods.
So how did casual wearing turn into collecting?
It wasn't intentional. I got a pair in Cardiff and they were a camo with changeable stripes. I'd never seen anything like it. So, when I wrecked them (obviously they aren't indestructible but they lasted a while), I tried to find another pair, and I couldn't because they were an exclusive. The only place you could find them was Ebay and they didn't have my size. So, you look into the shoe a bit more, and you find there are article numbers and manufacture dates on the tongue. You gather the information and that led me to a website called the Superstar database in about 2006. It showed me things I'd never seen before and didn't know existed. I was blown away with everything. There was an Underworld pair that were reflective- a 3M upper made it glow up like a traffic cone. I thought- what the Dickens! Then, I started to collect and I was pretty good with computers so I got around Ebay and found you could pick these up for next to nothing. They were a bit worn but you could clean them.
Where does your online name Dave Lurky originate from then?
Before I had plucked up the courage to go on the website and introduce myself as a Superstar collector (because I didn't think I was), I was a lurker, and that not a good thing. I go on this website, introduce myself- 20 pairs, all decent pairs because I had read up on all and they were like, "Who are you, you joker?" I, then, got the name
Lurker
and it was a struggle to get past because Lurker isn't someone who contributes, they just watch. Anyway, it took me a few months to get past that, someone called me Lurky. You don't make up your nicknames unfortunately. I don't even like it but it stuck.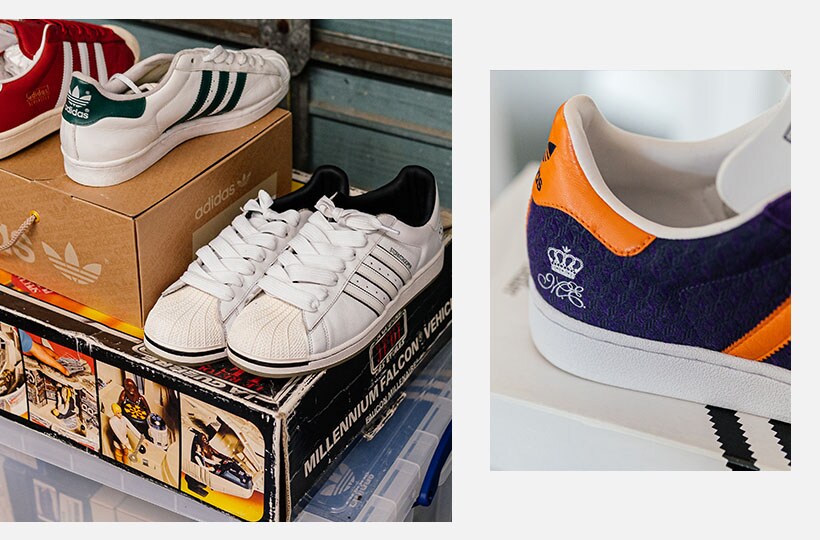 How has the community surrounding the Superstar changed?
You have people that wear them all the time, people that love them. Then you have got people that go with trends, and the Superstar has been big this year because it is the 50
th
Anniversary. To be honest, I've worn Superstar's a lot, and I've noticed other people wearing them are young.
But, my friends well- I know every Superstar collector in my size, because I have dealt with them, and you sell Superstar's for good prices, not silly prices. We don't want to get a name as a reseller really. We pick up bargains and pass them on. I call them my friends because they are, not just tag names on the internet. They're from all over- London, Germany, and Buxton! One of my friends does customising now, it's great and we all support each other.
When you think about the shoe's Hip-hop resonance, and Run DMC's association, do you view the Superstar as an American shoe?
When you look back at the pictures from the 80's, it's all set in America. They didn't sell them here. So, you couldn't get them. All the b-boys, all the cool kids, they were setting trends and that was the Superstar which made them good.
Tell us about some of the most outstanding pairs you have.
I have a favourite pair, it's a pair from 2005 and it was part of the 35
th
Anniversary. It was the Footpatrol ones, from when they were a little boutique. It was a military green pair, to go with the gasmask logo. In my favourite silhouette which was the vintage silhouette. That is my favourite shoe and I have 2 of them! They were limited to 300 pairs. The suede, the construction, just everything about them- they're so different. But if you ask me a different day, it'll be a different pair.
And your most sentimental pair?
The signed Run DMC's, and I'll tell you why, I had no idea about them! My friend who does customizing went to meet Run DMC's management about designing a shoe for this year. Little did I know he took a pair, and handed it to their manager who got it signed. I was at work and a parcel came for me, it was the shoe, one shoe! The other one went to my friend. Luckily because I have so many shoes I had the exact same, I signed the other one "Dave Lurky". So now my German friend has one DMC and one Dave Lurky! Madness I know.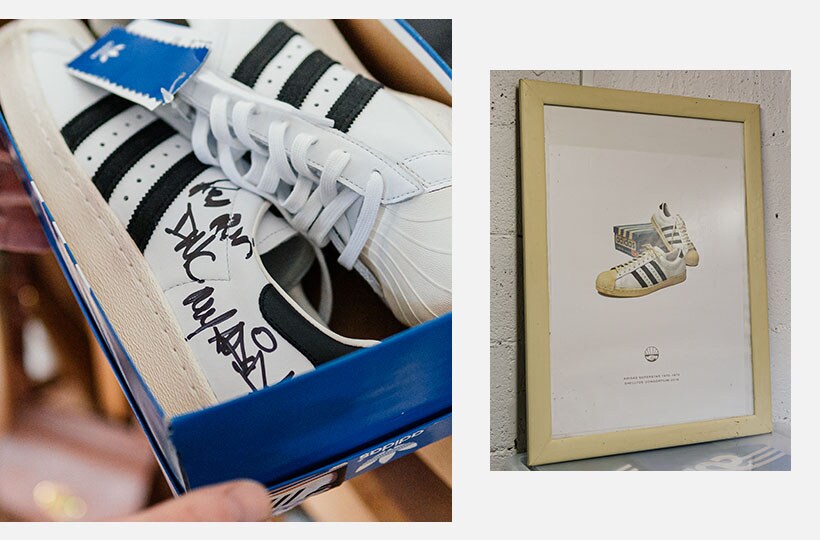 The Superstar has been styled a multitude of ways over the years, how do you wear your Superstars?
Fat laces. Mirrored overlap. So I re-lace them every time I get a new pair. Or I like the lace to match the upper. Bar lacing- it looks great but it's a big no no in real life.
I've found myself wearing skinnier jeans, not because I'm skinny, it's because I can see my feet! I respected what I had on my feet. I wanted to show off what I got.