Los Angeles has a sneaker culture
that goes back 50 years, yet there still remains a strong and vibrant sneaker community in the city today. So, it seems right that it is the setting for Netflix's new show, Sneakerheads.
The comedy series, Sneakerheads, centres around a retired sneakerhead and now, stay-at-home dad Devin. Itching for some excitement in his life he dips his toes back into the scene where he is introduced to the new world of sneakers and hype.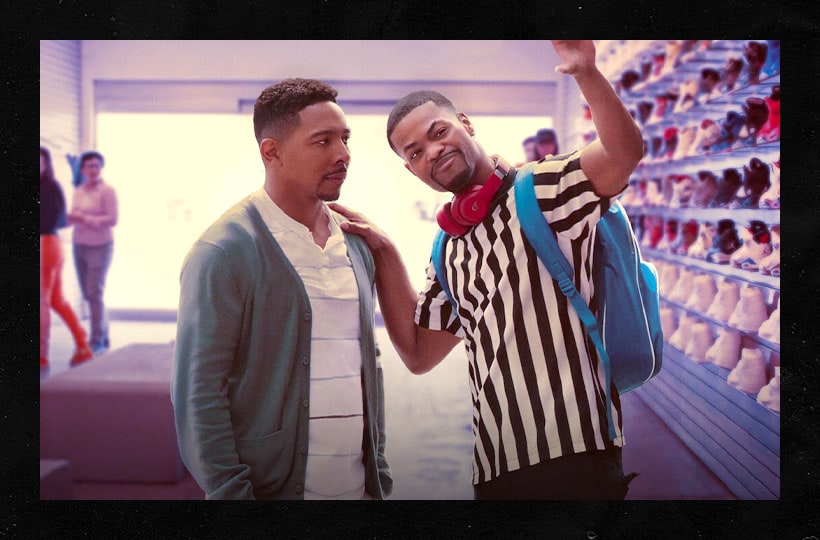 In the pilot episode, the curious Devin accidently reunites with his old friend Bobby. They come across an old storage unit where they spend £5000 for all of the sneaker contents- what he finds sends him down a long slippery slope that he has to quickly get himself out of.
As well as Devin and Bobby, the show features characters; Nori and Stuey. The two pairs eventually become a sneaker "squad" where they embark on finding holy grail sneakers. Devin and Bobby come from an entirely different era of sneaker culture where
basketball
drove the scene. Whereas Nori and Stuey represent a younger generation that have driven this sneaker culture into a business as lucrative as art dealing. Together Nori and Stuey navigate them around this bizarre new scene.
The show has an interesting back story which prompted its production. The short series is inspired by the programme director's lost Jordan's story. An unfortunate misunderstanding that saw his
Michael Jordan
-gifted sneakers sold by his mum in a car boot sale. Today, the sneakers would be worth thousands of pounds but is now long-gone. This story is loosely retold in the programme in the quest to find the Zeroes.
For anyone unaccustomed to hype, get ready as this programme will give you a first-hand look at everything you need to know. Follow Devin as he learns about the difference between general release and limited drops to flipping sneakers and entering raffles. In no time the show will have you talking about Hypebeasts and
Nike
Off-white. And, if you know all there is to know on the scene, this show is filled with lust-worthy sneakers that you will guaranteed to be staring at for the entire 30 minutes of the show.
This short series is perfect for a quick lunchtime watch or, if like us, you can binge watch the show in a day.
Watch the series on Netflix now, and shop our massive range of sneakers
online